Robert LaHotan: The Early Years
Yvette Torres Fine Art • Rockland, ME • www.yvettetorresfineart.com • July 8–August 14, 2011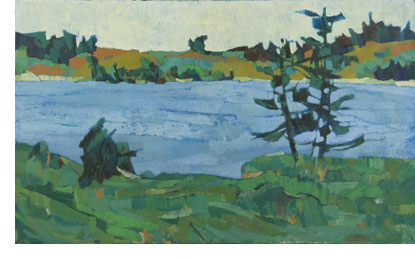 Robert LaHotan (1927–2002) was a classic seasonal Maine painter: summers on Great Cranberry Island down east and winters in New York City, where he taught for many years at the Dalton School in Manhattan. Like fellow New Yorkers Dorothy Eisner, John Heliker, William Kienbusch, and Gretna Campbell, LaHotan found just about complete artistic sustenance on this island; Great Cranberry was his number-one muse from the 1950s on.
Like his peers, too, LaHotan rarely showed in Maine. Represented by the Kraushaar Galleries for most of his painting life, he would ship his work back to the city in late summer or early fall. This makes Robert LaHotan: The Early Years a special treat—a substantial sampling of his Maine oils come home (more or less) to roost.
The paintings in the show date from 1950 to 1978, with most of them from the 1950s and 1960s. They range in aesthetic from modernist-representational—Western Way (1956), which was shown at the Twenty-fifth Corcoran Biennial in 1957; to wholly abstract—Mostly Green (1960), which edges into color field.
LaHotan was for the most part an expressionist responding to island motifs—rosebushes, dappled woods, rocks, and coast—with an abstracting flair, his brushwork uniformly activated. Several paintings have the quality of sketches, as if the artist were testing out color and compositional combinations.
One can see kinship with the work of other members of what might be called the Great Cranberry School. Potted Plant by Window (1960) brings to mind Eisner's island interiors from the 1970s, while the dynamic Blue Sea (1959) has a Kienbusch feel to it. Stand-outs include Landscape, Maine (1957), Landscape with Trees and Rocks (1963), Back Shore (1950), and Red Quarry (1959), the last-named a highly expressive addition to this subject that has appealed to many artists.
LaHotan's legacy is carried on in his art, but also in the foundation he and Heliker established that supports artist residencies at their home on Great Cranberry Island. This exhibition underscores the special energy of the place and the painter.
©2018 Art New England, All Rights Reserved
Designed and Developed By: T. Montgomery