Roxanne Faber Savage: Birdish
Silvermine Arts Center • New Canaan, CT • www.silvermineart.org • September 25–November 4, 2011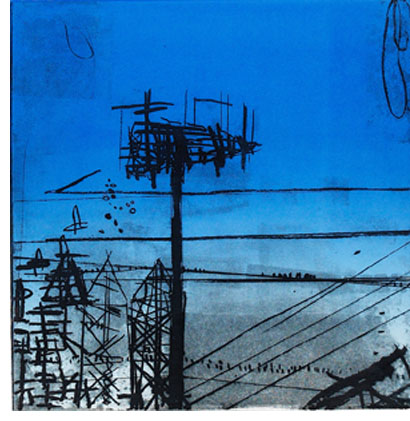 One, then four, then eight crows settle on the jungle gym behind the blonde woman smoking a cigarette. Finally, she looks up to follow the flight of a single bird and watches it join what appears to be an endless number of them that have gathered, looming over a schoolyard. Even before this sequence in Alfred Hitchcock's The Birds there was always something ominous about these creatures.
But the threat they pose in Roxanne Faber Savage's images is a function of both their omniscience and our ignorance. The full wall of prints that makes up her work Chemical Landscape contains a series of variations within matching dimensions. In each of them, a toxic sky is tainted with some polluting color that makes the air visible, as if it had been turned into a holding pond embroidered with heavy metals.
The birds are lines of energy, accompanied by the hum of the transformers. Like osprey nests at the top of telephone poles, they lay claim to the machine's property. Their punctuation along the wires is not the cliché of musical notation, but an arrangement of digital codes or an abacus used to communicate within this species. As the images grow and shift, we know that they are speaking to one another; and while we don't understand what they are saying, we suspect that it is something that might save us from ourselves.
The dark line rendering of a bird's corpse constitutes an additional warning. As if waiting to be wrapped for some king's tomb, the body reminds us of the many ways in which death can be preserved for the future. Another series of prints plays upon the vibrating geometry of transmission towers, with electrical currents ricocheting within the four-walled chamber of a prodigy's science project. And there is a line of six clouds with the seemingly unreal but accurate tint that Maxfield Parrish gave to his sunset skies.
And at the center of the gallery installation stands a transparent procession of silk prints in which the birds reclaim their role as messengers of grace.
©2018 Art New England, All Rights Reserved
Designed and Developed By: T. Montgomery