STREET a.k.a. MUSEUM
Portsmouth Museum of Art • Portsmouth, NH • www.portsmouthmfa.org • Through September 11, 2011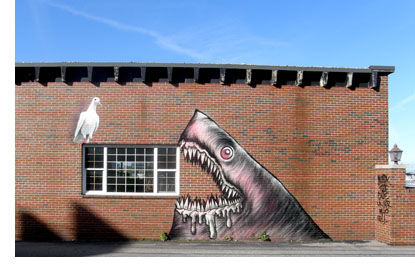 The summer exhibition Street a.k.a. Museum at the Portsmouth Museum of Art introduces an ongoing international art genre to a relatively conservative public audience. Visual explorations into identity, consumerism, and popular culture, as well as issues of performance, gangsta, media, site, and scale are sparks for aesthetic dialogue. Street art involves the nonart world in the art conversation, and that might be this exhibition's greatest contribution.
Five internationally recognized street artists have been invited to create murals on "donated" walls around Portsmouth. Gallery pieces and installations are simultaneously exhibited in the Portsmouth Museum. The range of styles and personal agendas is diverse, but the technical and creative ability is apparent in all the artists' work.
Bumblebee, a Los Angeles artist, is known for spray painting haunting stencils of young, white children with swarms of bumblebees. The choice of the specific site is of primary importance to the street artist, and Bumblebee's site at the entrance to Kaffee Vonsolin adds impact to his image. Placed to the side of the shop's sunken entrance, Bumblebee's stencil is unexpected. It halts the viewer who sees a life-size, seven-year-old girl holding a jump rope, either staring from the café's front window or standing behind the open door glowering at the viewer.
Shark Toof chooses the shark for his alter ego. Fifteen-foot-tall shark heads, mouths gaping with a jumble of wicked-looking teeth, oozing slimy goo, gaze with hungry eyes at pedestrians strolling along the Harbor River walk. Their neon coloring—green, red, and blue—glow day and night. Inside the museum, Shark Toof has an exuberant room-size installation of New Hampshire junk tagged in huge, neon green and pink letters. Across from that is a series of wooden panels painted in a classic comic-book style, featuring Shark Toof navigating the hostile world as a sharp-toothed hero. Tagging, phonetic spelling, and emphasizing his street name in his work connects Shark Toof directly to his graffiti roots.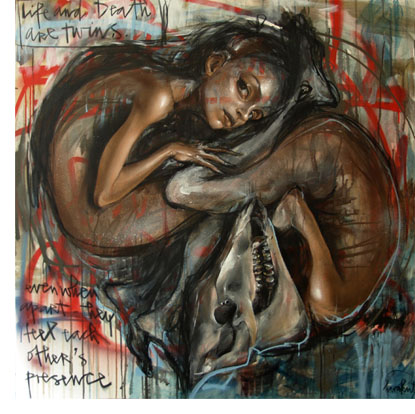 Herakut, a duo from Germany, approach their art more conceptually, combining poetry and existential quotes with startlingly beautiful, realistic figures. In a wonderful site-specific piece at Prescott Park, Herakut illustrates Cecilia Thaxter's poem about a young, innocent milkmaid, creating a big-eyed, starvation-skinny, black girl-child as the principle protagonist. She hugs her milk cow with a tragic vulnerability.
Case a.k.a. Andreas von Chrzanowski displays a sense of humor that is refreshing and hits viewers immediately when they enter his exhibition rooms at the museum. Paint-splattered walls look like the aftermath of a paint-gun attack, and white chicken feathers litter the floor. The feeling of guerrilla warfare is reinforced in three large, spray painted canvases of the artist's camouflaged face.
Alexandros Vasmoulakis is another international artist. His multistory image of cartoon hearts and pastries, bubbles and booms, arranged in an explosive spray-painterly collage over a gaping, grinning movie-star mouth is a traffic stopper. The face's size, blast of colors, and drastic scale suggest a drama with no story line. His museum pieces—from the Wrong Series—are smaller versions and, like the multilayered '80s images of David Salle, they invite multiple narrative interpretations.
In all, there are nine outdoor murals, and the museum offers guided tours as well as maps and cell phone interpretations for those who wish to go alone.
The Portsmouth Museum of Art continues its mission to bring the seacoast up to date with what's going on in the larger, international art world. Inviting the art and nonart public into a community-wide discourse, by bringing the museum to the street, demonstrates the vibrant relevance of art.
©2018 Art New England, All Rights Reserved
Designed and Developed By: T. Montgomery