Temporary Structures: Performing Architecture in Contemporary Art
DeCordova Sculpture Park and Museum • Lincoln, MA • www.decordova.org • Through December 31, 2011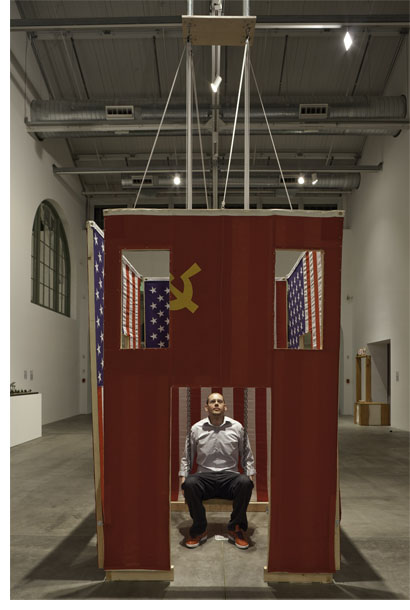 The DeCordova has a surprise up its sleeve, so to speak. And no, it has nothing to do with the infernally third-rate Harry Potteresque whimsy of Andy Goldsworthy. Spinning off a quote by Winston Churchill, "We shape our buildings; thereafter, they shape us," curator Dina Deitsch has assembled an astonishingly broad look at how we live, and more specifically, what we choose to live in.
This timely exhibition comes on the heels of a housing crisis here in the United States that exposed the detailed corruption of financial institutions and undermined our economy significantly. Deitsch surveys the surrounding New England landscape, assumed by many to be a puritanical construct, and discovers the rebel aesthetics of the likes of Walter Gropius and Henry David Thoreau, near neighbors to the DeCordova.
Gordon Matta-Clark's seminal work from the 1970s is the cornerstone of the exhibition. Matta-Clark famously took apart buildings to create sculptural objects. Two of these films, together with Clockshower, in which he bathes and shaves atop the Clock Tower building in New York City, are on view.
Vito Acconci's Instant House is an icon of Cold War-era folly. It is a participatory sculpture gerry-rigged on pulleys that transform the splayed American flags (walls) laid at the viewers' feet into a small house adorned with the hammer and sickle when someone sits on a swing at its center. The simplicity of this object's illuminative power cannot be overstated, both as damning indictment and historical artifact.
Wall climbing collaborators Ward Shelly and Douglas Paulson explore
the architecture of the DeCordova itself, making their way through the museum by constructing temporary catwalks that sometimes snake high overhead. The idea here, as the artists start in the lobby and perilously make their way up the main staircase before heading to the fourth floor, is of adaptation, both to habitat and circumstance.
Additional work by a roster of artists is also on view and most of it is notable as well. What's striking is the vision of the curator. The intellectual underpinnings of the show are so elegantly constructed, so foundational and supportive of the work chosen, that here the curator becomes a true artistic collaborator.
©2018 Art New England, All Rights Reserved
Designed and Developed By: T. Montgomery