Todd Watts at the University of Maine Museum
Todd Watts: String Too Short to Use
University of Maine Museum of Art | Bangor, ME | www.umma.umaine.edu
October 8-December 31, 2010
Over the past thirty-plus years, photographer Todd Watts has explored manipulated imagery–be it surfaces of planets, the human body, or the Brooklyn Bridge–and played with perception. With a fascination for science and an eye toward humans' fate, Watts provokes through alteration. As he once noted, "Art is our greatest data-compression technique."
The exhibition at UMMA features twenty or so digital pigment prints on Crane's silver rag or Arches Infinity paper. The earliest work in the show, three images from the 2006 series Foiled Farm, reflects the artist's surroundings in Piscataquis County, a poor, rural part of Maine. A farmhouse with foil siding resembles a set for a modern opera, with birds casting shadows on its simple facade.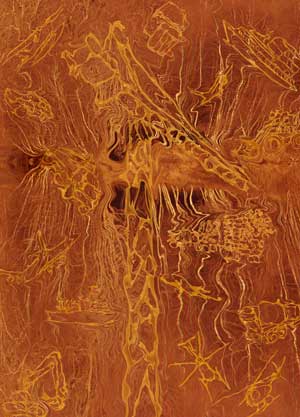 A 2007 series, Copse Caper, offers variations on an image of a flock of dark birds in a grove of thin trees. Watts creates motion by blurring the winged creatures, as he does with birds and leaves in the equally dazzling 2008 series Different Kinds of Air.
The most recent work has a sociopolitical edge. Some Float, Some Don't, 2009, which was included in the Center for Maine Contemporary Art's 2010 Biennial, juxtaposes orange balls and bleached driftwood on a milky river–a statement, perhaps, about natural/unnatural phenomena. In Text Message: Whatever, 2009, busily texting figures appear oblivious to the post-nuclear landscape around them. Finally, Perfidy of Plum Creek, 2010, offers an inventive indictment of the massive development planned for Moosehead Lake in northern Maine. The four-panel work represents the perfidy of the project by way of twisted imagery–yachts, wildlife, a woman with a beach ball.
Watts, who attended the School of Visual Arts in New York City, moved to Blanchard, Maine, in the mid-1970s to produce limited edition portfolios for Berenice Abbott (1888-1991). He has shown in a variety of venues in recent years, from Susan Maasch Fine Art in Portland to the Leopold Museum in Vienna, Austria. A master printer, he has printed vintage photographs, most recently, Bert Lincoln Call's nineteenth-century images of the Maine woods. Woods is a consummate illusionist who nonetheless treasures the real.
-Carl Little
©2018 Art New England, All Rights Reserved
Designed and Developed By: T. Montgomery