WALL AT WAM: CHARLINE VON HEYL
Worcester Art Museum • Worcester, MA • www.worcesterart.org • Ongoing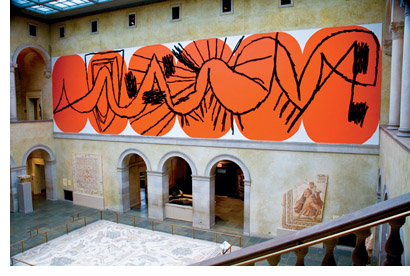 Charline von Heyl's sixteen-by-sixty-seven-foot mural looms in the Worcester Art Museum's Renaissance Court like an oversized decree for abstract painting's steadfast salience in the art world. It is at once a billboard for the painter's
simultaneous exhibitions at the Institute of Contemporary Art, Boston and Tate Liverpool, which opened within a month of each other, and the ability of abstract painting still to appear fresh.
Though rendered in paint, the work was sketched in a nineteen-by-forty-eight-inch drawing and created over the course of three days—much more quickly than the multi-layered paintings and collages at the ICA. The mural is essentially a hard, black drawing across a blown-up copy of Ellsworth Kelly's Orange White (1961), a work in WAM's collection, that was rotated ninety degrees
The work has a distinct quality of being very von Heyl, yet her surveys at the ICA or Tate both show how her oeuvre resists the taxonomy of modern art. Her paintings bounce between figurative and pure and seemingly unselfconscious, action-based abstraction. The orange lozenges of Kelly's work echo the arches of the WAM's grand room, and combined with the aggressive undulations of von Heyl's shapes, the work will remind many of Henri Matisse's famous The Dance (1932) mural in the infamous Barnes collection. However, the work's orientation and graphic simplicity may for others evoke Robert Motherwell's Elegy to the Spanish Republic paintings.
Von Heyl is one of those classic modernist painters that says she's "solving problems in paint" and has been quoted suggesting her painterly shapes stand for themselves as "fact[s]," but she is more than a bombastic anachronism. Her approach to the Wall at WAM gave way to an unfettered scrawl that relegates Kelly's oversized Tic-Tacs to architectural whispers. Its black lines subsume his balanced distillation of what white and orange can be on a flat surface and create a completely new work with three—or even four—dimensions. Whether her individual paintings call to mind Matisse, Motherwell, or even de Kooning or Frankenthaler, what makes von Heyl's works successful is their ability to stand on their own, and the mural at WAM is no different.
—Christian Holland
©2017 Art New England, All Rights Reserved
Designed and Developed By: T. Montgomery