WYETH VERTIGO
Webb Gallery, Shelburne Museum • Shelburne, VT • shelburnemuseum.org • Through October 31, 2013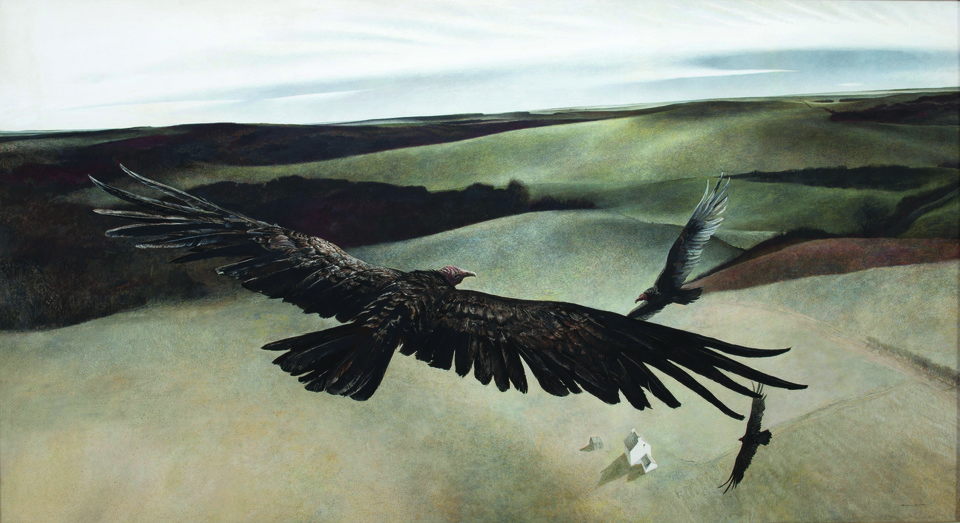 Andrew Wyeth, Soaring, 1942–1950, tempera on masonite, 48 x 87″. Shelburne Museum, ©Andrew Wyeth. Photo: J. David Bohl.
Electra Havemeyer Webb, the avid collector of American folk art and antiques, would have been 125 years old in 2013. The museum she founded is having a transformative year.
Twenty years ago, the Shelburne Museum was facing a $300,000 deficit and causing a stir in the art world by putting Manet's portrait of Suzette Lemaire, three Degas pastels, and a bronze up for auction at Sotheby's. This year, the 45-acre museum located near the shores of Lake Champlain is wrapping up a $14 million capital campaign. In August, the museum celebrated the opening of the Pizzagalli Center for Art and Education, a development that will allow the museum to be open year-round for the first time in its history. Topping it off, it is hosting a remarkable exhibition showcasing one of the greatest dynasties in American art.
Co-curated by Shelburne Museum Director Thomas Denenberg and Art Conservator and University of Delaware Professor Joyce Hill Stoner, Wyeth Vertigo presents the work of three generations of Wyeths. The exhibition includes 39 works on loan from 22 other collections and focuses on the sometimes vertiginous, sometimes bizarre perspective each of the artists uses in their work. In a century marked by a dizzying number of art movements, the grandfather N.C., son Andrew, and grandson Jamie gained critical success making realist paintings in egg tempera.
Anchoring the exhibition, Andrew's Soaring, 1950 is reunited with four studies on loan from the Museum of Fine Arts, Boston. The viewer's perspective in this macabre painting is from above three turkey buzzards circling a small, white house on a barren landscape. Soaring is an emotional twin to Andrew's most famous painting, Christina's World, 1948, at The Museum of Modern Art, New York. Also on view is a survey of Andrew's perspectives, from the dirt-eye view of a dead crow in Winter Fields to the perched-in-the-tree, through-the-branches view in The Hunter.
The elder N.C. illustrated 112 books including a number of classic works of children's literature such as Treasure Island, Last of the Mohicans, and Robin Hood. He was frustrated with his commercial success, writing in 1914 that he "bitched myself with the accursed success in skin-deep pictures and illustrations." N.C. longed to be recognized as a fine artist. His flirtation with impressionism is evident in works like The Drowning, a haunting work of an unmanned rowboat on waves rendered in a style somewhere between Monet's Soleil Levant and the geometric quality of Cézanne's Mont Sainte-Victoire paintings. The perspective in N.C.'s work is often chosen to maximize the amount of action contained in the painting. It reads like a brilliant, if oddly placed camera.

N.C. Wyeth, This was the only bit of land anywhere about…., 1940, oil on hardboard (Renaissance panel), 29 ½ x 20″. Private Collection, Cambridge, Massachusetts. Photo: Thomas Lingner.
Jamie's work focuses largely on his animal paintings, landscapes, and a painting of pumpkins being lobbed off a cliff. The selection fits nicely between the epic painting of N.C. and the studied perspective of Andrew, but shortchanges Jamie's contribution to the lineage. Portrait of Orca Bates, 1989, is the exception. The painting shows a young, mullet-sporting man holding a seagull while standing on a cliff on Monhegan Island. His expression is distant and sad; not what one might expect from someone who had caught a seagull on a Monhegan cliff. The painting trades on the same emotional intensity as Jamie's well-known If Once You Have Slept on an Island, 1996 and his Portrait of Andy Warhol, 1976. The artist distinguishes himself from his forebears by applying the Wyeth clan's quirky perspective to people. N.C. gave us images that packed epic drama into single frames. Andrew took us into the ground and to dizzying heights; he showed us the world from unimaginable angles. But Jamie, in his figurative work, takes us inside the human condition and gives us paintings of great emotional complexity.
©2018 Art New England, All Rights Reserved
Designed and Developed By: T. Montgomery