Xiaoze Xie: Amplified Moments (1993–2008)
Bates College Museum of Art • Lewiston, ME • www.bates.edu/museum • Through March 18, 2012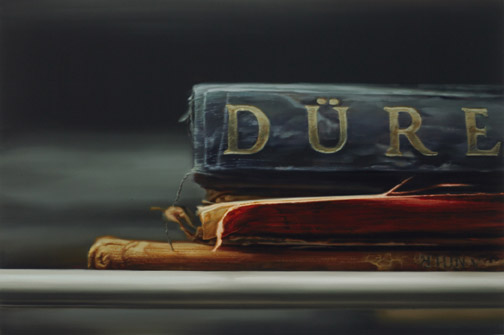 When newspapers are stacked, a kind of archaeological site is started. As the papers pile up, history forms. Chinese-born, California-based artist Xiaoze Xie is drawn to this idea, producing large-scale oils depicting folded newspapers. One of these, March–April 2003. L.T. (2003), from the Fragmentary Views series (1999–), is a star of the Bates show. The stack of the Times of London reveals bits of text and image, including a row of hands, which the artist has said belong to Iraqis reaching for relief supplies. Such compressed visual data represents the crush of history.
Another exhibition standout is The Metropolitan Museum of Art Library (Dürer) (2006) from the Museum Libraries Series, begun in 2005. The painting focuses on the battered spines of three publications laid flat on a table, the top one a monograph on the outstanding Northern Renaissance artist (only the first four letters of his name, DÜRE, are visible). The exacting attention given to these battered books brings to mind painter Alan Magee's poignant presentations of various time-worn objects.
While Xie based his newspaper and book paintings on photographs of these subjects, the three large ink on rice paper paintings from his 2007 Theater of Power Series relate to newspaper images dating from the Bush administration's staging of the Iraq War. In May 19, 2003 C.T., an image of an American tank surrounded by Iraqi citizens is translated into a complex design of light and dark. Rarely are political subjects so handsomely presented.
Xiaoze Xie: Amplified Moments originated at the Samek Art Gallery at Bucknell University in Fall, 2010, and made two stops before arriving in Maine. The exhibition catalogue offers essays by Britta Erickson, Karen Smith, and the exhibition's curator, Dan Mills. Writing about the installation piece Flags & Banners: A Century of Student Movement in China (1994), Mills references Xie's experiences of the uprisings in his home country in 1989 and the ensuing crackdown in Tiananmen Square. The exhilaration and disillusionment of those experiences resonates throughout the work in this exceptionally moving show.
—Carl Little
©2018 Art New England, All Rights Reserved
Designed and Developed By: T. Montgomery