November / December 2016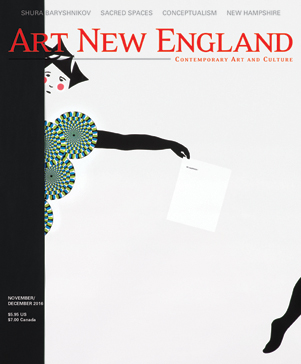 CONTENTS
FEATURES
The Portrait
By Katy Kelleher
Approaching a Modern Definition of Identity
A Moment, a Movement, a Market
By Dominic Green
The Birth of Conceptual Art, 1968
Sacred Spaces
By Carand Burnet
Four Spectacular New England Sanctuaries
COLUMNS
Letters
FlashPoints
Gallery FlashPoints
Studio Visit
Joe Fig
By Elizabeth Fennell
Studio Visit
Doppelgänger Dance Collective
By Sarah Baker
Painting
Art Out of the Ordinary
By B. Amore
Collecting
Inside a Collection:
Wagstaff's Thrilling Chase
By Susan Rand Brown
Museums
The ICA's 10th Anniversary
By Christopher Volpe
Profile
Frances Stark
By Sarah Baker
Film
Frame to Fame: Following Four Filmmakers on Their Journeys, Part 3
By Ethan Gilsdorf
Theater
Mame
By Jared Bowen
REVIEWS AND PREVIEWS
SPOTLIGHT
Irving Penn: Beyond Beauty at Lesley University
by Emily Avery-Miller
In Place: Contemporary Photographers Envision a Museum at Florence Griswold Museum
by Tori Rysz
CONNECTICUT
Her Crowd: New Art by Women from Our Neighbors' Private Collections at Bruce Museum
by Rachael Palacios
Stephen Westfall in Perspective: A 15-Year Survey at Cooper & Smith Gallery
by Judy Birke
MAINE
The Art of Books of Henri Matisse at Portland Museum of Art
by Carl Little
MASSACHUSETTS
American Impressionist: Childe Hassam and the Isles of Shoals at the Peabody Essex Museum
by Carand Burnet
Nedret Andre: Immersed at @artlery160
by Olivia J. Kiers
Edgar Arceneaux: Written in Smoke and Fire at MIT List Visual Arts Center
by Emily Avery-Miller
Fruit 'n' Loops at the Oxbow Gallery
by Carand Burnet
NEW HAMPSHIRE
Reunion Exhibit, Rhode Island School of Design, Class of 1967 at Mill Brook Gallery and Sculpture Garden
by David Raymond
Laetitia Soulier: The Fractal Architectures at Hood Downtown
by Meg Brazill
RHODE ISLAND
Nick Hollibaugh at Cade Tompkins Projects
by Alexander Castro
Margaret Pettee Olsen & Brian Kane: Cipher at Gallery EOSS with Watermark Gallery
by Elizabeth Lee
VERMONT
Post Pop: Prints of Keith Haring at Middlebury College Museum of Art
by Meg Brazill
East Meets West at Miller's Thumb Gallery
by Sheryl Trainor
In this Issue….
Calendar
Destination: New Hampshire
Art Guide
Holiday Guide
Guide to Schools and Workshops
Exhibition Listings
Classifieds
Art Seen
On the cover: Frances Stark, Member of chorus (a particle), 2008, paper collage, graphite on paper, 76 × 57 1  5/  1  6″ framed. Koenig Books, Cologne and London. Image courtesy of greengrassi, London and the Museum of Fine Arts, Boston.
©2018 Art New England, All Rights Reserved
Designed and Developed By: T. Montgomery