All Blogs
Dec 15, 2014

A Dark Trip Into the Woods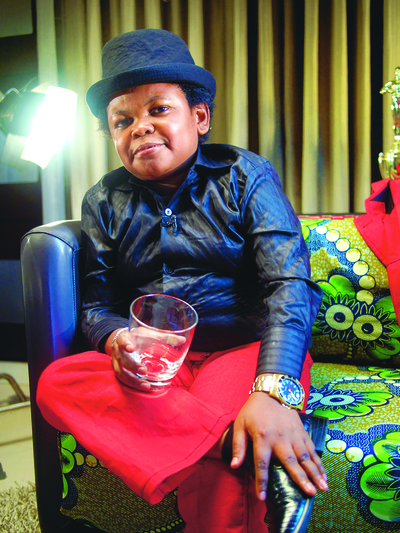 by Debra Cash
A child can easily get lost in the woods: Hollywood in Los Angeles, Bollywood in Mumbai and Nollywood in Lagos. These international centers of the commercial film industry are places of enchantment and aspiration. For the young people who enter these realms in pursuit of fame, they can turn into ominous settings that impose a constricted range of "authentic" childhood behavior and identity.
Video artist Candice Breitz is concerned with the social distortions of international consumer media culture and the way it plays out in visual imagination. Born in Johannesburg, trained in the United States, and based in Berlin since 2002, she is a global citizen. Trevor Smith, the Peabody Essex Museum's first contemporary art curator, tapped Breitz as the eighth artist to participate in its ambitious FreePort contemporary art initiative. Smith...
Dec 12, 2014

ARTcetera Reception at Art Basel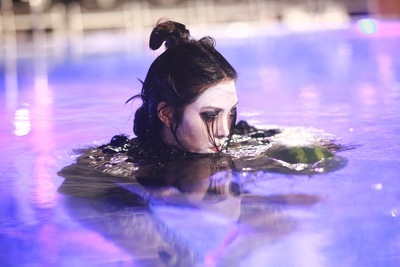 Last Friday guests gathered at the Ritz Carlton in Miami Beach for the reception of one of the most anticipated art events of the year: Art Basel. The reception was hosted by ARTcetera, AIDS Action's biennial art auction, and featured a performance by Autumn Ahn. Staged in the Ritz Carlton pool, the performance, called Untitled (Chamber), was inspired by the artists who founded ARTcetera thirty years ago. As a proud sponsor of ARTcetera, Art New England is excited to present photos from the event and to thank ARTcetera for a wonderful night. Stay tuned for more photos and Basel coverage on the ANE blog.
Nov 25, 2014

Purrrformance Piece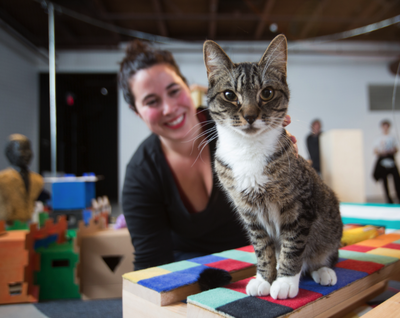 by Donna Fleischer
Rhonda Lieberman is breaking down barriers between art and humanitarianism with her Cats-in-Residence Program at Real Art Ways, Hartford, CT. Originally part of the greater exhibit The Cat Show at White Columns Gallery in New York, the Cats-in-Residence Program is part performance piece, part interactive exhibit and part cat adoption program.
For the latest iteration of the exhibit, rescue cats were carefully chosen from Connecticut Cat Connection and placed in a kitty playground, a large netted circle filled with food, toys and obstacle courses. Architects Gia Wolff, John Hartmann and Lauren Crahan designed the habitat. Other artists contributed sculptures on which the cats can play. The netting surrounding the structure is double bound to make climbing easier for the cats, and a variety of structures allow for additional exploration.
Viewers can stand...
Nov 21, 2014

A.B. Miner: Bring to Light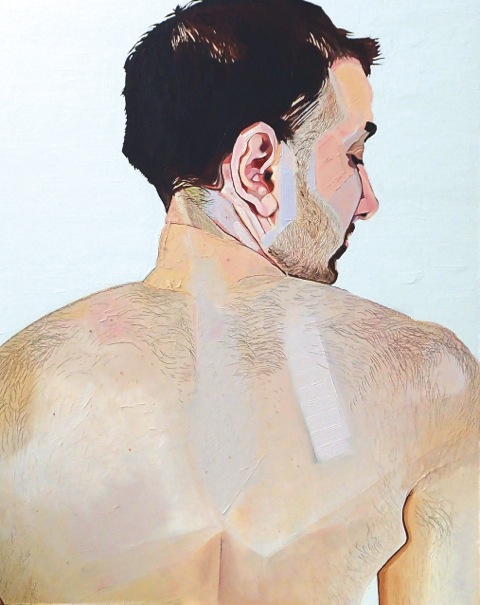 by Robert Moeller
There is a specific kind of uncertainty on display in A.B. Miner's paintings and drawings. In part, they stem from the exploration of a physical geography that is both fully mapped and stubbornly unknown. The work unfolds in curated episodes of confessional gestures that are meant to unveil what remains hidden or private. Where Miner starts is with the portrait of a small girl. He ends up is with a remarkable depiction of a diverse assortment of butterfly penises.
In between, and likely the most important here, is not only what Miner chooses to expose, but the ways in which the viewer might decide to approach the work. The artist's main subject here is the irascibility of gender, issues of turmoil and confusion, and ultimately contentment.
A distinctive narrative tracks through the exhibition, and it is a fraught with hard-won truths. Even in the case of the renderings of the butterfly genitalia, which Miner used to explore the varied...
Nov 19, 2014

Illuminus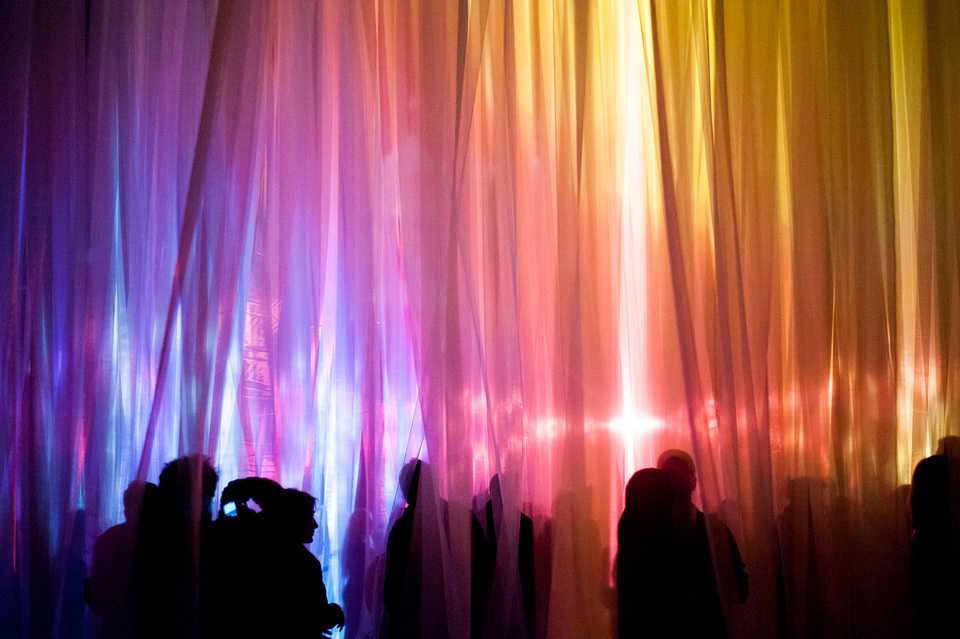 by Celina Colby
Bright lights and big ideas transformed the West End Street Railway Central Power Station and other buildings in the South End on a late October Saturday night. Boston's first Nuit Blanche festival, put on by the Dorchester-based production company Materials & Methods, was a rousing success with thousands of viewers coming out to the SOWA area. Projections, light installations, emersion environments and performances by almost 40 artists were on view.
The event was truly a community collaboration. Although Jeff Grantz, the founder of Materials & Methods, did much of the heavy lifting, the artistic undertaking would have been impossible without the help of others. Monetarily Grantz had almost 20 sponsors donating money, time and equipment to the project. Local curators recommended artists to be featured to help build the number of exhibits available. Even GTI Properties, which owns several of the Harrison Avenue buildings used...
Nov 10, 2014

Sin-ying Ho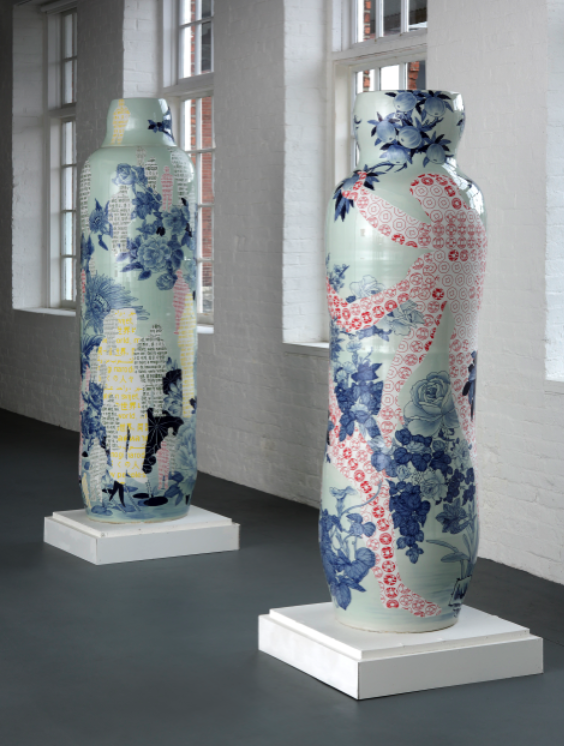 By Anthony Merino
Sin-ying Ho dissects the complexity of human identity in two semi-monumental vases: Temptation: Life of Goods No.1 and One World, Many Peoples No. 2 exhibited at Independent Art Projects, North Adams, MA. Across the surfaces of the two vases are human forms in silhouette floating amidst a field of flowers, mimicking traditional blue and white floral patterns found in traditional Chinese porcelain imports. Ho uses the silhouette device to suggest that humans are vessels and within them are their identities. Renaissance painter Titian's Fall of Man serves as the template for the figures on Ho's Temptation. Titian's painting depicts the moment Eve plucks the forbidden fruit from the Tree of Knowledge of Good and Evil. Within the silhouettes are designs inspired by Chinese coins: a circle with a square hole cut in its center. Each circle includes a corporate logo. In the end, Ho asserts that humans largely identify themselves by what they...
Nov 3, 2014

Ellis Boston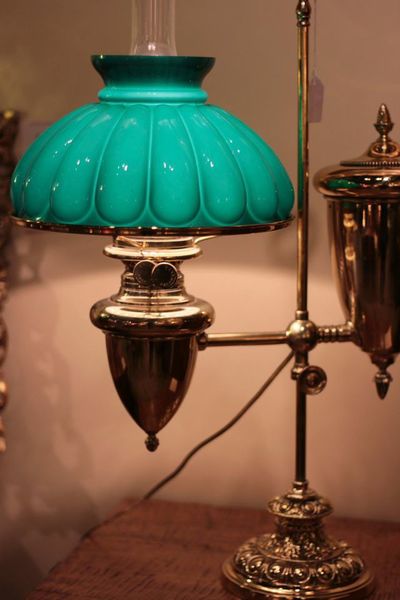 by Celina Colby
Stepping into the Cyclorama last weekend felt like stepping into a luxurious old home. Forty booths were decorated with an astounding quantity of ornate antiquities. Chandeliers sparkled from the ceiling and bookcases hugged the walls, filled with rare artifacts and old volumes. Friends and collectors sat in high-backed chairs discussing vintage Chanel bags and porcelain figurines. You might well have seen the same scene in any of the sophisticated historic homes on Beacon Hill.
For 49 years the Ellis Antiques show was held at the Castle at Park Plaza. In 2008 it closed due to budgeting problems and a great Boston tradition was lost. Tony Fusco of Fusco and Four, who was working on the Boston Antiques show at the time, suggested that Ellis merge with Boston Antiques, thus combining the best of both. A new tradition was born.
Oct 29, 2014

Franklin Evans: juddrules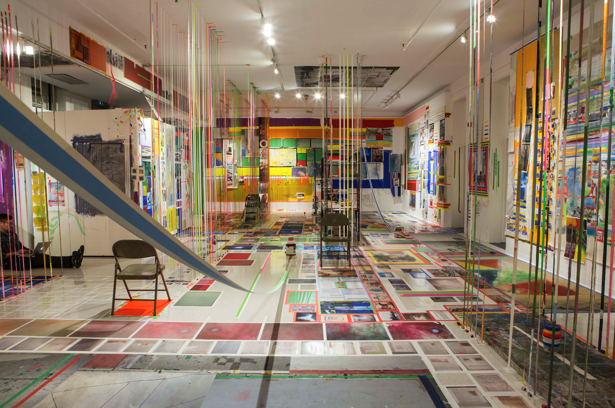 by Robert Moeller
Any combining, mixing, adding, diluting, exploiting, vulgarizing or popularizing of abstract art deprives art of its essence and depraves the artist's artistic consciousness. Art is free, but it is not a free-for-all. The one struggle in art is the struggle of artists against artists, of artist against artist, of the artist-as-artist within and against the artist-as-man, -animal or -vegetable. Artists who claim their artwork comes from nature, life, reality, earth or heaven, as "mirrors of the soul" or "reflections of conditions" or "instruments of the universe," who cook up "new images of man"—figures and "nature-in-abstraction"—pictures, are subjectively and objectively, rascals or rustics. - Donald Judd, American Dialog, Vol. 1-5
Donald Judd was an exquisite contrarian. Call him a minimalist and he'd say, no, he wasn't. To be fair, the term itself was widely rejected by artists working at this...
Oct 8, 2014

Reverb: New Art From Greece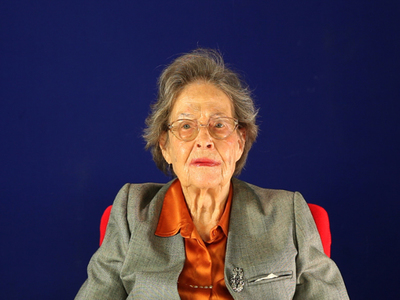 The Alzheimer-stricken Greek woman stares down from a large screen on the wall. Her personal narration is interspersed with flashed images: Mickey Mouse, Soviet Nazis, gunfire. Over the grandmother's muted words runs the sound of a newsreel, spewing information from a 1970s broadcast on Greek National Television. You can't follow both storylines. Loukia Alavanou's striking piece begs the question, which will you listen to?
Alavanou is one of nine Greek artists featured in the School of the Museum of Fine Arts show Reverb: New Art From Greece. The exhibit's goal is not to be an overview of contemporary Greek art but to reveal alternate perspectives of the many changes in the country. A new sense of urgency has infused into the artwork as a result of the social and political turmoil the Mediterranean country has experienced...
Sep 24, 2014

Canvas Fine Arts Opens Two New Exhibits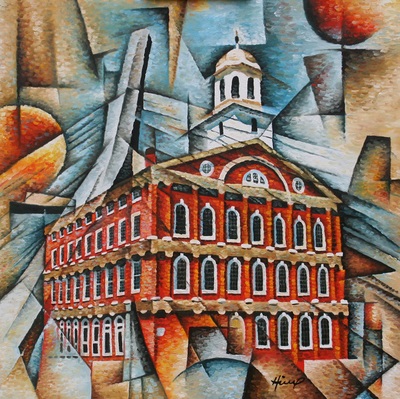 Boston City Hall has long had artwork spicing up its dreary walls, but on Wednesday, September 17, the first curated exhibit to grace the city council president's office opened. Suzanne Schultz of Canvas Fine Arts and Keith Whitmore of Masterpiece Fine Art Gallery curated the show to represent both Bill Linehan and Boston in a subtle yet relevant way.
Linehan represents the SoWa District, where many artists and galleries are located, including Canvas Fine Arts.
The orderly offices behind the brutalist façade of City Hall make for an unlikely oasis for the art in the exhibit. But there is something poetic about the way the pieces reflect the city council's mission.
Robert Hickox's piece Maelstrom is featured prominently in one of the seating...
Aug 19, 2014

Ragnar Kjartansson: The Visitors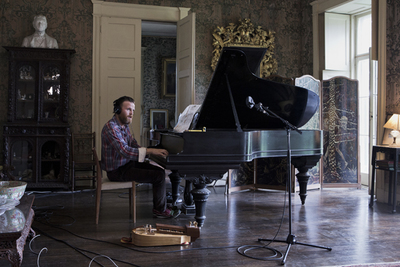 Ragnar Kjartansson: The Visitors
Institute of Contemporary Art (ICA) Boston, MA icaboston.org
Through November 2, 2014
"There are stars exploding...and there is nothing you can do." So goes one of the lines from Ragnar Kjartansson's video installation The Visitors, currently on view at the Institute of Contemporary Art in Boston. Sung over and over, this verse is a perfect expression of the urgent undercurrent that runs through this evocative work. The Visitors is simultaneously a sorrowful lament over the loss of time and place, and an ambitious endeavor to momentarily suspend the viewer's experience of either. In considering physical displacement and the search for community, the work explores concepts of geography and identity that increasingly characterize 21st-century...
Jul 1, 2014

Ann Chernow: Noir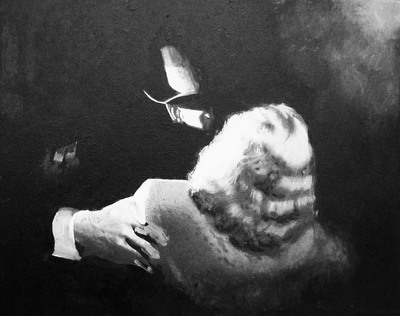 Ann Chernow: Noir Albert Merola Gallery Provincetown, MA Albertmerolagallery.com
June 6-24, 2014
From the darkness a beam of light falls on the mane of blond hair, setting it ablaze. Then it glances off a profile, picks up the tip of a cigarette, an aquiline profile. This is Ann Chernow's latest work and it is all inspired by film noir, the post-WWII Hollywood genre in which the action often takes place in darkness, in shadows, and where the themes of mystery, illicit rendezvous, and subterfuge play out.
Chernow's painting always has been woman-centered and often tinged with nostalgia, its images taken from old family photographs and magazines. Her latest work evinces a desire to go deeper into women's psyche to explore the private, darker side, the danger zones of passion, heartbreak, physical beauty and intrigue. She investigates above all the part that fate plays in the lives of both men and women. 
Jun 23, 2014

Energy Necklace at the Jackson Homestead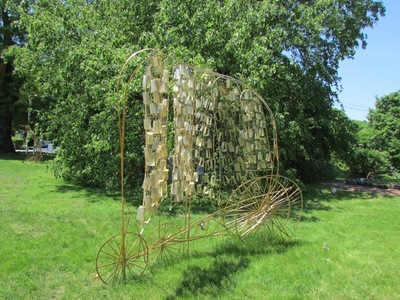 Energy Necklace at the Jackson Homestead
Historic Newton, 527 Washington Street, Newton, MA
April 3–July 18, 2014
Susan Israel, curator
www.EnergyNecklace.com; www.historicnewton.org  
Milan Klic; Acquisitions of Light, aluminum alloy, resin, steel, 9' x 12' x 4'; photo credit, Susan Israel
The debut of Energy Necklace at the Jackson Homestead and Museum is also the debut of a public sculpture exhibition for the distinctive institution itself. Cindy Stone, Jackson Homestead museum director, explains: "Once a stop on the Underground Railway, the Jackson Homestead sought to stop the exploitation of people just as the Energy Necklace seeks to curtail exploitation of the earth. They seemed like complementary...
Jun 10, 2014

Chaos Controlled: A Constructivist's Memoir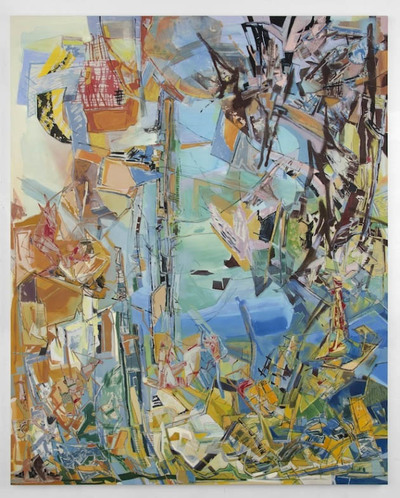 Chaos Controlled: A Constructivist's Memoir
Iva Gueorguieva Samsøn Projects www.samsonprojects.com/ April 18 – May 31, 2014
The Owl's Failure 2014, acrylic, hand painted collage, oil on canvas, 100 x 80 inches
Samsøn director and curator Camilø Alvårez first met Bulgaria-born painter Iva Gueorguieva back in 2005 after presenting a lecture at the Skowhegan School in Maine. One of the things that must have drawn him to her work is the fact that Gueorguieva is a collector of images: not technically, perhaps, but rather in the way her work resonates with, and riffs upon, the very distinct visual narratives offered up by artists like Picasso, Dubuffet, and the arid landscapes of Pollock's drip paintings. Formally speaking, the strongest historical connections date back to Constructivism and a host of Russian painters and sculptors. Yet direct links to the past,...
May 8, 2014

Flatmansquared, new stainless steel and bronze sculpture by Ernesto Montenegro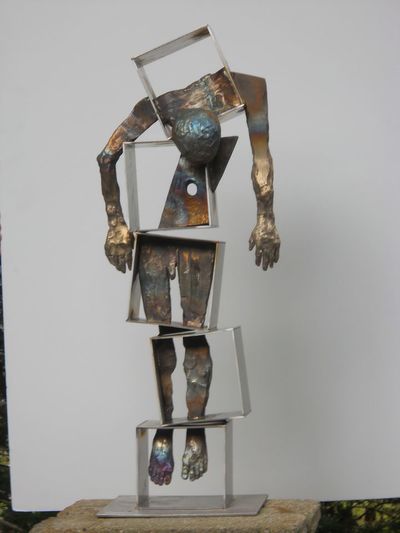 Flatmansquared, new stainless steel and bronze sculpture Ernesto Montenegro May 3–May 31, 2014 R. Michelson Galleries Northampton, MA www.rmichelson.com
When first seen Ernesto Montenegro's new sculptures suggest cruel contraptions that contain disassembled but living humans. His arrangements of sectioned bodies in stainless steel boxes at once reveal and remove their subjects. Some of the open boxes contain voids of body sections as though figures are equally present and disappearing.
A 'figure in repose' (Montenegro does not title his pieces), seems at ease in a somewhat angular way, but it is an ease suggestive of vital reduction—a slightly living figure, existing between life and after-life. An arm rests on the top of a box that contains the chest adjacent to the arm of a 'normal' figure. Bent at the elbow, it angles down to the floor, three finger...
Mar 21, 2014

Solar Power: Little Sun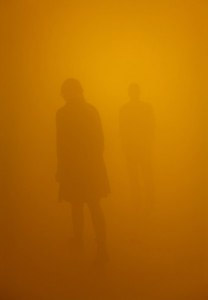 Olafur. Eliasson, Din Blinde Passenger,2010
by Robert Moeller
The Council for the Arts at MIT announced last October that Olafur Eliasson had won the Eugene McDermott Award. The award includes a cash prize ($100,000.) and campus residency for the artist and a gala held in his honor. The Berlin-based Eliasson, mainly know for his large spectacular installations—notably The New York City Waterfalls and the weather project at the Tate Modern—is at heart a collaborator. Whether it is with scientists, engineers or architects, he seems most comfortable out in the world of ideas, picking someone's brain while at the same time formulating a way to insert his artistic practice into the contemporary mix. The results are hard to codify as they veer out across so many disciplines and engage a host of issues. One is reminded of Leonardo's wandering mind, visible in his notebooks, when considering Eliasson's work.
Recently, in March, Eliasson was at MIT's...
Mar 11, 2014

Accumulation 2: The Lightning Speed of the Present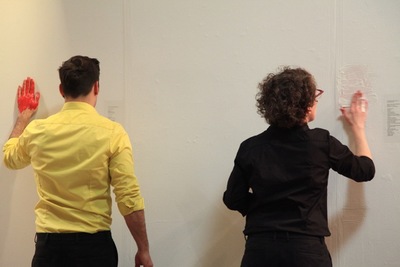 Márcio Carvalho and Shannon Cochrane
by Shawn Hill
Accumulation 2 The Lightning Speed of the Present 808 Gallery, Boston University Through March 30, 2014
As part of the challenging and experimental Lightning Speed of the Present exhibition at Boston University's 808 Gallery, local performance artist Sandrine Schaefer has staged a multi-week performance series called Accumulation. The concept is simple and open-ended: each week a new artist performs on Wednesday. Whatever they bring or use must be left behind for the next performance.
Effectively (as my friend and fellow habitual attendee Maggie Cavallo said at Week Three) it's like having a season pass to a concert series, only it's free and you have no idea what to expect from week to week. A clue to the goings-on...
Feb 5, 2014

Wendy Seller: Visual Metaphors, New Paintings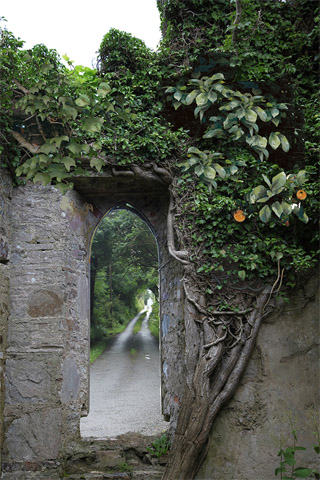 Wendy Seller, Fictitious Portal, 2013
by Alicia Faxon
WENDY SELLER:  VISUAL METAPHORS, NEW PAINTINGS
Bannister Gallery, Rhode Island College . Providence, RI ric.edu/bannister
January 23-February 19, 2014
Wendy Seller is a painter of fragments, digitally realized.  Her reconstituted landscapes and imaginary portraits draw on paintings and photographs as well as her own paintings, combined in evocative and mysterious ways.
Originally a neo-surrealist painter, she connects new techniques to capture an invented world, unsettling and imaginative in nature.  Her landscapes are taken from different areas in Ireland, a landscape she has documented in recent years. Her portraits echo mainly Renaissance...
Jan 24, 2014

Some Thoughts About Deborah Grant: Christ You Know it Ain't Easy!!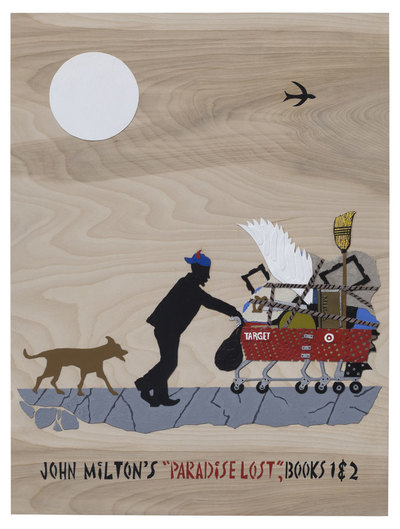 by Monroe Denton
Editor's Note: There are several national celebrations upcoming related to the content of this blog. African-American History Month is February 1-28; Women's History Month is March 1-31, and Yom Hashoah, Holocaust Remembrance Day, falls on April 27-28. Various Gay Pride rallies occur nationwide every spring.
Deborah Grant: Christ You Know it Ain't Easy!! January 25 – February 28, 2014                                                                                          Drawing Room, The Drawing Center, NY Opening Reception: Friday, January 24, 6–8pm  
Curated by Claire Gilman                                   ...
Jan 7, 2014

Daisy Rockwell: The Topless Jihadi and Other Curious Birds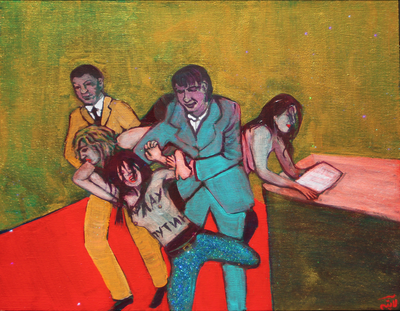 New Works by Daisy Rockwell Bennington Museum, Bennington, VT Closed December 30, 2013
By Bret Chenkin
Daisy Rockwell is primarily known as a scholar in East Asian studies, especially India. She has translated various works from the Hindi, composed reviews, and is currently at work on a novel. However, based on the prolific and quite colorful output exhibited at the Bennington Museum (although the voluminous amount of notes accompanying the show may indicate otherwise), one would have to argue that her real passion lies in painting. The show encompassed the entire hallway of the Regional Artists Gallery, with seven different subject groupings—all of which touch on feminist-socio-political themes, with no gloves on.
Rockwell's work is mostly intimate in scale and tonally and compositionally appears to pay homage to the Mughal/Rajasthan Schools of court painting from 17th to 18th centuries. This is certainly the case with the preponderance of pastels,...
Dec 18, 2013

Floor van de Velde: Score for a Color Field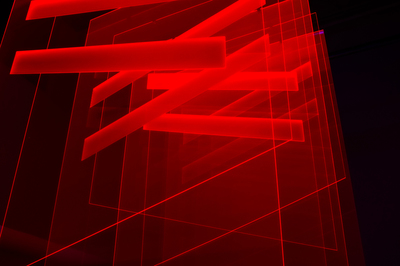 By Robert Moeller
My icons do not raise up the blessed savior in elaborate cathedrals. They are constructed concentrations celebrating barren rooms. They bring a limited light. —Dan Flavin
The somewhat awkward formulation put forth by Dan Flavin simultaneously raises and dashes the notion of religiosity in his work. Light, even the fluorescent version, imbues a work of art with a distinct ethereality, whether spreading out from a single candle present within a painting by Rembrandt or through the controlled neon sprawl emitted in any of Flavin's work.
Floor van de Velde's exhibition Score for a Color Field at the 17 Cox Street Gallery in Beverly is all about light, and darkness as well. In the small, unlit gallery her simply arranged forms cast an array of disembodied shapes and patterns that produce an upending of the formal space that contains them. Interestingly, too, there is an organizing presence as well that arrives as the viewer begins to process...
Dec 8, 2013

Day 3 Miami/December 6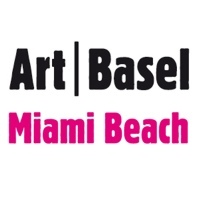 A remarkable start to this day was visiting the Perez Art Museum on Biscayne Bay. Herzog & de Meuron have produced a beautiful, bountiful museum. Its internal centerpiece is an open auditorium, a series of wooden stairs that function as seats to ascend to the second floor in a manner reminding me of the surprise of the ancient Pergamon Altar. Workmen scrambled to complete mortaring the pavement outside and the road leading to the museum is not yet built but the stupendous auditorium was drama incarnate. It faced a very large screen of projected Ai Weiwei commentary.
Coming upon Chinese art/activist Ai Weiwei's jade handcuffs and floor pieces and videos upstairs, as part of his Ai Weiwei: According to What? special exhibition that had traveled to Miami to help inaugurate the Perez, was a terrific encounter. This exhibition was a perfect choice since this museum is dedicated to 20th and 21st-century international art. In the portion of the lobby that is called...
Dec 6, 2013

Miami Day 2/Report for Dec. 5
A most incredible day at the Miami art fairs began with the Aqua Fair at the intimate Aqua Hotel and culminated at the Art New England/deCordova Museum/Skinner poolside party for New Englanders at the gargantuan Fontainebleau Hotel.
The New England galleries William Baczek Fine Arts (Northampton, MA) and Rice Polak Gallery (Provincetown, MA) had terrific exhibitions amid the 45 exhibitors, each with a hotel room of its own. The riveting monkey-man portraits by Travis Louie were showstoppers at Baczek, as were Rice Polak's offerings of Michael Snodgrass, especially his Art Critic with Blue Pants.
When I visited Tom Shirk, ace hotelier and art curator whose White Porch Gallery is in his beloved Provincetown, he was in the process of opening R House in Miami's Wynwood, preparing for his opening night bash. The paintings of German artist Dietmar Brixy were beautifully installed in his inaugural exhibition in America in the flexible, inspired, retrofitted club-like interior...
Dec 5, 2013

Day 2 in Miami was a busy one for deCordova!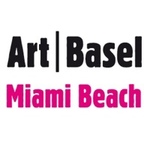 by  Dennis Kois
I spent some time previewing the main Basel fair, running around to prep an itinerary for a "walkaround" tour in the afternoon for a few of our patrons who are down this week. I was juggling looking for interesting work, trying to not get lost in the maze that is the exhibit halls (I heard one collector telling her friend that she likes to think of the Basel layout, with it's central layer of blue-chip galleries surrounded by aisles and aisles as the seven levels of hell...), talking to gallerists and chatting with the friends I ran into in the fair (Barbara and Jonathan Lee, Boston area collectors and all-around ecumenical arts supporters, Andrew Witkin from Barbara Krakow, Olga Viso, Director of the Walker Art Center, artist and Rappaport Prizewinner Orly Genger, and others I've forgotten already... it was a blur!).
All that is to say I was not exactly...
Dec 5, 2013

Day 1, December 4, Miami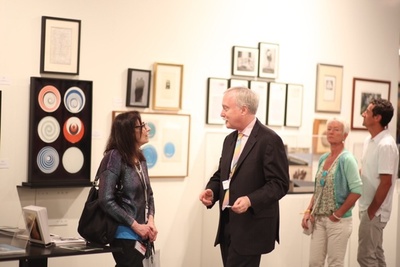 The Art Basel Miami Fair at the Convention Center, the mother of the multitude of Miami fairs running now, is always an overwhelming event at first. With such a sampling of international blue-chip art, each booth so carefully installed, and the Fair issued floorplan in one's moist hand, it is an environment exactly like no other. This is true especially early on in the process, when the gallerists retain their complete energy and focus. One's looking starts and one soon remembers why one loves art—its richness and the many discoveries it never ceases to yield are fundamental to its pleasures. The more one looks the more one knows, and here one wants to interrogate gallerists with questions related to their selections, and talk about the other works one knows to which their sale items may refer. In turn the gallerists have fantastic stories to tell, curatorial and entrepreneurial. They are very engaging and knowledgeable about their artists, what they have selected to show in their...
Dec 4, 2013

Dennis Kois: Art Basel Miami Beach 2013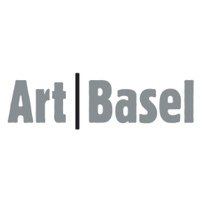 Left Boston this morning on the early AA flight down, which as always was packed to the gills with Boston collectors, museum folk, and artists, and we compared notes and itineraries as we waited to board. Saw Magda Campos-Pons buying coffee, and became jealous of the ability of Paul Ha, the Director of
MIT's List
, to sleep sitting up. He was still snoozing a few rows ahead of me as we touched down. That's a skill I need!   After adjusting to the glaring Miami sunshine (ahhhh! I'm melting!) I dropped off bags at the
Fontainebleau
, and snapped a quick pic of the pool terrace where
deCordova's
party (sponsored by Art New England and
Skinner
, thank you!) for all us New Englanders will be held Thursday night. Beautiful as ever- very Miami Beach! While sitting on the terrace catching up on emails, saw Susan Talbott, the Director...
Dec 3, 2013

Body and Soul: New International Ceramics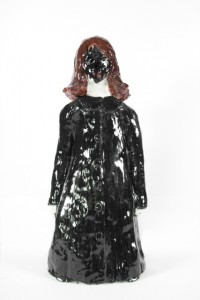 by Mary Bucci McCoy
Museum of Arts and Design (MAD)
New York, NY
Through March 2, 2014
Independent curator Wendy Tarlow Kaplan has had a dedicated career in the fine arts in Boston, with positions at the Museum of Fine Arts, the former Fogg Art Museum, Harvard University, as curator for the Art Complex Museum in Duxbury, and the Women's Studies Research Center at Brandeis. In the case of her latest curated exhibition, she has brought together diverse ceramic work from 24 artists in an international exhibition in New York. She examines contemporary figurative clay sculpture as a vehicle for social commentary, with topics including violence, identity, sexuality, and oppression. Nearly half of the artists are French; the remainder are from the United States, the United Kingdom and Scandinavia.
As a sculptural material clay is versatile: its possibilities include hand building, molds, fashioning on the potter's wheel; carving; and extrusion. Some...
Nov 29, 2013

Outside of Philadelphia
I write on Black Friday. Art is apparently dead today and Walmart is alive. We need Wearable Art! and our March/April issue will be dedicated to that. Judith
Oct 24, 2013

Just Happy to Be Here!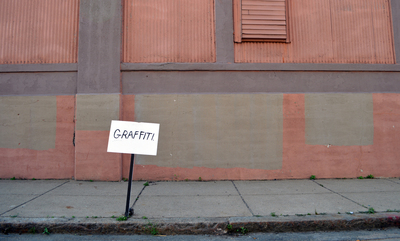 by Robert Moeller
All images by Pat Falco are Untitled, 2013. Above: Photograph of installation, C Street, South Boston, MA.
Pat Falco is an artist from Boston, the self-proclaimed "Master of Light and Shadow" and regarded by many of today's finest art critics as "Who?" On a more serious note, Pat was selected for the 2013 deCordova Biennial, which runs through April 13, 2014; he was part of the 2013 Fountain Art Fair in New York; and was one of six artists nominated for the best artist category by The Phoenix. The title of this column is borrowed from Falco's late-summer exhibition at Montserrat College of Art. We spoke recently. —RM
Robert Moeller: In talking about your work, a familiar jumping-off point might include an artist like Barry McGee. Is that an apt comparison?
Pat Falco: Definitely. Barry, [the late] Margaret Kilgallen and many more of those...
Oct 22, 2013

LOCALLY MADE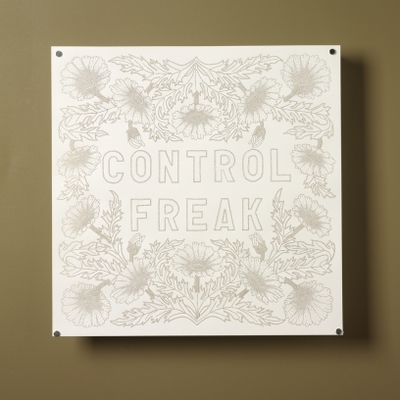 by Anya Ventura
Jane Masters, Control Freak, 2005.  Museum purchase: Gift of the Artists' Development Fund of the Rhode Island Foundation. RISD Museum of Art Through November 3, 2013 I was greeted by a man in pancake makeup and told to grab a goodie bag filled with a comb, a pencil, and a piece of bubblegum. Inside the packed gallery, several performance art pieces were being enacted at once. I watched as a man in drag swayed softly alone, encircled by a talismanic array of potato chip bags. Bubblegum wrappers were piled on the floor like a Gonzalez-Torres installation. This was "After School Special," an event part of the RISD Museum's exhibition, Locally Made, in which different local artists are given free reign in the museum's experimental installation space, School House Long House. Such creative chaos appears to be the charter...
Oct 8, 2013

Seeing It Loud in New York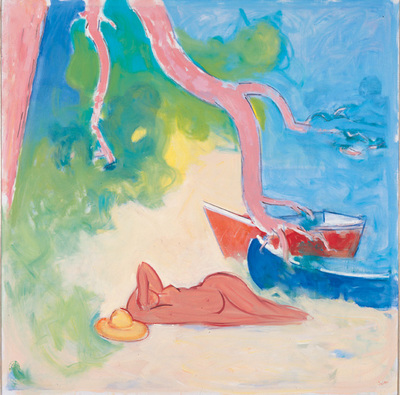 by Henry McMahon
The National Academy Museum, on Fifth Avenue, is now hosting See it Loud, an exhibition of paintings by seven painters—Leland Bell, Paul Georges, Peter Heinemann, Albert Kresch, Stanley Lewis, Paul Resika, and Neil Welliver. Their deep influence on the sensibilities of at least two generations of painters in this city is reflected—some will think this perverse—in inverse proportion to their standing in the art market.
It's a well-known story that the big budget galleries' domination of New York's artistic landscape has transferred influence away from teaching institutions and museums. Insofar as the Academy's traditional role of disseminating the ideas of important artists has become the purview of the commercial gallery, Chelsea, more than any place, reflects the true academic art of our time. In this context, See it Loud is best characterized as an anti-academic show.
Sep 26, 2013

1,000 pianos/ 37 cities/ 1 Boston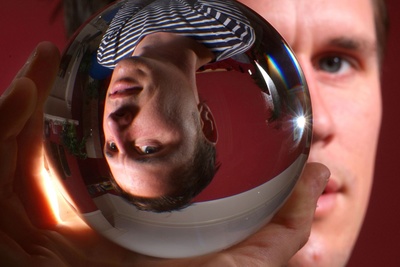 by Demelza Durston
The article that follows is based on an interview with the visual artist Luke Jerram on September 20, 2013. It took place in his offices on Park Street, Bristol, UK.
Courtesy of the author: "Luke Jerram With Sphere" 
It really creates a visual and acoustic sense of community. It gives focus to a street.—Luke Jerram, artist-producer of Play Me, I'm Yours [installation in Boston September 27th- October 18th, 2013]
Boston, with its Berklee College of Music and historically thriving music scene, shouldn't be surprised when it awakes on Friday morning to find hand-painted pianos have been scattered across familiar urban streets and landmarks. For the past 16 years since his graduation from the University of Wales, Cardiff (1997), Luke Jerram, an internationally active visual artist based in Britain, has long been...
Aug 27, 2013

Found Redux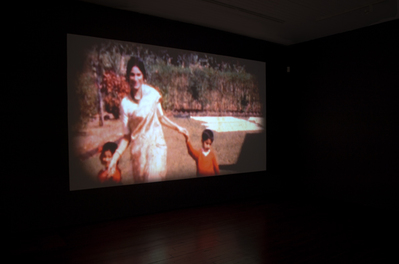 by Bansie Vasvani
The current exhibition continuing through August 23rd at the Talwar Gallery, New York, entitled Found, features the work of Indian and Sri Lankan artists Aishya Abraham, Muhanned Cader, and Srinivas Prasad. Grouped together for the first time for their use of found materials, these artists communicate in a language that speaks beyond the context of their immediate surroundings. Their visions converge in presentations appealing to universal feelings for time and history, and they stir a strong sense of nostalgia.
Ayisha Abraham's grainy, amateur videos En Route or Of a Thousand Moons, 2011, gathered from discarded family archives, offer little in terms of actual documentation of time, place or history. Segments from various videos are presented in a seamless trajectory deliberately without reference to any specific tale or narrative. What emerges from these disparate montages of found footage is reference to irretrievable moments of bygone years—simple...
Aug 19, 2013

Reading the Ruins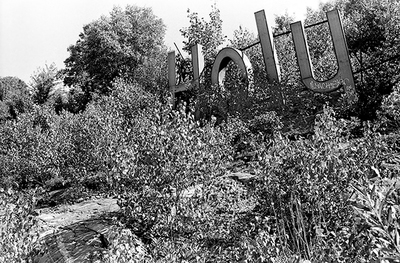 Holy Land: Photographs by Joy Bush Through September 8, 2013
Mattatuck Museum Waterbury, CT 203-753-0381 www.mattatuckmuseum.org
---
by Stephen Vincent Kobasa
Joy Bush, Holy, 1997. Image courtesy of the artist.
A Holy Land laid waste seems closer to the truth somehow, if one thinks only of the present day in which the square outside the Church of the Nativity in Bethlehem has been filled with tear gas, and a thirty-foot wall marks the western border of Jerusalem. But the inaccurate model of that landscape spread across nearly twenty acres of a hillside in Waterbury, CT, was not intended—by John Greco, a Waterbury attorney who began its construction in 1955—to be a lesson in current events. Neither did he imagine it becoming a long, continuing history of decay after its closing thirty years ago.
Aug 13, 2013

Play Me, I'm Yours: Luke Jerram's Street Piano Extravaganza Comes to Boston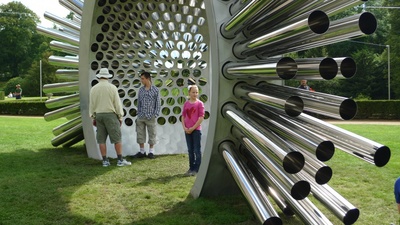 By Debra Cash
Sound links its listeners in a net of attention; it is an orientation device and an opportunity.
Since 1997, sound has been British artist Luke Jerram's raw material for his sculptures, installations, and public art works. The Visiting Senior Research Fellow at the Center for Fine Print Research at the University of West of England, Jerram has created a giant, stainless steel aeolian harp whose metal tubes vibrate in the wind; rigged tiny, hypersensitive microphones to plants growing in a botanical garden to amplify their barely perceptible acoustic emissions; designed a talking silver ring etched with a twenty second loop of his voice proposing marriage to his girlfriend Shelina (she said yes); and launched a "sky orchestra" of seven hot air balloons that wafted music into people's bedrooms at dawn to infiltrate their dreams.
Aeolus installed at Lyme Park Estate,...
Jul 31, 2013

Bedlam…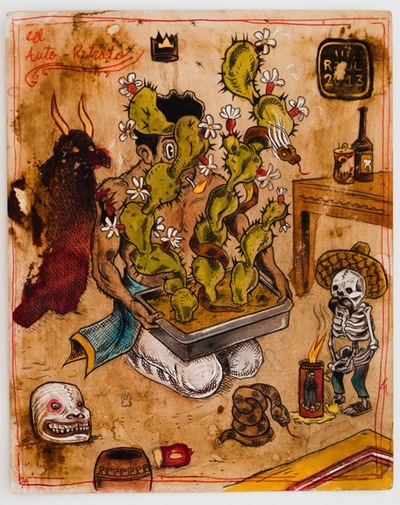 Raul Gonzalez III Los Nuevos Guerreros July 17- August 31, 2013
Carroll and Sons 450 Harrison Avenue Boston carrollandsons.net
---
By Robert Moeller
The Mexican border town of Ciudad Juarez is a killing ground. In the five years leading up to 2011 roughly 9,000 people were murdered there. This includes the unsolved slayings of several hundred women, many of whom came to Juarez to work in the maquiladoras, which are large assembly plants situated near the border with the United States. The products made in these factories are not the only things exported from Juarez, as it is also a center of the Mexican drug trade and a vital transit hub for people seeking to enter the United States illegally. At times, raging gun battles between rival drug cartels have crippled the city and troops have been called in to restore a semblance of order. Over the last several years, things have improved and the violence has decreased, but Juarez, by any standard, remains...
Jul 29, 2013

Thoughts on encountering paintings by Jim Peters, Figurative Revisionist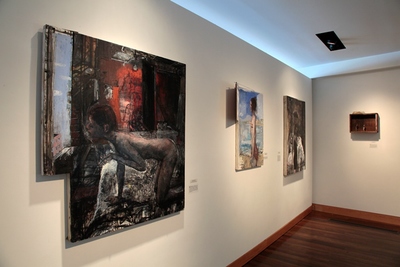 By Susan Rand Brown
For a painter like Jim Peters, "on the scene" in galleries and museums since the late 1970s, to have his art ignored—that is, seen but not seriously considered—would be cruel punishment. No need to worry. His paintings have never been wallflowers. Peters' figures are hard to ignore, even as acolytes, questioning or straddling the fence. They are women and men, positioned in the dingiest of (bed)rooms, windows darkened and seemingly blocked, where they read and lounge pre- and post-coitus—the aureole around which Peters' coal-dark scenarios revolve.
Given the postcard-like work that flourishes in summer galleries like so many Cape Cod cottages in July, the two Jim Peters exhibitions in Provincetown's East End right now, the retrospective curated by John Wronoski at the Provincetown Art Association and Museum (through August 11) and the other at the artSTRAND Gallery (through August 7) speak highly for the future of serious painting,...
Jul 3, 2013

Some thoughts on Ana Flores's Earth History, Selected Sculptures 1997-2013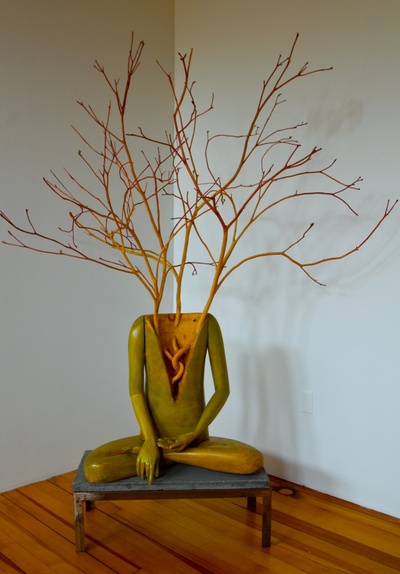 By Patricia Rosoff
Some thoughts on Ana Flores's Earth History, Selected Sculptures 1997-2013 [Part of Poetry of the Wild recently installed on the Sculpture Walk at the Alexey von Schlippe Gallery of Art, UConn at Avery Point, Groton CT]
Ana Flores, Enlightenment, 2010, wood, cement, metal. 8' x 36" x 16"
Two currents move through the work of Ana Flores as encountered, recently installed both at the Alexey von Schlippe Gallery and along the windswept Sculpture Walk by the Sea. One is private and figurative, expressed in lyric attentiveness to details of relation, to color and to material. The other is public, site-specific and multi-disciplinary (literary and narrative), inviting viewer exploration and interaction. Both engage the viewer in three dimensions, in works that spring from forms "found" in nature that are then formally "staged" in architectural or natural...
Jun 25, 2013

Seven on Site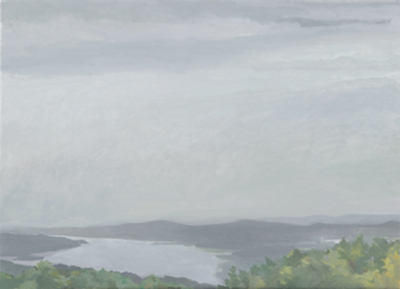 by Martha Hoppin
To say someone paints en plein air, a French term for "in the open air," is to conjure up an artist seated at an easel outdoors, under an umbrella, depicting specific landscape features more or less faithfully. This held true for much of the 19th century, when the practice originated, but today's artists have expanded the concept. The range of contemporary approaches to plein air painting can be seen in the exhibition Seven on Site, on view until the end of June at the Oxbow Gallery in Northampton, Massachusetts. Seven on Site features an informal association of landscape painters who live and paint across the country. The seven—Martha Armstrong (Hatfield, MA); Sasha Chermayeff (Hudson Valley); Jane Culp (California); Judy Koon (Chicago); Ro Lohin (Long Island); Lynette Lombard (Galesburg, IL); and Megan Williamson (Chicago)—joined forces to show together out of a shared commitment to painting on site. Their unconventional works emphasize expressive...
Jun 20, 2013

The Paintings of Luc Leestemaker: Beyond the Horizon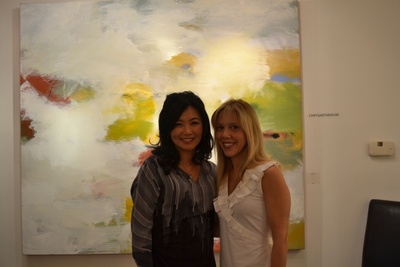 Galerie d'Orsay, in the Back Bay, Boston, has mounted the memorial exhibition, touchingly called The Paintings of Luc Leestemaker: Beyond the Horizon, through July 1, 2013. The late Dutch artist and writer (1957-2012), self-taught, was active in Amsterdam and beginning in the 1990s in Los Angeles. The landscape paintings in this exhibition, from his period in LA when he surrendered to the practice of painting, are confident, large-scale, mostly square paintings, mixed-media on canvas. Rightly called "lyrical" by the gallery, they also creatively conjure, without ever emulating slavishly, the paint handling tradition of Dutch abstract expressionist Willem DeKooning and Karel Appel, of the Cobra movement.
Emily Lau representing the Estate and Sallie Hirshberg, gallery owner, at Galerie d'Orsay.
But Leestemaker draws on the still deeper tradition of Dutch 17th-century landscape painting—with...
Jun 11, 2013

Biennale Dispatch #2/2: Thoughts on the Art of the Poetic Protest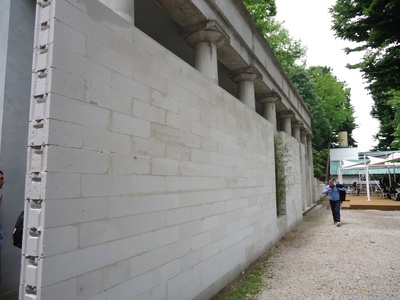 Fran Siegel
These are tense times throughout the world, and as the Venice Biennale might well be considered a form of cultural Olympics, the stakes here could be high. This is why many were surprised at the offensive tone of Danish minister of culture, Marianne Jelved, in her speech that inaugurated the provocative pavilion of artist Jesper Just. Ms. Jelved explained that walling off the front of the Danish pavilion was at odds with the mission of culture and that this work portrayed Denmark as isolationist, blocking out the outside world. Viewers were guided instead to enter the multi-roomed video work through the back.
Jesper Just- View of the former front of the Danish Pavilion
Catty-corner to the Danish pavilion is artist Sarah Sze's contribution for the US. Triple Point is housed in the Palladian style building with its rotunda entrance blocked,...
Jun 4, 2013

The 55th International Art Exhibition of The Venice Biennale Opens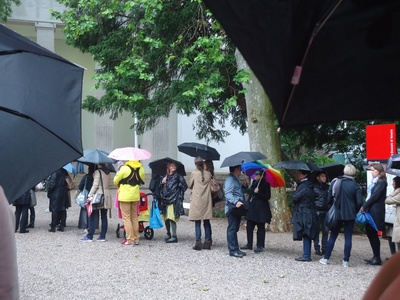 Fran Siegel
I attended the 2013 Venice Biennale preview during May's last 3 days which did not resemble the shimmering glam of yesteryear. Instead, clusters of make-shift raincoats and umbrellas soggy shoes, and layered mismatched outfits meandered through town hoping to stay warm and dry amidst the downpours. Despite only two years to prepare and the high curatorial bar set by dOCUMENTA 13 in Kassel last year, Artistic Director Massimiliano Gioni chose the ambitious title "Encyclopedic Palace" based on his pseudo-surrogate Marino Auriti, (also an Italian American) who filed a patent in 1955 for an imaginary museum that could "house all world knowledge." Gioni used the framework of this "temporary museum" to speak about the channeling of images in an information age, artistic obsessions, surreal dreams and hallucinations, and ultimately the transformative power of the imagination. Unfortunately as the manic organization of several artists'...
May 17, 2013

A Precise Coda…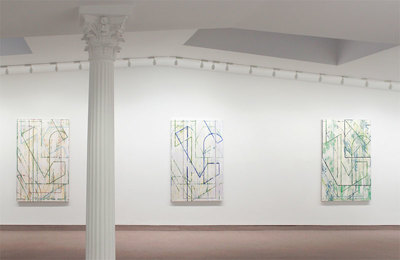 Scott Hadfield: New Paintings April 27th- June 1st Barbara Krakow Gallery Boston, MA
Scott Hadfield, Installation View, Courtesy Barbara Krakow Gallery
There is an unnerving level of grace present in this focused sampling (just six paintings) of recent work by Scott Hadfield at the Barbara Krakow Gallery in Boston. The feeling is almost unsettling. Hadfield's quiet, meditative exploration of nearly identical forms, and the ruggedness of the painted and scraped terrain that accompany them yield profoundly precise constructions.
That precision, however, is something of a ploy. Hadfield, who greatly admires Jasper Johns, subtly shifts the armature of shaped lines that these works share, creating the illusion of movement passing through time. The lines here are stock-still, yet the painted surfaces around them abound with gestures and edited...
May 10, 2013

A New Cosmic Mix: Now in 5D! An Interview with Maggie Cavallo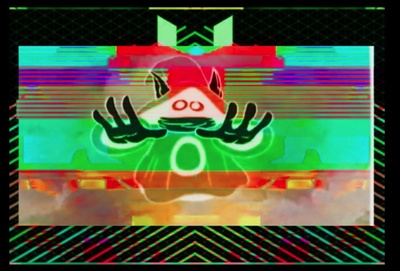 Image: Hexbeam courtesy of the artist
Maggie Cavallo is an experimental curator and educator based in Boston, MA. Committed to celebrating and contextualizing contemporary art in Boston and beyond, Cavallo specializes in live and experiential aesthetic experiences. Recent projects include ☢ SPACE CASE: ZILLABOSTON ONLINE RESIDENCY, NEAR DEATH performance art experience curated by Vela Phelan, NOTHING & NO THING curated by Robert Yoder and INSTANT MESSAGING co-curated with Anthony Greaney. Cavallo is also Curator of Education at Montserrat College of Art, where she programs over fifty visiting artists into the curriculum each semester. Her latest project is A New Cosmic Mix: now in 5D! at the Museum of Science's Charles Hayden Planetarium May 12th at both...
May 6, 2013

WILLIAM MATTHEW PRIOR "That's how the light gets in"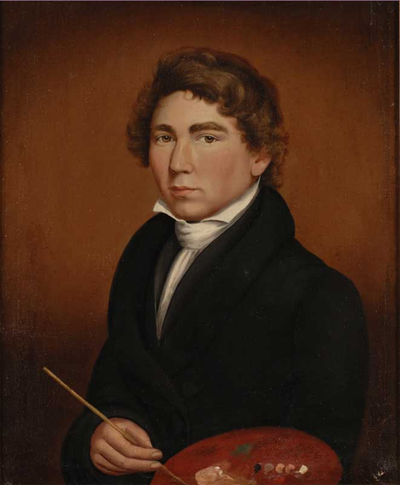 By Monroe Denton, New York
Artist and Visionary: William Matthew Prior Revealed American Folk Art Museum January 24-May 26, 2013
A special exhibition at the American Folk Art Museum introduced the wide-ranging career of a New England painter, born in Bath, Maine in 1806.  It opened almost exactly 140 years after his death in Boston.  The Fenimore Art Museum in Cooperstown, New York, which is the primary repository for Prior's works, had organized the show of almost forty Prior portraits (and two other works) plus a handful of works by his relatives, housepainters who turned their hands to images under his influence.  The lessons of history and contemporary art which the exhibition offered left at least this viewer excited beyond anticipation.
"There is a crack in everything/That's how the light gets in," Leonard Cohen sings over and over in my imagination.  I wonder:  is art the way that the light gets in?  It isn't the quality...
May 1, 2013

Pain(t)ed Justice: The Curious, Troubling Case of Portrait of Wally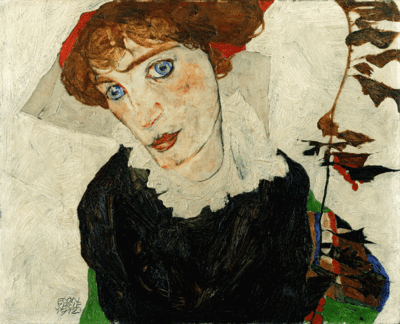 Pain(t)ed Justice: The Curious, Troubling Case of Portrait of Wally
by Ethan Gilsdorf    
Egon Schiele's "Portrait of Wally" (1912) Courtesy of The Leopold Museum
The trials and tribulations surrounding Portrait of Wally are by now largely known in the art world. A famous Egon Schiele painting, stolen by the Nazis and "misplaced" in a famous museum's collection, gets unearthed and justice is restored. A new documentary, which bears the same name as Schiele's coveted 1912 painting, is the first effort fully to connect the controversy's many sub-plots and dead ends. Andrew Shea's Portrait details the controversy, and subterfuge, surrounding the painting that, as the film's tagline hyperbolically claims, was the "The Face That Launched a Thousand Lawsuits." Well, not a thousand. But several. To recap the backstory: Female nudes were Austrian painter...
Apr 17, 2013

negation/nostalgia/love letter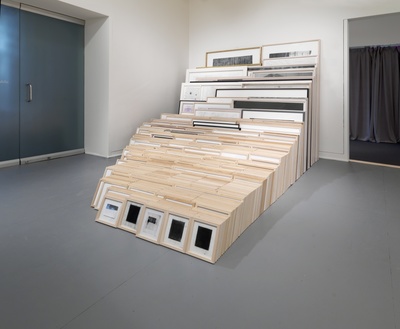 Among From With Andrew Witkin: Platform 11 deCordova Sculpture Park and Museum through April 2, 2013
Installed in the hallway and two galleries at the top of the deCordova Museum is Andrew Witkin's Among From With. The installation is attentive to the borders that exist in a museum and attempts to break these down.
In the hallway are several minimalist plywood chairs aligned and spaced along the wall with black felt-like banners hung on the wall. The chairs occupy both the space of sculpture and the function of a space for waiting. The banners contain long lists of names and fragments of thoughts. The names are mostly art names with musicians and baseball, etc. The thoughts are about art and being. This hallway smells good, all that fresh wood. The lists accumulate as a love letter: to those who have influenced and sustained both in thought and presence. The love letter is to the world of art and thought. I am reminded how small a world it is since many of the names...
Apr 16, 2013

An alternative gallery: making a museum-sized exhibition space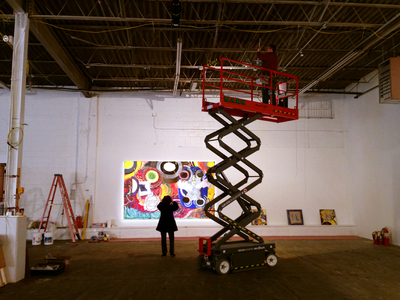 Sheffield van Buren & Katherine Porter: Paintings April 4 – May 31, 2013 Thursdays through Sundays, 1 – 6 pm 100 Holton St. Allston, MA (behind warehouse at 184 Everett) 
[Photo] View of Installation at 100 Holton St.
Down a nondescript alley, just past Jump on in Parties and the Boston Auto Body Shop, you will notice the hand-painted sign with the words GALLERY. Follow the arrow and you will be amazed to find an art exhibition to rival a museum—with soaring ceilings and a beautiful installation of thirty oil paintings by two established artists. What is the source of this unusual gallery?
Artist Sheffield van Buren searched for several years for an alternative exhibition space before locating an "industrial box" in a warehouse section in Allston. The building is one of many vacant or underutilized buildings in the area owned by Harvard...
Mar 26, 2013

About "Great and Mighty Things"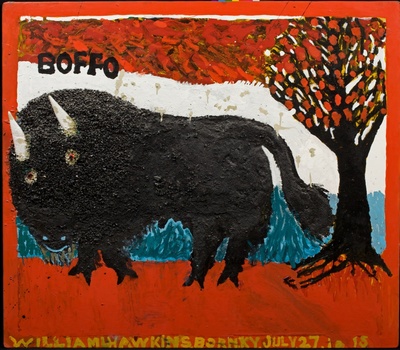 by Henry McMahon
Some of the most striking works in the Philadelphia Museum of Art's "Great and Mighty Things": Outsider Art from the Jill and Sheldon Bonovitz Collection, are the sculptures of William Edmondson, who was born in 1874 to former slaves and held various manual labor jobs until his mid-50s, when a series of divine visitations—and the commandment to take up stone carving—prompted two decades of remarkably accomplished sculpting. Immediately recognizable as the subjects they depict, each of Edmondson's carved limestone sculptures (Woman, Angel, Horse with Short Tail, Horse with Long Tail, Three Birds, and Sheep) takes form by a subtle interplay of simple planes. They are solid and believable without being overly descriptive (rough chisel marks denote the sheep's fleece, the horses' coats, the woman's hair and the angel's wings), deriving their power from a restrained economy of means.
Boffo. William Hawkins, American, 1895-1990....
Mar 6, 2013

Who, What, When, Where?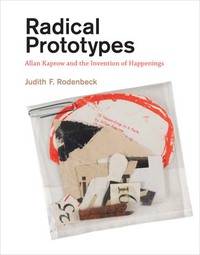 By Martha Buskirk 
Book reviews of Ming Tiampo's Gutai: Decentering Modernism (University of Chicago Press, 2011) and Judith Rodenbeck's Radical Prototypes: Allan Kaprow and the Invention of Happenings (MIT Press, 2011)
How is it that certain examples come to stand as shorthand markers for an artist's work, or even an entire movement? The first gambit in any such reassessment is likely to involve proffering an alternate slate on which to build the analysis. For event-based work there is the further challenge of sifting through the traces, documents, and residue relating to manifestations that remain tantalizingly beyond any opportunity for direct experience.
Left: Judith Rodenbeck's Radical Prototypes: Allan Kaprow and the Invention...
©2014 Art New England, All Rights Reserved
Designed and Developed By: T. Montgomery