ANE Portfolio Posts
Jan 26, 2018

Semblances of Place at Concord Art
By Olivia J. Kiers The winter appearance of Concord, MA is quiet, and often swathed in great patches of snow. Yet a bright, colorful, urban world awaits this winter at Concord Art, where the work of three Massachusetts artists is on display. Semblances of Place (through February 10) creates a great escape from the ordinary for those fortunate to catch it on view. Betsy Silverman's collaged images depict the most playful aspects of city life, in particular, Boston's. Swan boats glide over rippling, brilliant blue water in the Public Garden. Red Sox fans gather outside Fenway Park under a sunny sky. Silverman saturates her cityscapes with color, and also with snippets of text and images from New England magazines—Art New England among them—that offer locals a number of amusing moments of recognition. The artist's wit ranges from a mermaid swimming in the Public Garden's lagoon in Ducks and Swans 2, to a Do Not Enter sign in Crossing Downtown Crossing that also declares...
Dec 12, 2017

Hidden Heritage: Peter Edlund's Names on the Land
By Olivia J. Kiers Boldly imagined landscapes from another era fill the walls of Hartford, CT-born painter Peter Edlund's current solo show at Real Art Ways, Names on the Land (through January 28, 2018). The royal blues, pinks and blacks are highly saturated. Each line is trenchant, and forms exhibit a heavy physicality. Yet Names on the Land is only about aesthetics at first glance. Edlund associates landscape with linguistics, reveals history in a heron, and ties politics to plant life. His paintings clamor with the countless battles fought between truth and forgetfulness, all hidden in plain sight across American soil. The premise of Names on the Land is that many place names across the United States are derived from indigenous languages, such as Algonkian, which Edlund began researching in 2005. After hundreds of years of English-speaking dominance, these names no longer convey their original meaning to the majority of Americans, even though those meanings are often simple,...
Nov 7, 2017

Shedding Light on Bridge Repertory Theatre's Dark Room
By Natasha Bonfield Bridge Repertory Theatre's Dark Room begins in shadow, a sliver of bright light emerging from a barely cracked open door. A young woman stands partially illuminated, her gaze fixated on something we cannot see in a far corner of the room. She starts her ascent, slowly, wordlessly up a twisted flight of stairs. Under the guidance of director and Bridge Rep founder Olivia D'Ambrosio, this is what the audience of the third workshop of Dark Room is led to imagine. An actor does stand before us, embodying the character of photographer Francesca Woodman, but that is the extent of the scene setting; the rest is left up to our imagination. The space Bridge Rep inhabits at the Cambridge Multicultural Arts Center is bright and spacious, more Versailles ballroom than darkened warehouse, currently lacking the somber atmosphere a play like Dark Room requires. It is here that D'Ambrosio encourages the audience to envision the endless possibilities available to a production...
Oct 26, 2017

Avant-garde: Harold Garde in Boston
By Olivia J. Kiers
Fame is notoriously fickle, especially in the arts. Even so, it is surprising that 94-year-old painter and printmaker Harold Garde remains unknown to many in the art world, despite a long career that embraced pivotal moments of 20th-century art history. In 1949, Garde completed a BA in fine arts on the GI Bill at the University of Wyoming, Laramie, where he studied with leading abstract expressionist George McNeil. He began painting in New York in the early 1950s—years defined by fellow abstract expressionists Pollock and de Kooning. In the '80s he was drawn to Neo-Expressionism, creating works reminiscent of Philip Guston or Jean-Michel Basquiat. Today, he still paints regularly from his homes in Belfast, ME, and New Smyrna Beach, FL.
A three-part exhibition in Boston's Financial District, at the tower-lobby gallery @artlery160, aims to give Garde his long-awaited due. Curated by Edward Robinson, Harold Garde: AbEx to Neo-Expressionism...
Sep 25, 2017

Finding Culture in Agriculture: Art in the Orchard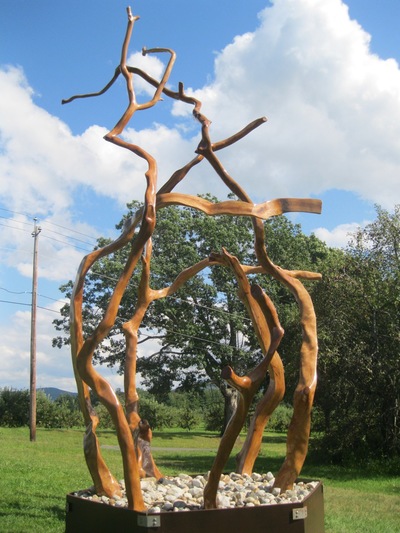 Harold Grinspoon, Wild Wood, single live oak branch, quartered, sanded, epoxied and varnished. All photos by the author. By Olivia J. Kiers A biennial sculpture exhibition in an apple orchard may seem like a serendipitous venture, but for Park Hill Orchard owners Alane Hartley and Russell Braen it involved years of careful planning. Hartley expressed that she and Braen "always wanted to put the 'culture' in 'agriculture.'" They had purchased the historic, 127-acre fruit farm in Easthampton, MA after carefully scouting properties across many states, hoping that the wealth of local artists would help enact their vision for uniting farming and art. Indeed, Easthampton has been a supportive home for Hartley and Braen. With the energetic aid of local picture-framer and artist Jean-Pierre Pasche, Art in the Orchard (AiO) was born in 2011 and has grown rapidly ever since. "I've watched...
Sep 21, 2017

Trial By Fire: Odyssey Opera Celebrates Joan of Arc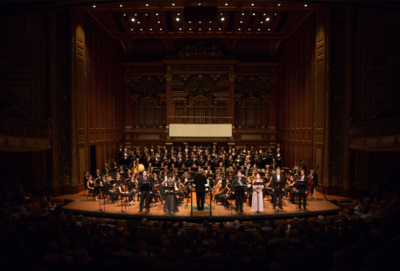 Odyssey Opera performs The Maid of Orléans, September 16. Photo: Kathy Wittman.
By Olivia J. Kiers
When asked to name an opera, the average person will likely choose a perennial favorite by Mozart, Wagner or Verdi, simply because they are the most performed in our century. Boston-based Odyssey Opera aims to broaden those horizons. Founded in 2013 by Gil Rose, who also founded the award-winning Boston Modern Orchestra Project in 1996, Odyssey Opera revels in underperformed operas. This season, it travels back in time to Europe in the 14th and 15th centuries with five productions that cover the Hundred Years' War and its most remarkable combatant, Joan of Arc.
"Joan of Arc has been a rich resource for composers over the centuries," according to Rose, who calculates that there are at least 25 operas that deal with some...
Aug 28, 2017

Maine Farmland Trust's Season of Art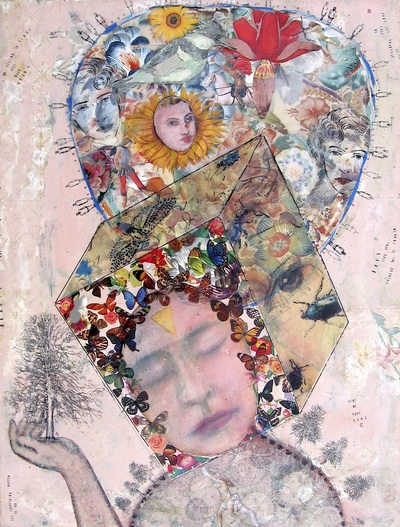 Mj Viano Crowe, Weight Of The World, mixed media on board, 18 x 15x 5". All images courtesy Maine Farmland Trust.
By Olivia J. Kiers
New Englanders may refer to Maine as "Vacationland" every summer, but for resident farmers and locavore artists, summer in Maine is all about the garden. Due to the northern climate, harvest time in Maine is abbreviated, concentrated into a few short months before winter strikes once again. So, if nature—specifically, nature of the consumable, agrarian variety—is a Mainer's muse, it stands to reason that such an artist's work might register a carpe diem quality: exhibiting sensitivity to the precarious balance of climate, ecosystem, and humankind, while rejoicing in seasonal abundance. Such rejoicing beside thoughtfulness pervades Conversations: Studio and Table (through September 4) at Maine Farmland Trust's Joseph A. Fiore Art Center.
Hidden...
Aug 14, 2017

Tango and Vermont: Perfect Partners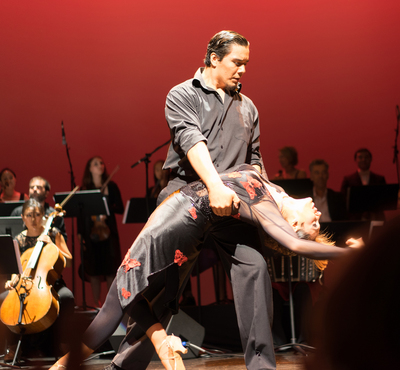 Miriam Larici & Leonardo Barrionuevo at Spruce Peak Performing Arts Center, 2016. Photo: Armin Helisch
By Olivia J. Kiers
Vermont: land of world-class skiing and farm-fresh dairy. While its popular image is beloved, anyone familiar with this rural New England state is well aware that there is far more happening here than maple syrup. According to a 2014 report published by the Vermont Arts Council using census data (The Economic Footprint of the Arts in Vermont: An Update), more then $551 million of spending within the state was influenced by the arts sector in 2012. So, it should perhaps not be surprising that, in the resort hamlet of Stowe, VT, something as unexpected as an Argentinian Tango Festival is about to celebrate its fourth season.
"Vermont is a great place for anything," co-founder of the festival Héctor Del Curto says simply. Indeed, much of what...
Jul 18, 2017

Dance of Discovery: Cape Ann's Quarry Dances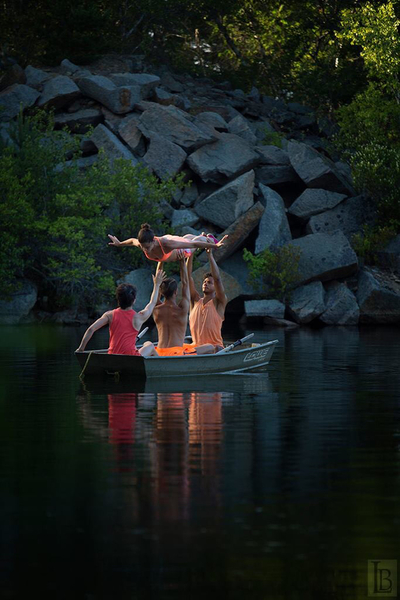 Quarry Dance 5, 2016. All images courtesy Lisa Hahn. Photo: Leslie Bartlett
By Olivia J. Kiers
Tucked away in Rockport, MA, on a former dairy farm, Windhover Performing Arts Center's studios, cabins, garden and theater are far from the noise and grit of the city, yet it is a magnate for talent coming from urban areas. Among the many performing artists and dancers who appreciate Windhover's seclusion and the natural charm of Cape Ann is the Brooklyn, NY-based Dusan Tynek Dance Theater. Every summer since 2012, Dusan Tynek—a modern dance choreographer known for his inventive use of space—and his dancers have performed a summer "Quarry Dance" at one of Cape Ann's renowned quarries, facilitated by Windhover. Now, on the eve of Windhover's 50th anniversary in 2018, executive director Lisa Hahn explains how these performances first began, then grew to be a beloved part of the Windhover...
Jun 23, 2017

From Sunrise to Skyscraper: New England on Paper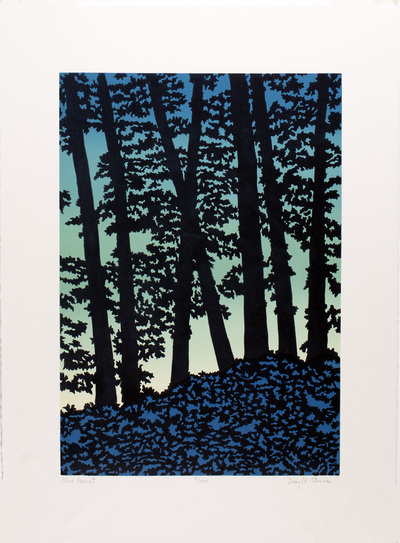 Daryl V. Storrs, Blue Forest, 2009. Printed 2013. Linocut. Boston Athenæum. Purchase, Frances Hovey Howe Print Fund, 2014 All images courtesy the Boston Athenaeum.
By Olivia J. Kiers
On the surface, the Boston Athenaeum's current exhibition, New England on Paper: Contemporary Art in the Boston Athenaeum's Prints & Photographs Collections, sounds like a basic sampling from a contemporary art collection. Yet there is more to the story—and to the entire experience of this exhibition. All the works on display were obtained by the Athenaeum with the help of the Frances Hovey Howe Print Fund, which supports regional artists while creating a collection that documents the built, natural and cultural environments of New England. With materials gathered under this directive, the Athenaeum's curator of prints and photographs, Catharina Slautterback, was able to create an engaging...
Jun 9, 2017

Mark Guglielmo's Portrait of Contemporary Cuba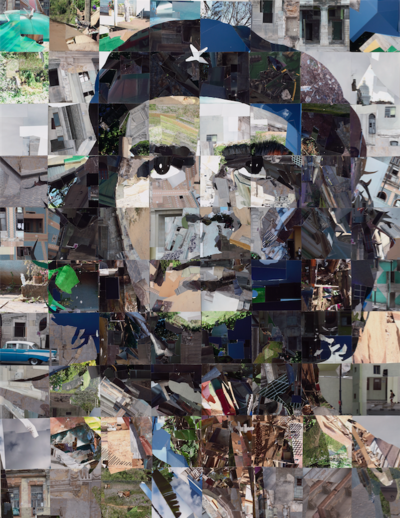 Mark Guglielmo, "Che x Alberto Korda x Chuck Close," 2016, photo-mosaic, 54 x 42". All photos courtesy the artist.
By Olivia J. Kiers
Since President Obama lifted many of the travel restrictions to Cuba for U.S. citizens, exhibitions focusing on the island nation have appeared in museums and galleries throughout New England. Alongside works including the Afro-Cuban artist Maria Magdalena Campos-Pons' Alchemy of the Soul installation for the Peabody Essex Museum last spring, numerous photography shows by American artists have cropped up, most claiming to reveal the "real" Cuba. In the midst of these latter shows, Mark Guglielmo's exhibition Cuba in Transition: Narrative & Perspective at A.P.E. Ltd. Gallery in Northampton, MA, offers an alternate vision for what an American photographer traveling to Cuba could achieve....
May 30, 2017

"Katie Bell: Showroom" at The Saint-Gaudens Memorial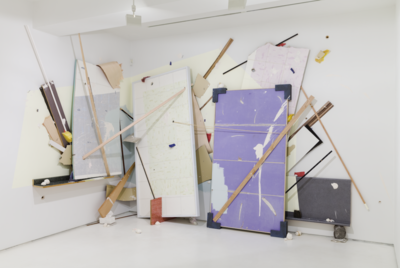 Katie Bell, Faded Flight, 2014, wood, foam, laminate, linoleum, aluminum, plaster, acrylic, drywall, ceiling tiles, rope, and nails on wall. Image courtesy Etienne Frossard.
By David Raymond
Marcel Duchamp's sculpture In Advance of a Broken Arm altered its snow shovel identity when the artist named it and asserted the fluidity of language and art, claiming that the shovel was "elevated to the dignity of a work of art by the mere choice of an artist." Duchamp challenged artistic practice to expand materially and intellectually.
Katie Bell, like Duchamp, repurposes ordinary building materials as artistic elements in her sculptural installations that are at once a coming together and a coming apart of parts. Katie Bell: Showroom at the Saint-Gaudens Memorial in Cornish, NH (through July 16) is an explosive abstraction...
Apr 26, 2017

Adventures in Abstraction: Philip Gerstein at Galatea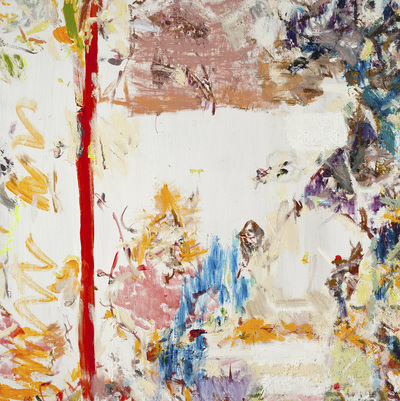 Philip Gerstein, "Open System 2," oil stick and acrylic on wood panel, 36 x 36" All photos courtesy the artist.
By Olivia J. Kiers
In a world dominated by conceptual and installation art, Philip Gerstein is an abstract painter, loyal to the modern pioneers of abstraction and color perception, for example, Wassily Kandinsky. "Perceptual art is so emotive," says Gerstein, echoing Kandinsky's voice in key works like Concerning the Spiritual in Art. "It moves you, similar to music."
Gerstein's current solo show of recent work, Wild at Heart: Works on Paper and Other Adventures, in Boston's SoWa district at Galatea Fine Art—of which he is a founding member—is a riot of color and form. Gerstein's dynamic abstractions resist stasis, and I found myself glancing from image to image. The show is energetic, joyous and intellectually demanding;...
Apr 5, 2017

U35: Young Poets Inspire in Boston

MassPoetry's logo
By Olivia J. Kiers
Massachusetts is a state rich in poets, and these poets' work often pops up in unexpected spaces. You can read poetry during your daily commute—"Poetry on the T" buys advertising space on Boston's MBTA transit system, sneaking enjoyable stanzas up among the ads clamoring for your under-caffeinated attention. You might also catch lines of poetry as they magically appear on sidewalks under the rain, thanks to a project called "Raining Poetry" (in Boston this April, and in Salem in early May).
Poetry on the T and Raining Poetry are just two of the many programs managed by MassPoetry—a non-profit founded in 2009 to narrow the gap between public awareness and poetic talent in Massachusetts. While less cutting-edge in terms of venue or format, one of MassPoetry's exciting initiatives is U35, a reading...
Mar 24, 2017

Stowe, Snow, and Hot Glass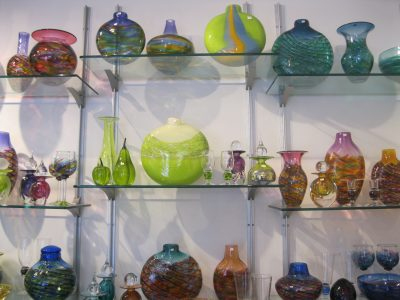 Glass on display at Little River Hotglass Studio. All photos are by the author, except where noted.
By Olivia J. Kiers
On a March morning in Vermont, snow covered the ground, reflecting the sunlight bearing down from a cloudless sky. The mountains around Stowe were filled with winter-sport lovers taking advantage of perfect conditions, yet these same conditions—cool and dry—were also perfect for a demanding indoor activity—glassblowing.
At mid-morning, I met Glenn Ziemke in his studio on Route 100 in Waterbury Center, just minutes from Stowe. Ziemke let me sit in the corner on his "best seat"—a well-used swivel chair—as he spoke about his career and creative process, all while crafting a vase. As he placed the molten glass in a reheating furnace known as the "glory hole" and blinding light spilled out of the opening, Ziemke shouted, "With people who have never seen glassblowing, you just see joy and astonishment on their faces, and that's really...
Feb 28, 2017

Street Dance on Stage: Rennie Harris Puremovement at The Vets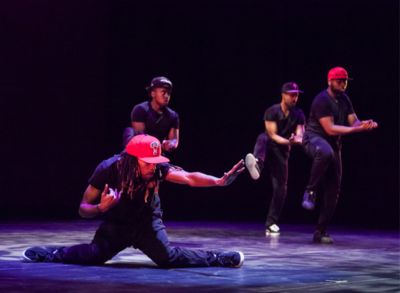 Rennie Harris Puremovement at The VETS February 24, 2017. Part of FirstWorks Artistic Icons Series. Photo: Erin X. Smithers.
By Olivia J. Kiers
In 1992, Lorenzo "Rennie" Harris founded his dance company, Rennie Harris Puremovement, to advocate for the importance of hip-hop and other street dance practices as an art form. Now, 25 years later and head of the nation's first and longest-running touring hip-hop company, there could be little argument that Harris is achieving his goal. Through his thoughtfully crafted choreography and his dancers' energy, Harris takes the audience on a journey, expanding the boundaries of what we expect from street dance.
Rhode Island's FirstWorks—a Providence-based non-profit that presents celebrated artists—did New England's performing arts enthusiasts a great service by inviting...
Jan 27, 2017

A Really Creative Partnership: Company One and Matter & Light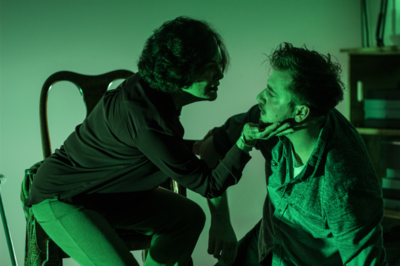 Kippy Goldfarb and Aleksandr Portenko in Really. Photo: Paul Fox
By Olivia J. Kiers
Approaching the many philosophical questions attached to art is challenging, and responses that avoid both platitudes and obtuse rhetoric are all too rare, even among those who've mastered art theory. This is why Jackie Sibblies Drury's play Really, currently being performed (through March 4) by Company One Theatre at Matter & Light Fine Art in Boston's SoWa district, is an impressive accomplishment. Drury's themes are prompted by 20th-century theorists of photography, including Susan Sontag, whose essay collection On Photography Drury quotes at the head of the script: "Photographs alter and enlarge our notions of what is worth looking at and what we have the right to observe." Like Sontag, Drury examines art's role in creating a perceived...
Jan 17, 2017

Navigating the Election Part 3: Sara Coffey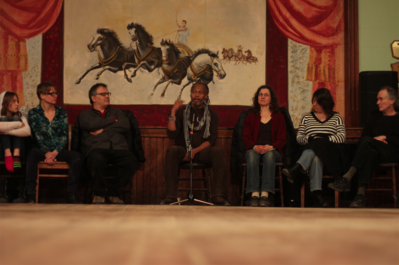 Community Shout with Reggie Wilson Fist and Heel Performance. Photo: Luke Stafford
By Olivia J. Kiers
Sara Coffey is the founding director of Vermont Performance Lab (VPL), a "performance incubator" located near Guilford in rural southeastern Vermont. VPL is known for fostering community engagement as well as giving performance artists the tools they need to create and collaborate, resulting in events like an upcoming tent and blanket drive with Groundworks Collaborative on March 8 to accompany a residency exploring the subject of homelessness and immigration (In the Works: Material Deviance In Contemporary American Culture by Alice Gosti).
Coffey is the third voice in Art New England's series of interviews on New England artists' perspectives in the wake of the 2016 presidential election, following conversations with...
Dec 19, 2016

Navigating the Election Part 2: Janette Maxey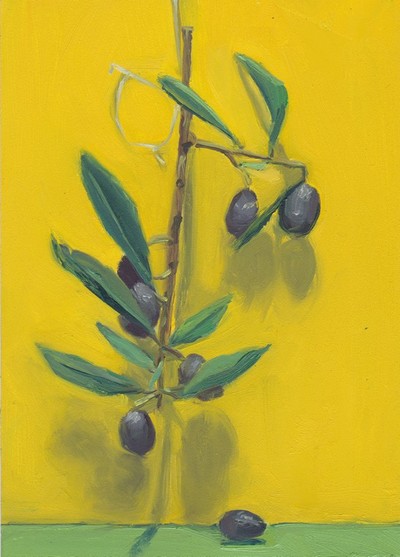 Janette Maxey, "Olive Branch (for Peace)," 2016, oil on flashing. All images courtesy of the artist.
By Olivia J. Kiers
Hartford, CT-based painter Janette Maxey approaches her subjects, whether people, places or things, with empathy and an inquiring mind. Maxey's experience living and working in Singapore taught her to use art as a way to connect to a new culture through the careful study of its common objects and sights. Back in the United States, she continues to study what makes cultures unique or approachable, with upcoming shows in Assisi, Italy (following a residency at Arte Studio Ginestrelle), and Concord Arts (February 7–March 5). Art New England spoke with Maxey in the weeks following the 2016 presidential election for the second installment of a series on New England artists, activists, and the election....
Dec 14, 2016

Navigating the Election: Artists and Activists Respond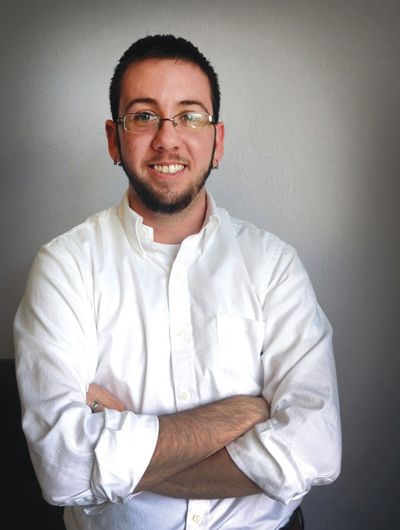 Mason Dunn. Photo courtesy MTPC.
By Olivia J. Kiers
In the wake of the recent presidential election, after protracted and divisive campaigning, Art New England is posting a series of discussions with New England artists, activists, and cultural operators. How is the current political climate affecting them? How are our cultural and advocacy organizations navigating the events that shocked a nation and the world?
To start our series, Mason Dunn, executive director of the Massachusetts Transgender Political Coalition (MTPC), talks about the transgender community, identity politics, and the role the arts play in our lives.
Art New England: Leading up to the election, many issues regarding identity were discussed. What were the key moments during the campaign that were particularly meaningful for the transgender community?
Mason Dunn: There...
Nov 30, 2016

COMPUSLIVE PRACTICE: Documenting AIDS Activism and Awareness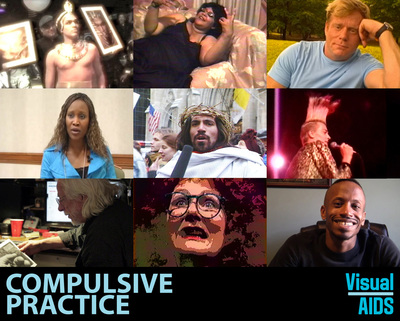 Video stills from participating artists, from top left: Luna Luis Ortiz, Juanita Muhammed, Mark S. King, Southern AIDS Living Quilt, Ray Navarro, Nelson Sullivan, James Wentzy, Carol Leigh aka Scarlot Harlot, and Justin B. Terry-Smith. All photos courtesy Visual AIDS. 
By Olivia J. Kiers
December 1st is "Day With(out) Art," a national day of action in response to the AIDS crisis, begun on December 1, 1989, and continued by Visual AIDS, an arts organization that raises awareness via exhibitions, public forums, publications and other means. Curators Jean Carlomusto, Alexandra Juhasz and Hugh Ryan have produced a documentary film, COMPULSIVE PRACTICE, composed of archival footage from nine video-makers and artists who are living with HIV/AIDS or are activists, or both. Including a range of clips from artist/activists Ray Navarro, Luna Luis Ortiz and Nelson...
Nov 22, 2016

An Evening of Entartete Musik with Cantata Singers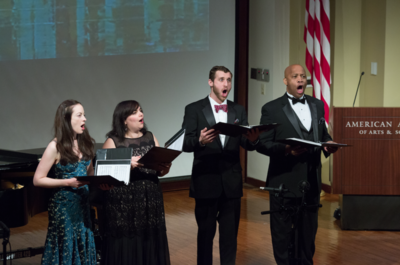 Cantata Singers Chamber Series in concert November 17, 2015. Photo: Martha Stewart 
By Olivia J. Kiers
On this Friday evening in mid-November, in Cambridge, MA, certain things are expected: night falling early after the end of Daylight Saving Time, the sound of dried leaves scattering across side streets, and students' excitement about the upcoming Harvard vs. Yale game. Yet in the wake of presidential election results few predicted, there is a difference to the atmosphere here as everywhere, and in the cozy warmth of the American Academy of Arts and Sciences lecture hall tucked in a quiet space between Beacon and Irving streets, a poignant journey into the past occurred on November 18: the Cantata Singers' Chamber Series concert devoted to "Entartete Musik."
Entartete musik—music labeled "degenerate" under...
Nov 16, 2016

Robert Freeman's New Works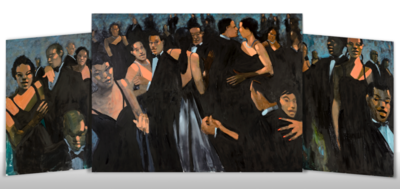 Robert Freeman, The Sundowners, triptych. Photo credit: David Leifer Photography.
By Olivia J. Kiers
Robert Freeman's New Works at Adelson Galleries in Boston (through January 29, 2017) presents a world as exuberant and mythic as the painter's process itself. A respected artist and former arts educator at Harvard University and Noble and Greenough School in Dedham, MA, Freeman has filled Adelson Galleries with his bold works. Earth tones harmonize with brilliant sky blues, reds, kelly greens and gold leaf. Out of it all, figures emerge, standing stately in evening attire, playing instruments, faces staring out at the viewer in dynamic compositions. Several works, like Ashanti Gold and The Sundowners, are life-size triptychs or diptychs.
Freeman's subject matter follows his own background in middle-class African-American...
Oct 28, 2016

Exploring a Labyrinth: Fertile Solitude at the Mills Gallery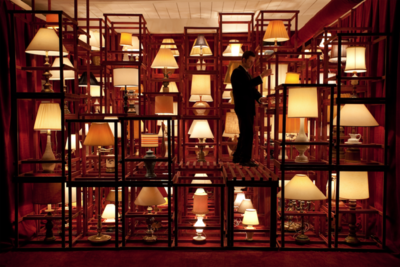 Megan and Murray McMillan, While She Waits for the Light, 2009. All photos courtesy Boston Center for the Arts.
By Olivia J. Kiers
Fertile Solitude at the Boston Center for the Arts' Mills Gallery has as much to do with searching as it does with solitude. The show's enchanting, chaotic organization (referred to as a "maze" in the exhibition literature) encourages the visitor to explore rather than simply view the art. "It forces a one-on-one experience with the art, but also offers a variety of paths. It's a balance of parameters and freedom," says curator Elizabeth Devlin. A refreshing rejection of the white gallery cube in favor of faux hedges, acute angles and enticing soundscapes, Fertile Solitude is also interactive, irreverent and full of introspective potential.
Physicality is one key to Fertile Solitude's...
Oct 12, 2016

The SHE Project: Art Explores Manufactured Beauty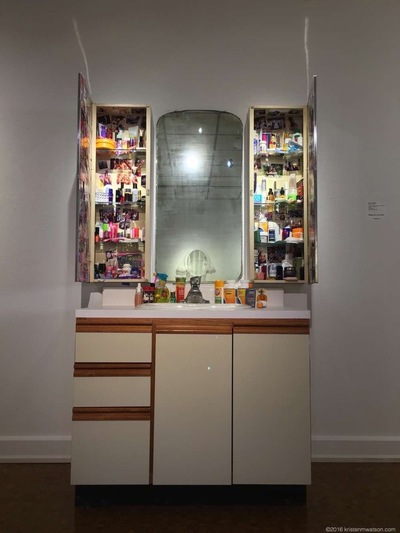 Kristen M. Watson, Life in the cabinet (timeline of a woman's life), medicine cabinets, H&B products, digital print collage, vanity, vintage mirror. Photo credit: the artist
By Amy Lilly
The SHE Project, Part I, is a collaborative installation by Kristen M. Watson and Mary Admasian that grapples with the overwhelming pressure on women to look pretty in the era of social media, on view at the University of Vermont's Living/Learning Center in Burlington through October 28. Using hundreds of donated cosmetics, beauty aids, hair-dye cans and even locks of cut hair (colored and natural), the exhibit stages realistic scenes of women's attempts to beautify themselves, mostly by Watson. Admasian's works, often incorporating vintage mirrors, silk gauze and barbed wire,...
Oct 6, 2016

Matt Evald Johnson, Myth and Predicaments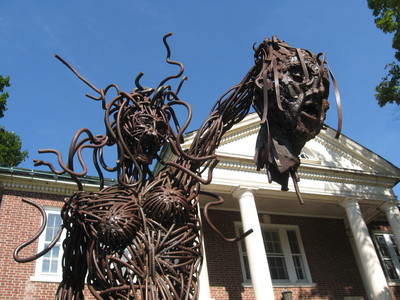 Matt Evald Johnson. Medusa (detail). Steel sculpture. All photos courtesy Wood Library and Museum.
By Olivia J. Kiers
Easthampton, MA sculptor Matt Evald Johnson's current exhibition, Myth and Predicaments: Carved in Steel at the Wood Library and Museum in South Windsor, CT, places an array of steel, figural sculptures in a book-filled environment, a highly fitting juxtaposition for Johnson, who draws inspiration from folklore and literature. Art New England discusses myth and process with the artist.
Art New England: Having traveled a lot, studying in Houston, TX and in New York City, what brought you to Easthampton, MA?
Matt Evald Johnson: After finishing graduate school at Pratt Institute in Brooklyn, NY in 1991, I hung about the New York City area for years, continuing to work in several different studios. At a certain point, I started to wish to do larger, outdoor...
Sep 22, 2016

Anne Ayvaliotis: A Celebration of an Artist's Life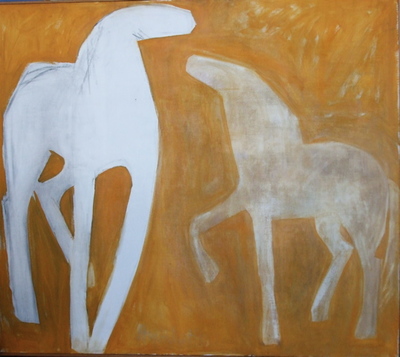 Anne Ayvaliotis, Judge and Jacob, oil on linen, 56 x 74". All images courtesy Yvette Torres Fine Art.
By Kay Tobler Liss
Anne Ayvaliotis is a name familiar in art circles in Maine. She was part of a well-regarded group of artists that came to Maine from New York City in the 1950s and 60s, a group that included Charles DuBack, Lois Dodd and Joe Fiore. She was known as a teacher of art at the Farnsworth Museum of Art in Rockland and at Round Top Center for the Arts in Damariscotta, and her work is in collections at the Farnsworth and the Portland Museum of Art. Ayvaliotis died in March at the age of 90. In her honor, Yvette Torres Fine Art in Rockland is holding an exhibition of her work, Celebration of an Artist's Life. (Open September 9 through October 16, and over Thanksgiving weekend in November. Reception: Friday, September 9, 5 p.m.)
Ayvaliotis was a late-generation...
Sep 16, 2016

Gretna Campbell: Paintings from Great Cranberry Island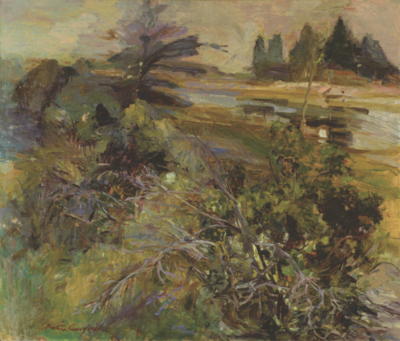 Gretna Campbell, Small Rosebush, 1981, oil on canvas, 42 x 48". All images courtesy Courthouse Gallery Fine Art.
By Carl Little
Painter Gretna Campbell (1922-1987) first came to Maine in the late 1940s not long after graduating from Cooper Union in New York City. She and her husband, artist Louis Finkelstein, bought a house on Great Cranberry Island off the southern end of Mount Desert Island in 1950. Over time, the island's granite edges and deep woods became her principal muse, a place she returned to every summer. Gretna Campbell: Paintings from Great Cranberry Island at Courthouse Gallery Fine Art in Ellsworth, ME gathers a dozen oils dating from 1976 to 1985, all of them Great Cranberry subjects.
Seeking immediacy through immersion, Campbell transported her canvases, some of them as large as 50 by 50 inches,...
Sep 13, 2016

Paul Ramirez Jonas: Public Trust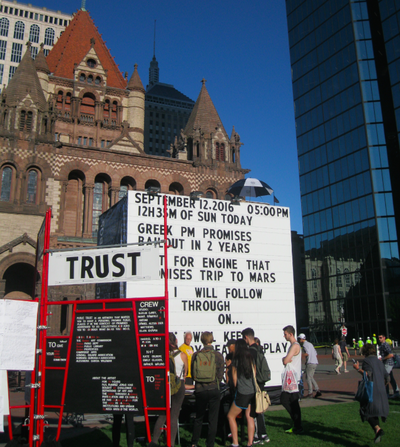 Public Trust in Copley Square, Boston, MA. Photo: Olivia J. Kiers
By Olivia J. Kiers
Internationally acclaimed artist Paul Ramirez Jonas has returned to Boston this summer following his 2005 Cambridge-based project, Taylor Square. Taylor Square operated through public participation; Ramirez Jonas mailed 5,000 gate keys to residents living near the minuscule, enclosed-yet-public Taylor Square park and encouraged them to copy and share those keys, thus creating a real sense of public ownership for the park. Likewise, Public Trust exists through public engagement.
Elements of Ramirez Jonas' new work are spectacular—in both senses of the word. A 16 x 16 foot marquee, installed in rotation in Dudley, Kendall and Copley squares (in Roxbury, Cambridge and Boston, respectively) for one week each, calls attention to selected...
Aug 24, 2016

Ruth Mordecai, an Interview with the Artist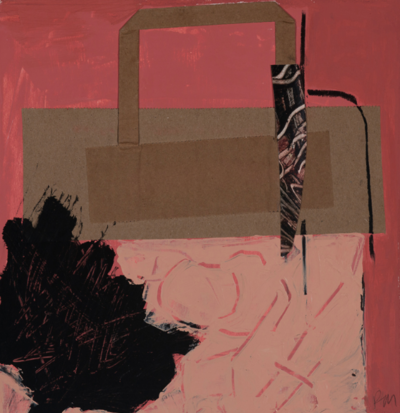 Ruth Mordecai, No. 4, 2016, collage and acrylic on paper, 11 x 11". All images courtesy Trident Gallery.
By Olivia J. Kiers
Rocky Neck artist Ruth Mordecai's current show at Trident Gallery in Gloucester, MA (Ruth Mordecai: Works on Paper, through September 5) reveals the wonder inherent in Mordecai's highly tactile explorations of simple, abstracted symbols. Under Mordecai's eye (and palette knife), even commonplace objects like a brown paper bag can take on a new, primal force. Art New England interviewed Mordecai for a few insights into her personal approach to abstraction.
Art New England: This show has a simple title: Ruth Mordecai: Works on Paper. Why have you chosen to work on paper? Why does this medium appeal to you?
Ruth Mordecai: I use a really heavy, 300 lb-weight British paper, and I like to work on the wall,...
Aug 3, 2016

Examining the Data: R. Luke DuBois at Bowdoin College Museum of Art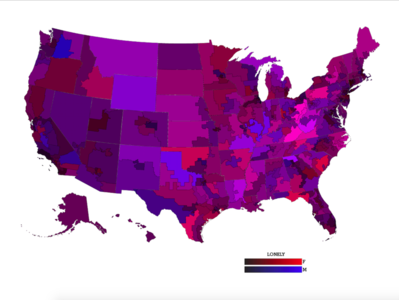 R. Luke DuBois, A More Perfect Union: Lonely, 2011, pigment-ink on photo rag, 18" x 24". All images courtesy Bowdoin College Museum of Art.
By Olivia J. Kiers
In an age of dizzying social and political upheaval paired with information overload, R. Luke DuBois' data-driven artworks feel right at home, pulling the viewer into an examination of complex (and often sprawling) issues with the ease of a quick Google search. A captivating mix of identity crisis and identity exposure, DuBois' solo show at Bowdoin College Museum of Art (R. Luke DuBois—Now, through September 4) allows us to reconsider modern America through algorithms that paint portraits and musical compositions that warp time.
R....
Jul 27, 2016

Lights, Camera, Action!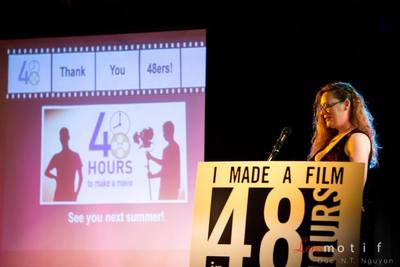 New Haven 48HFP producer Trish Clark on awards night. Credit: Duc Nguyen.
By Olivia J. Kiers
Many wonder how a film is made, but here's a trickier question: How would you make a film in only 48 hours? The 48 Hour Film Project (called the 48HFP or simply, "48"), the largest and oldest timed film competition in existence, challenges professional and amateur filmmakers alike to do just that in cities across the world.
The 48HFP arrived in New Haven, CT, thanks to Trish Clark, who had been on the project's mailing list and was actively looking for producing opportunities in her hometown. When one newsletter mentioned that the 48HFP was expanding into Connecticut, Clark jumped at her chance and convinced the project to come to New Haven, which it did in 2011, with Clark as the city producer. New Haven's 48 has been a great success, attracting participants from across Connecticut...
Jul 15, 2016

Three Centuries of Art and History at the Warner House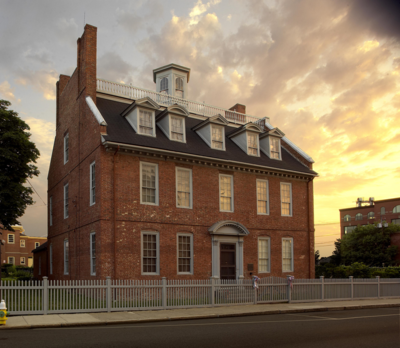 The Warner House. Photo credit Jack Bingham.
By Olivia J. Kiers
2016 is a landmark anniversary for the Warner House, a rare, 18th-century urban brick mansion in Portsmouth, NH, that is celebrating its 300th birthday with an array of special events. These events include a captivating exhibition, The Warner House at 300!, at Discover Portsmouth, the museum of the Portsmouth Historical Society. Co-curated by the Warner House's 300th Celebration Committee member Robert Chase and Richard Candee, exhibitions chair at the Portsmouth Historical Society, the exhibition brings together a wealth of artifacts from the house's long history, as well as artworks featuring the house from across the centuries.
Nehemiah Partridge, attrib....
Jul 7, 2016

Music, Meadows and Mountains: Stowe Performing Arts Turns 40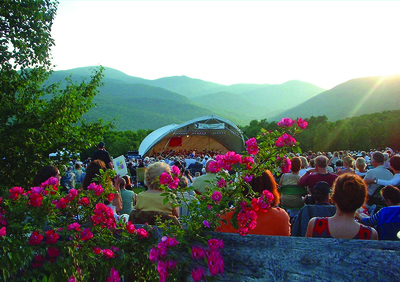 Vermont Symphony Orchestra plays during Music in the Meadow. Photo courtesy Stowe Performing Arts.
By Olivia J. Kiers
Celebrating its 40th anniversary season this year, Stowe Performing Arts is a non-profit community organization that brings live music to the mountain town of Stowe, VT. Best known for its outdoor, evening concert series, Music in the Meadow, which stages four events at the Trapp Family Lodge's concert meadow every summer, Stowe Performing Arts draws crowds who wish to hear incredible music while enjoying the view as the sunset turns to a starry sky. No one knows this better than executive director Lynn Paparella. "These concerts are so enjoyable in part because of the scenery," explains Paparella. "The backdrop of the Nebraska Valley is an incredible view. Somebody at a concert once showed me a photo of mountains on their phone from when they had just been...
Jun 23, 2016

Time Matters: A Conversation with the Artists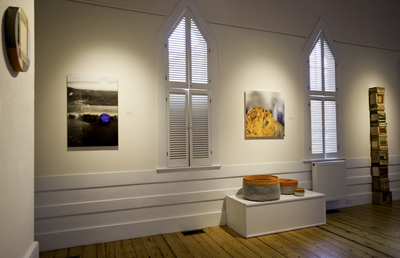 Installation view, Time Matters, 2016, The Cultural Center of Rocky Neck. Photo courtesy Kathleen Archer.
By Olivia J. Kiers
Time Matters: Three Explorations is a group show featuring North Shore artists Kathleen Gerdon Archer, Conny Goelz-Schmitt and Michèle Fandel Bonner at the Rocky Neck Cultural Center in Gloucester, MA (through July 4). Art New England spoke with the artists to learn how they constructed their show and how collaboration has impacted their individual art-making.
ANE: How did you meet, and when did you decide to exhibit together?
KGA: The Boston Arts and Business Council had a program called the "Artist's Professional Toolbox" that they ran through Montserrat College of Art. That was in 2012/13. We were in a peer group together and found that we shared the same sensibility in art. We kept meeting even after the program was over,...
Jun 20, 2016

Film Preview: YARN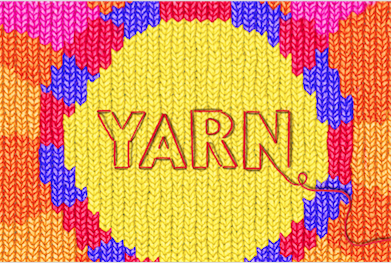 Title from YARN: The Movie. Compass Films.
By Olivia J. Kiers
Directed by Icelandic animator Una Lorenzen, YARN: The Movie is a deeply philosophical, surprisingly energetic documentary. While yarn is visually present on screen for most of the film, the real centerpiece is yarn-based creativity and how it serves basic human needs to speak out, interact, strive, play and ponder.
YARN is narrated by award-winning author Barbara Kingsolver, whose voice brings an insistent poetry to the overall feel of the film, a nice balance to Lorenzen's stop motion interludes in which yarn snakes across the screen like an itch that won't go away. These animated moments are a suitable framing device—like knitting or crocheting, they construct a film that is both cyclical and relentlessly forward-looking. YARN follows the endeavors of three different yarn artists and one yarn-based performance of a Swedish circus....
May 27, 2016

Life Writ Large: Ernest Hemingway at the JFK Library and Museum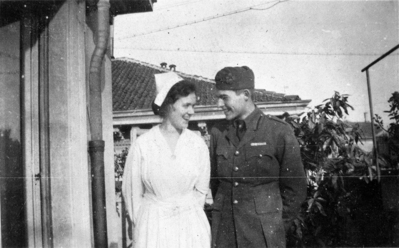 Agnes von Kurowsky and Ernest Hemingway, Milan, 1918. The Ernest Hemingway Collection; John F. Kennedy Library. 
By Olivia J. Kiers
How do you distill three decades of intense activity by one of America's most legendary writers into a single exhibition, without falling into the pitfall of oversimplifying on the one hand, or overwhelming on the other? It's a tough task, but one that curator Stacey Bredhoff carries off to great success in the John F. Kennedy Presidential Library and Museum's special exhibition, Ernest Hemingway: Between Two Wars (on view through December 31). The exhibition runs chronologically, but also falls into obvious geographic zones. Thus, visitors will not only follow an outline of world events as Ernest Hemingway lived them from World War I through World War II, but they...
May 11, 2016

A Hole Other World: Linda Leslie Brown's "More Holes"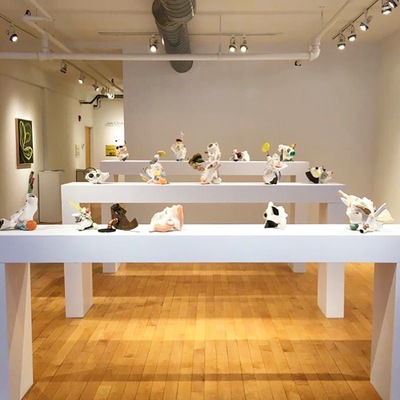 View of "Linda Leslie Brown: More Holes." Photo: Ann Wessman.
By Olivia J. Kiers
As soon as you enter the Kingston Gallery, Linda Leslie Brown's recent, whimsical mixed-media sculptures not only catch your eye, they seem to return your gaze. Ranged on a series of high benches that rise like bleachers from the middle of the gallery floor, Linda Leslie Brown: More Holes is an exhibition that confounds expectations. Part of the viewing experience is shaped by the unusual arrangement of the show. By eschewing the plinth as a support, More Holes organizes rather than presents its objects in a manner that is more evocative of the tiered vitrines of a natural history museum than a gallery show. Yet, these are unclassifiable objects, and organizational systems seem pointless when confronted with their mutable nature. Indeed, this is one exhibition that raises more questions than it answers, and that...
May 6, 2016

Flash Forward Festival Boston in SoWa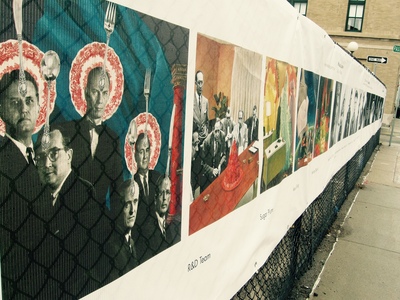 View of "The Fence," here featuring work by Nadine Boughton. Photo credit: Olivia J. Kiers
By Olivia J. Kiers
Taking art out to the streets—or, in this case, under the street—can be a daring move for a week-long arts festival. It demonstrates true dedication to bringing an open art experience to the average citizen; that person who finds himself intimidated by the white gallery walls might be more at ease strolling past and enjoying art installed on a fence. Yet the move out-of-doors puts any exhibition at the mercy of the weather, and springtime in New England is notoriously unpredictable.
As in the past, Flash Forward Festival Boston 2016 has mounted incredible photography exhibitions in a cluster of pop-up shipping container galleries. For the first time, they are located in Boston's SoWa district in the South End, under a section of I-93 overpass along Albany Street, to be exact....
May 3, 2016

Flash Forward Festival Boston at the Griffin Museum of Photography
Gallery view of the series "Revisiting Beauty" in "Aline Smithson: Self & Others" at the Griffin Museum of Photography on May 1, 2016. Photo: Olivia J. Kiers
By Olivia J. Kiers
The greater Boston area celebrates photography this week with the Flash Forward Festival Boston, a spring-like blossoming of free photography events, from gallery openings to special discussions, created by the Magenta Foundation. Sunday, May 1, saw the start of the festival with closing receptions for two exceptional shows at the Griffin Museum of Photography in Winchester, MA: Aline Smithson: Self & Others and Undergraduate Photography Now IV.
Smithson's work filled the Griffin's Main Gallery with a colorful sense of nostalgia. A former fashion editor for Vogue Knitting and Vogue Patterns, Smithson imbues her photographic practice with an editorial eye. Each image is not only impeccably crafted,...
Apr 22, 2016

Counterforce in the World: Broadsided Press responds to the Flint, MI, water crisis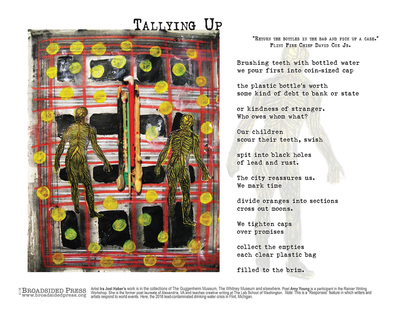 Tallying Up. Poem by Amy Young, art by Ira Joel Haber, a Responses feature from Broadsided Press.
By Susan Rand Brown
Poet and naturalist Elizabeth Bradfield has lived on the Outer Cape for several decades though her focus has long been global. She came of age aware of our interconnected eco-systems and opened doors through poems published with ink and paper and, for the past decade, through Broadsided Press—an innovative and public-spirited literary project that combines poems with visual art. A new edition, consisting of a single poem visually embedded in an artwork, is posted monthly, and editions from 2005 are archived on an easily navigated website.
While distribution is paperless and mostly achieved using crowd sourcing, readers are also encouraged to distribute content the old-fashioned way. (The term "broadside" was familiar in Shakespeare's age, when...
Apr 7, 2016

"Strong As Glass": Goapele at the Gardner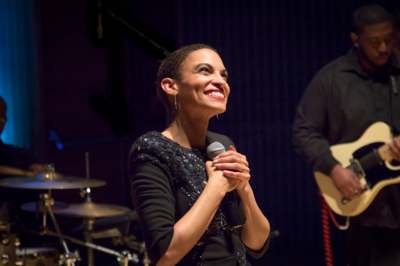 Goapele performing at the Isabella Stewart Gardner Museum, March 31. Photo credit: Bob Packert
By Olivia J. Kiers
Goapele's voice soars to the top of Calderwood Hall. "Closer to my dreams," she sings, "I'm going higher and higher, I can almost reach…" It is "Closer," one of her best-known and loved songs, the one her fans have asked for as they stand from their seats in the Isabella Stewart Gardner Museum's intimate "sonic cube" at a sold-out performance on Thursday night, swaying in rhythm and clapping the beat. The Oakland, CA-based R&B artist exudes poise yet also warmth and humility as she sings about love and longing. The hall cheers as she says, towards the end of an energetic evening, "I think we have time for one more, don't we?"
Later, in the green room, the 38-year-old...
Mar 29, 2016

Poetry Out Loud in New England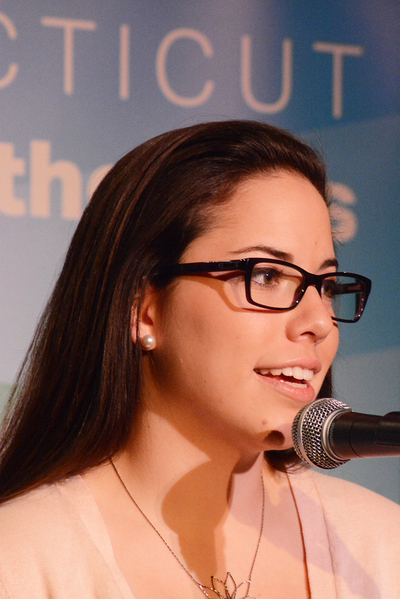 By Olivia J. Kiers
For the 11th consecutive year, high school student across the United States have been competing in Poetry Out Loud (POL), a competition that brings poetry to life through live recitation. March has been a month of state finals, and Art New England is happy to take a moment to congratulate the six state champions from the New England region. All state champions receive $200 and an all-expenses-paid trip to Washington, D.C., for nationals in May. The POL national champion will receive $20,000. ANE wishes the New England finalists the best of luck!
Emily Saunders. Photo courtesy Department of Economic and Community Development, Connecticut Office of the Arts
17-year-old senior Emily Saunders (Region Hebron, Andover and Marlborough High School) is the Connecticut state champion. She competed on March...
Mar 21, 2016

Closer to the Mountaintop: Lawren Harris at the MFA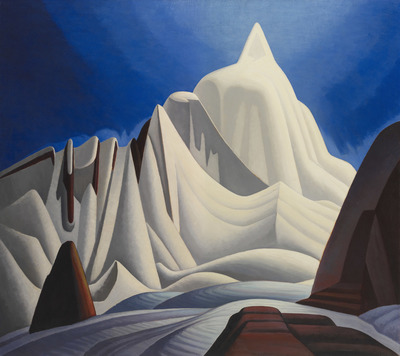 Lawren Harris. Mountains in Snow: Rocky Mountain Paintings VII. About 1929. Oil on canvas. The Thomson Collection at the Art Gallery of Ontario. © Art Gallery of Ontario. © Family of Lawren Harris. Courtesy Museum of Fine Arts, Boston
By Elizabeth Fennell
The Idea of North: The Paintings of Lawren Harris, on view at the Museum of Fine Arts, Boston through June 12, is the first major U.S. exhibition for the iconic Canadian artist, Lawren Harris. Chances are, you've never heard of Lawren Harris. If you're Canadian, you might recognize him as a founding member of the revered Canadian Group of Seven—nationally renowned modern landscape painters and favorite sons whose paintings show up on Canadian postage stamps. Collector/comedian/banjo-playing/playwright/virtual arts...
Mar 8, 2016

Cultural Crossroads at the Silk Road Art Gallery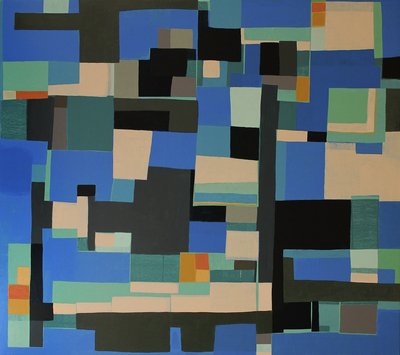 Karen Dow. Cross Section. 2016. Acrylic on canvas. 34 x 30". Courtesy Silk Road Art Gallery.
By Olivia J. Kiers
In New Haven, CT, the Silk Road Art Gallery brings contemporary Chinese art and artists to New England, and works to bring art by the New England artists they represent to China. Art New England speaks with gallery owner Liwen Ma and director Dan Li about their mission.
ANE: What brought Silk Road Art Gallery to New England, generally, and why New Haven in particular?
Silk Road Art Gallery: When we were looking for where to set up an art gallery in the United States to extend our existing Chinese art-dealing brand, we were most interested in finding an environment that had a lot of art activity. New Haven proved to be an ideal location as it has a rich history, a lot of art events,...
Feb 26, 2016

Blue Notes and Whole-tones: Reviewing Jazz at the Cooper Gallery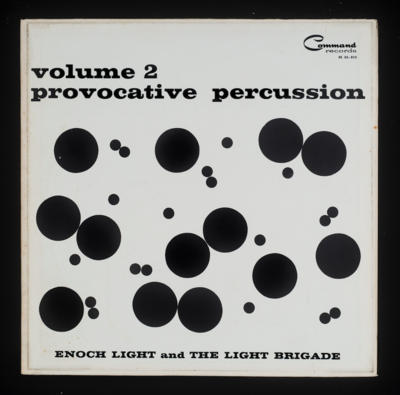 Joseph Albers. "Provocative Percussion, Vol. 2." Enoch Light and the Light Brigade. 1960. Album. 12 x 12" Courtesy of The Hutchins Center, Harvard University.
By Olivia J. Kiers
This spring in Harvard Square, Cambridge, MA, the Ethelbert Cooper Gallery of African & African American Art is putting on a show-stopping performance with Art of Jazz: Form/Performance/Notes, an exhibition that delves as deep into jazz and art as it does into questions of jazz and black identity, jazz and myth, or jazz and place. While these juxtapositions exist in concert with each other, the Cooper Gallery offers less of an overriding statement as much as an intriguing series of questions.
The segmentation within Art of Jazz is to be expected from its subtitle: Form/Performance/Notes. This structuring follows...
Feb 8, 2016

Collaborating Across Culture: A Conversation with Mark Cooper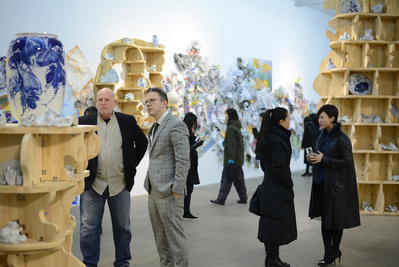 Installation view, Mark Cooper: YuYu China Blue, Yuan Art Museum, Beijing, China. Courtesy of Mark Cooper, Samsøñ, and the Yuan Art Museum
By Olivia J. Kiers
With the help of Boston's Samsøñ Projects, artist Mark Cooper recently collaborated with artists in China to create a multimedia installation incorporating sculpture, ceramics, painting and video at the Yuan Museum in Beijing, titled YuYu China Blue (January 12–February 29). Cooper talks to ANE Portfolio about the exhibition.
ANE: How was YuYu China Blue born? When did you first begin working on it, and how was Samsøñ Projects involved?
Cooper: I went to China for the first time more than two years ago to make some ceramics for the exhibition New Blue and White at the Museum of Fine Arts, Boston. I did a lot of touring. The gardens in Shanghai were a big influence; its architectural portals and rock...
Jan 29, 2016

Discussing the International Sculpture Parks Union Conference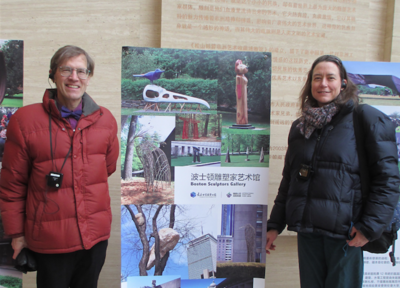 Andy Moerlein and Donna Dodson. Photo courtesy Donna Dodson.
By Olivia J. Kiers
Sculptors Donna Dodson and Andy Moerlein represented the Boston Sculptors Gallery at the International Sculpture Parks Union's (ISPU) first plenary meeting in Changchun, China from January 10–12. While there, they joined fellow attendees in a tour of the Changchun World Sculpture Park, the largest of its kind in the world. ANE Portfolio discusses the conference with Dodson and Moerlein:
ANE: You both have a history of participating in residencies abroad; how has working internationally affected your practice? Was this your first time in China?
Dodson: Working internationally, whether…alongside artists from other countries in the U.S. or making work abroad, is a window into the personal experiences of other artists, in addition to the cultural...
Jan 22, 2016

A Conversation with Jocelyn Chemel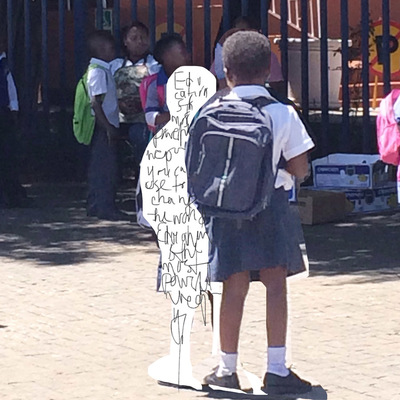 Jocelyn Chemel. School Girl. 2013. Digital photograph mounted on wood panel, resin. 12x12". The text in the photograph is Nelson Mandela's quote "Education is the most powerful weapon you can use to change the world".
By Olivia J. Kiers
Jocelyn Chemel is fixated by life's contrasts, and now she can finally speak out about them. Growing up under apartheid in South Africa, Chemel remembers that "we were all prisoners of fear." Unable to speak freely over the phone for constant fear of arrest, Chemel left South Africa when she was 20 and is now a mixed-media artist based out of Boston. Over the intervening years, she has returned to her native country on several trips and observed it post-apartheid, but her hopes for the future are still tinged with uncertainty. Barbed, Chemel's exhibition currently on view in Boston City Hall, explores that duality of hope and anxiety.
Following...
Oct 30, 2015

Bringing a Legend to Life: Sculptor Stefanie Rocknak returns Poe to Boston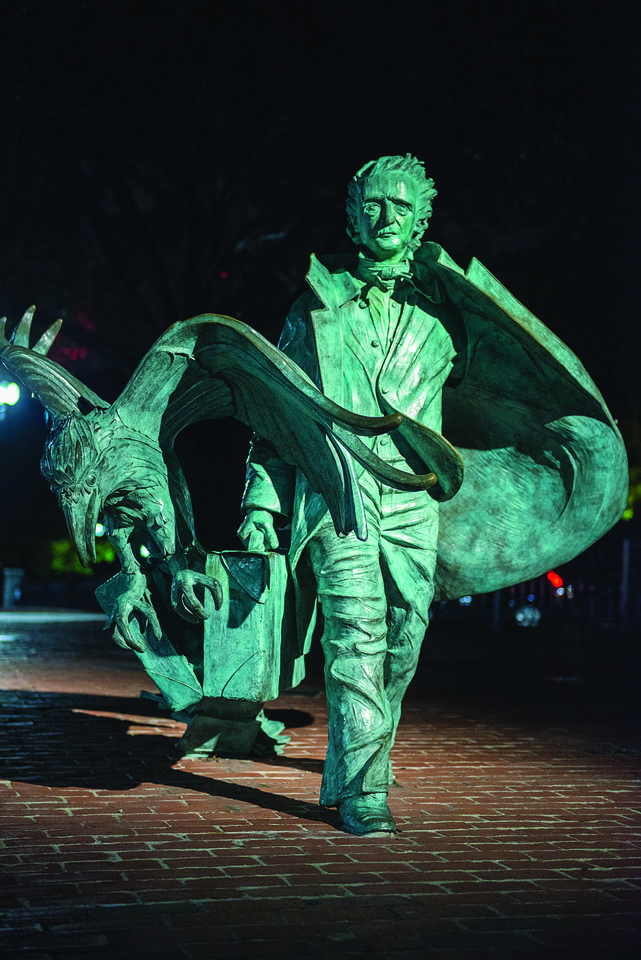 Poe Returning to Boston, seen at night. Photo credit: Derek Kouyoumjian, 2015.
 By Olivia J. Kiers
When the Edgar Allan Poe Foundation of Boston held a contest in 2012 to determine who would be awarded a commission to create a statue commemorating the Master of the Macabre's Boston roots, they "didn't want 'Poe on a horse,'" explains sculptor Stefanie Rocknak. "Immediately it occurred to me that I had to do something dynamic and different." Rocknak's winning statue, called Poe Returning to Boston, is certainly that.
Poe's relationship with his birthplace was turbulent, since his dark literary style was often criticized by the Boston elite, whom he ridiculed in turn. Yet, Rocknak says that Poe loved aspects of Boston, "namely, that he was born there and his mother had a fairly successful career as an actress there." Rocknak's winning design shows Poe running along at the intersection of Boylston and Charles streets near the Common,...
©2018 Art New England, All Rights Reserved
Designed and Developed By: T. Montgomery