ANE Portfolio Posts
Dec 3, 2011

Art Basel Miami Beach - Day 3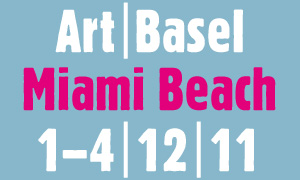 By Abigail Goodman
For my third day in Miami, I started off at the De La Cruz Collection, the personal museum of Miami collectors Carlos and Rosa De La Cruz. The 30,000 square foot building is impressive itself, and walking through the doors I was immediately in the midst of some stellar work. For instance, just the entrance had a salon hang of paintings by Glenn Ligon, Christopher Wool, Jacob Kassay, Nate Lowman, Wade Guyton, Mark Grotjhan and Seth Price, a giant by David Altmejd and a view to the Ugo Rondinone that had been at the ICA Boston on the Sandra and Gerald Fineberg Art Wall as well as several Thomas Houseagos. Again, I was in the entrance. The commitment of their collecting was evident all around. I was excited to find an installation by Aaron Curry on the 2 floor and was particularly moved by the 3rd floor installation of works by Felix Gonzàlez-Torres, Gabriel Orozco, Jim Hodges, Ana Mendieta and Cesar Trasobares.
Despite the grandeur...
Dec 1, 2011

Art Basel Miami Beach - Day 1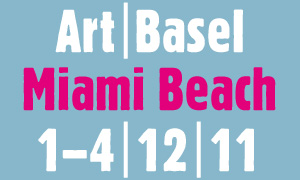 By Abigail Goodman
Day 1 of Art Basel Miami did not disappoint! First stop was the Rubell Collection bright and early at 9 am. American Exuberance, their new exhibit was timely, sincere and impressive. From John Miller and Sterling Ruby, whose respective monumental installation and paintings made up the first two galleries, to the seductive (and early) Jacob Kassay and Analia Saban works, the exhibition boasted a variety of expression and material exploration. Other sure favorites were the John McAllister's paintings, Hannah Greely's installation Dual, Dana Schutz's ever painterly and bold canvases, Ruby Neri "naïve" classicism and Kaari Upson's grotto. Also not to be missed was Jennifer Rubell's food installation Incubation -- servings of homemade yogurt in glass jars and honey dripping from a box on ceiling, leaving visitors to catch their sweetness as it falls to earth.
From there I headed...
©2018 Art New England, All Rights Reserved
Designed and Developed By: T. Montgomery