ANE Portfolio Posts
Feb 24, 2012

Review: Nina Bohlen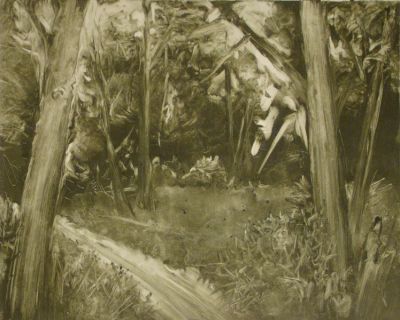 By Alicia Faxon
"Whose woods these are I think I know…." With these words, the poet Robert Frost might have been writing about the representations by Nina Bohlen on view at the Danforth Museum. In monotypes made in 2010 and 2011, the artist captures the fierce beauty of the woods surrounding her cabin in Lubec, Maine, the farthest point of land east on the coast of the Atlantic Ocean.
In Bohlen's monotypes, each of the trees or animals she depicts are highly individualized, never generic. They are expressive portraits that evoke moods, temperaments, and relationships. With fine draftsmanship Bohlen has staked out a territory of her own in the stark presence of her familiar woods.
The expressiveness of Bohlen's view is not surprising. She was a member of the Boston Expressionist group, whose work was exhibited at the Danforth...
©2018 Art New England, All Rights Reserved
Designed and Developed By: T. Montgomery