ANE Portfolio Posts
Jul 1, 2014

Ann Chernow: Noir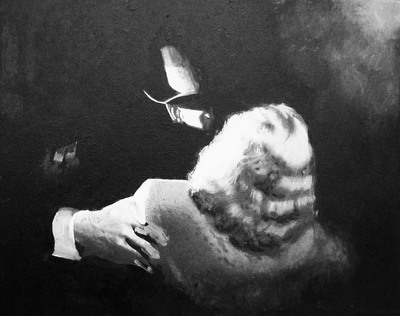 Ann Chernow: Noir Albert Merola Gallery Provincetown, MA Albertmerolagallery.com
June 6-24, 2014
From the darkness a beam of light falls on the mane of blond hair, setting it ablaze. Then it glances off a profile, picks up the tip of a cigarette, an aquiline profile. This is Ann Chernow's latest work and it is all inspired by film noir, the post-WWII Hollywood genre in which the action often takes place in darkness, in shadows, and where the themes of mystery, illicit rendezvous, and subterfuge play out.
Chernow's painting always has been woman-centered and often tinged with nostalgia, its images taken from old family photographs and magazines. Her latest work evinces a desire to go deeper into women's psyche to explore the private, darker side, the danger zones of passion, heartbreak, physical beauty and intrigue. She investigates above all the part that fate plays in the lives of both men and women. 
Oct 24, 2012

"Not Tyrannized by the Seen"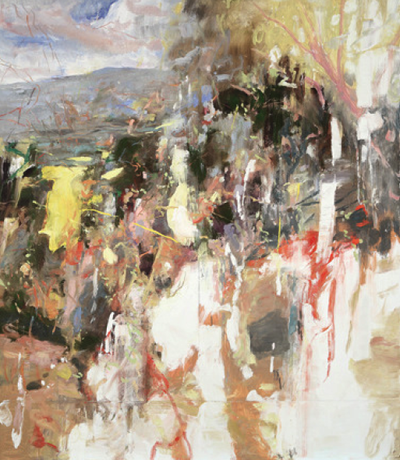 A Consideration of Eric Aho's Transcending Nature recently at the Currier Museum of Art, Manchester, New Hampshire
By Arlene Distler
Back in April of 2012 I was wandering around the Armory show in New York, an event that has become a huge and important showcase for contemporary art from all over the world. I passed a large abstract painting on the outside wall of DC Moore Gallery of New York. It caught my attention. Among all the hundreds, maybe thousands, of art works placed in their pop-up gallery cubicles—heightened realism in the drawing of a frying pan, brightly striped canvases or shiny chrome objects that seek to mirror the razzamataz of our glitzy, LCD-lit world, often seeming self-conscious searches for something new and fresh—here was someone who simply loved paint and painting. Now that was fresh! The painting, Daybreak (2011), at 92 x 80 inches, also made a big impression. Amid...
©2018 Art New England, All Rights Reserved
Designed and Developed By: T. Montgomery