ANE Portfolio Posts
May 1, 2012

Mary Sherman of TransCultural Exchange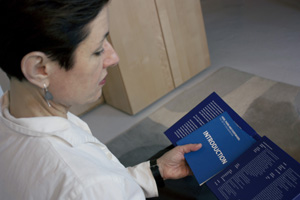 by Christian Holland
Mary Sherman, director of TransCultural Exchange. Photo: Emily Sypher.
It was the late '80s. It was Chicago. An emerging artist named Mary Sherman had just met a couple of young Austrian architects who traveled to the city to study its architecture. They needed a place to stay, and Mary offered.
The architects, to whom Mary had been connected through Viennese friends she made while studying abroad, happened to like Sherman's work, and several months later she was showing at Vienna's WUK Kunsthalle with other Chicago-based artists. That show was the first of a two-part exhibition entitled Reverse Angle in 1989–1990, with the second part, composed of Vienna-based artists, taking place at the Ludwig Drum Factory building in Chicago.
What was happening during the architects' trip to Chicago and Sherman's subsequent exhibition in Vienna was an exchange of ideas and resources, but it couldn't have happened if Sherman wasn't one of those...
©2018 Art New England, All Rights Reserved
Designed and Developed By: T. Montgomery