ANE Portfolio Posts
May 6, 2011

Mumbai Inspired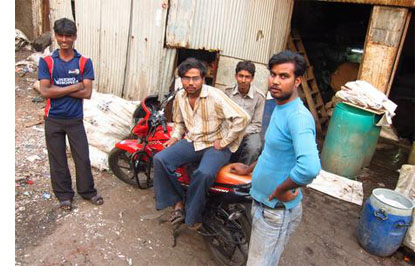 By Collin Dunbar
Editor's Note: In Art New England's latest issue, we followed a young Boston artist Alex White-Mazarella and his colleagues as they completed an art and urban planning project in the city of Mumbai called Artefacting Mumbai. Writer Collin Dunbar updates and elaborates on this evolving story. 
The Indian city of Mumbai is the second largest city in the world, and one of its tiniest districts, Dharavi, is one of the most densely populated areas anywhere. There are no accurate census figures, but it is estimated that anywhere from 600,000 to one million Indians make their home in the district, which is little more than half-a-square-mile. Dharavi is often referred to as "Asia's largest slum," and prominently featured in British director Danny Boyle's Academy Award winning film Slumdog Millionaire.
The artists of Artefacting Mumbai,...
©2018 Art New England, All Rights Reserved
Designed and Developed By: T. Montgomery