ANE Portfolio Posts
Apr 17, 2013

negation/nostalgia/love letter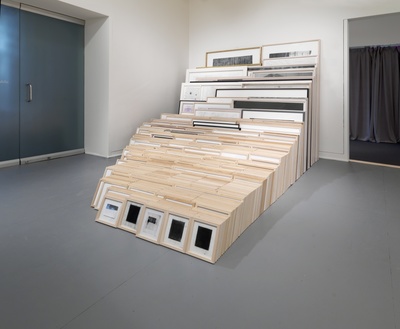 Among From With Andrew Witkin: Platform 11 deCordova Sculpture Park and Museum through April 2, 2013
Installed in the hallway and two galleries at the top of the deCordova Museum is Andrew Witkin's Among From With. The installation is attentive to the borders that exist in a museum and attempts to break these down.
In the hallway are several minimalist plywood chairs aligned and spaced along the wall with black felt-like banners hung on the wall. The chairs occupy both the space of sculpture and the function of a space for waiting. The banners contain long lists of names and fragments of thoughts. The names are mostly art names with musicians and baseball, etc. The thoughts are about art and being. This hallway smells good, all that fresh wood. The lists accumulate as a love letter: to those who have influenced and sustained both in thought and presence. The love letter is to the world of art and thought. I am reminded how small a world it is since many of the names...
Jan 24, 2013

Bernd Haussmann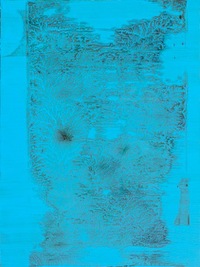 By Craig Stockwell
Bernd has a studio in Marblehead, MA, located on the third floor of an aged building in the scenic old town with a view through to the harbor. I had met Bernd in Provincetown and was interested in his painting and have enjoyed his enigmatic Facebook postings entitled, "Now."
Bernd is an accomplished painter raised and trained in Germany and his commitment to the rigors of private studio practice were immediately apparent as was his general disapproval of the slightness of much of contemporary art. What's interesting is that he is in the midst of a changing practice wherein he is moving on to new projects that reflect on the nature of painting, and the idea of what an artist, is in a way that is opening possibilities fundamentally different from those of where he's begun.
Darwin's Coral
Haussmann has been involved in a variety of current...
Sep 27, 2012

A Studio Visit with Katherine Bradford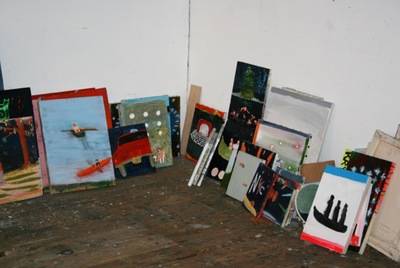 By Craig Stockwell
I am contemplating how to undertake a loss of control in the studio. I visited Katherine Bradford at her Harpswell, Maine studio on an August afternoon. In the barn, as it should be. It was raining and later we sat by a wood fire in the kitchen. Katherine Bradford's work frightens me. It is such a brave and delicate world she is attempting. In this particular world of painting there's not much there. The paintings are insubstantial, undernourished, even poorly painted. There is a conscious proclivity to refuse continuity. There is a fumbling about in the dark which runs the risk of that abstract expressionist existentialist bravado. But this painting is done with so little bravado and the expressionism is quiet and yearning. Without being histrionic, this painting believes in the possibility of emotional exchange.
Katherine Bradford's...
Aug 9, 2012

Altoon Sultan: A Studio Visit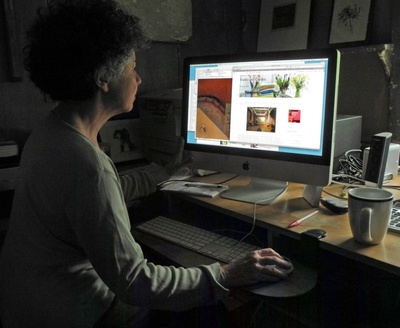 By Craig Stockwell
On a cool rainy June day I visited Altoon Sultan at her home/studio in Groton, Vermont. I wanted to visit Altoon because I think that she has gone through an evolution in her work that speaks to what I see as a generous and expanded role of the studio artist.
It begins with Facebook. There's nothing sacrosanct about Facebook but it happens to be, at this moment, a truly useful tool for me as an artist. Blogs are passing out of their usefulness. Facebook is alive and the conversation amongst the art community, if you can locate it, is rich and engaged in all of the aspects of that which those of us that love this conversation do love.
Altoon in her studio
Altoon is dedicated to Facebook and that is how my friendship with her deepened from a passing acquaintance to a lively interaction....
Aug 9, 2012

Studio Visits: An Introduction to a Series
By Craig Stockwell
There are without doubt many committed artists who have chosen to live and work in New England. My intention with this regular feature is to visit many of them and to write about the ones that seem to exemplify some aspect of development in current practice that is notable. We have artists who trained in New England or were born here and have gone off to international reputations. We have artists who carry on tenacious and original practices with perhaps only local notice, and we have artists who work in New England and have major careers in New York and Europe but are rarely seen or heard of here.
I am making studio visits, and writing about them. This effort sprang from a conversation I had with the new Editor of Art New England, Judith Tolnick Champa. I had just come from visiting the artist Sonia Almeida in Somerville. Sonia is a painter whose work I had recently encountered at Simone Subal gallery in New York. The art world is a constant and delicate...
©2018 Art New England, All Rights Reserved
Designed and Developed By: T. Montgomery