ANE Portfolio Posts
Dec 4, 2011

Art Basel Miami - Day 4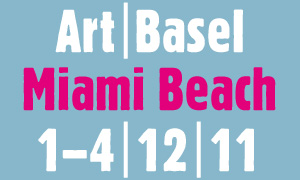 By Dina Deitsch
After the big fair, the two of the smaller-scale fair offerings – Pulse and Nada were welcomed visits.
Although the power was in flux during my visit – literally – the lights were dark in about a third of the fair – the energy at Pulse seemed properly pumped. Impulse, Pulse's smaller side show, featured Boston's Ellen Miller Gallery who had a solo presentation of everyone's favorite Deb Todd Wheeler. A boat and remarkableseascapes made out of scans of plastic bagsfilled the booth nicely with a timely and elegant message about landscape. An aisle over, Elizabeth Leach hade a wall of New Hampshire-based Anna von Merten's hand-stitched quilts from her newest series You and Me which will be on view in the deCordova Biennial this coming January. Subtle white and grey stitching on black fabric sketch out the fluctuating poles of energy. Metaphors of relationships turned a bit more literal with the fair's fading lights…
 ...
Dec 2, 2011

Art Basel Miami Beach - Day 2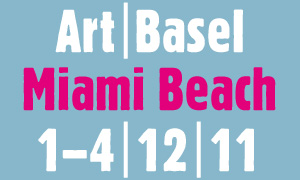 By Dina Deitsch
Miami – Day Two While Abi was militantly covering the collections and Main Fair – Art Basel – I found myself on a slightly stranger and later schedule, meandering through Art Basel and then in Collins Park late Wednesday night, fighting the rush of human traffic attending the Bass Museum's Erwin Wurm opening (whose video Am I a House? Is featured in deCordova's Temporary Structures - up until Dec 31).
But from the beginning. At Art Basel, a few notable installations were the solo projects. Sarah Oppenheimer (another Temporary Structures artist) created a new wall installation of metal and glass that seemed to bend space, literally. As Abi mentioned, Matt Saunders (2012 Biennial) has a near-solo presentation at Harris Lieberman where he is debuting large-scale photographic prints that riff off lost cultural producers – Weimar-era actress Asta Neilson and the writer Robert Musil, famous for his epic, unfinished novel, The Man without...
©2018 Art New England, All Rights Reserved
Designed and Developed By: T. Montgomery