ANE Portfolio Posts
Nov 1, 2011

Crazy Spheroid- Two Entrances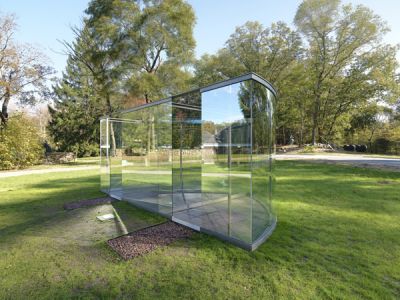 By Julia Kelley
DeCordova Sculpture Park and Museum in Lincoln, Massachusetts, recently acquired a piece by artist Dan Graham, Crazy Spheroid- Two Entrances. This addition to the sculpture park is the fourth in a series of recent acquisitions, and it was chosen because its unique hybrid of styles, lending a modern architectural element to the park.
Andy Ryan
Crazy Spheroid – Two Entrances is a half-ellipse made of mirrored glass, with its interior divided into two unequal parts, each accessible through cutout doorways. The reflective glass makes the piece seem composed entirely of its surroundings—the trees, the sky, the people viewing the work—aside from its sparse steel supports. Viewers are encouraged to enter the sculpture and experiment with their distorted reflections.
"There's something in it for everyone," according to Graham. For example,...
Oct 11, 2011

Tracing the Fore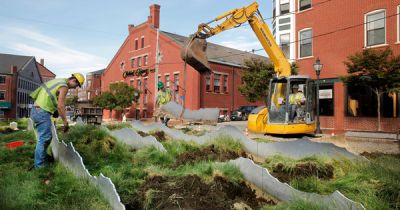 By Julia Kelley
The City of Portland, Maine, removed a large public art sculpture in late September, after a year's worth of meetings, debates, and petitions. The work, Tracing the Fore by Shauna Gillies-Smith, was featured in our July/ August issue in Kris Wilton's "Public Art Under Siege." The story was recently picked up by the New York Times.
Gregory Rec, The Portland Press Herald
The sculpture, constructed in 2003 in Boothby Square, was meant to imitate the neighboring Fore River, with long grass billowing between stainless-steel waves. Unfortunately, the combination of nature and location set the piece up for failure. Weeds took over, and the central city placement made it difficult to maintain. As Wilton wrote in her article,...
©2018 Art New England, All Rights Reserved
Designed and Developed By: T. Montgomery