ANE Portfolio Posts
Sep 22, 2016

Anne Ayvaliotis: A Celebration of an Artist's Life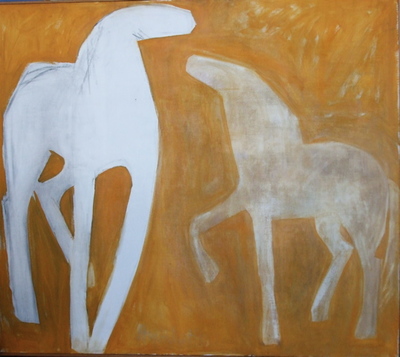 Anne Ayvaliotis, Judge and Jacob, oil on linen, 56 x 74". All images courtesy Yvette Torres Fine Art.
By Kay Tobler Liss
Anne Ayvaliotis is a name familiar in art circles in Maine. She was part of a well-regarded group of artists that came to Maine from New York City in the 1950s and 60s, a group that included Charles DuBack, Lois Dodd and Joe Fiore. She was known as a teacher of art at the Farnsworth Museum of Art in Rockland and at Round Top Center for the Arts in Damariscotta, and her work is in collections at the Farnsworth and the Portland Museum of Art. Ayvaliotis died in March at the age of 90. In her honor, Yvette Torres Fine Art in Rockland is holding an exhibition of her work, Celebration of an Artist's Life. (Open September 9 through October 16, and over Thanksgiving weekend in November. Reception: Friday, September 9, 5 p.m.)
Ayvaliotis was a late-generation...
©2018 Art New England, All Rights Reserved
Designed and Developed By: T. Montgomery