ANE Portfolio Posts
Apr 16, 2013

An alternative gallery: making a museum-sized exhibition space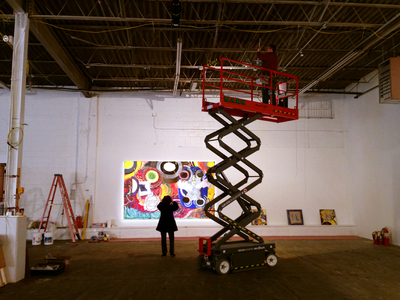 Sheffield van Buren & Katherine Porter: Paintings April 4 – May 31, 2013 Thursdays through Sundays, 1 – 6 pm 100 Holton St. Allston, MA (behind warehouse at 184 Everett) 
[Photo] View of Installation at 100 Holton St.
Down a nondescript alley, just past Jump on in Parties and the Boston Auto Body Shop, you will notice the hand-painted sign with the words GALLERY. Follow the arrow and you will be amazed to find an art exhibition to rival a museum—with soaring ceilings and a beautiful installation of thirty oil paintings by two established artists. What is the source of this unusual gallery?
Artist Sheffield van Buren searched for several years for an alternative exhibition space before locating an "industrial box" in a warehouse section in Allston. The building is one of many vacant or underutilized buildings in the area owned by Harvard...
©2018 Art New England, All Rights Reserved
Designed and Developed By: T. Montgomery