Closer to the Mountaintop: Lawren Harris at the MFA
« back to Portfolio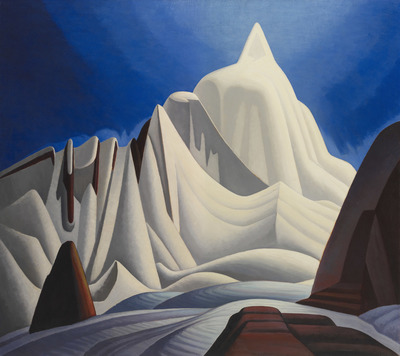 Lawren Harris. Mountains in Snow: Rocky Mountain Paintings VII. About 1929. Oil on canvas. The Thomson Collection at the Art Gallery of Ontario. © Art Gallery of Ontario. © Family of Lawren Harris. Courtesy Museum of Fine Arts, Boston
By Elizabeth Fennell
The Idea of North: The Paintings of Lawren Harris, on view at the Museum of Fine Arts, Boston through June 12, is the first major U.S. exhibition for the iconic Canadian artist, Lawren Harris. Chances are, you've never heard of Lawren Harris. If you're Canadian, you might recognize him as a founding member of the revered Canadian Group of Seven—nationally renowned modern landscape painters and favorite sons whose paintings show up on Canadian postage stamps. Collector/comedian/banjo-playing/playwright/virtual arts super-hero, Steve Martin poured his star power and his long-term admiration for Harris into his role as curator. The current exhibition, co-organized by the Art Gallery of Ontario and the Hammer Museum in Los Angeles, gives New Englanders the opportunity to venture to Lawren Harris's monolithic modern cathedrals of the Canadian Rockies, Northern Lake Superior and the Arctic.
In a restrained cool palette of rhythmic landscapes, weather-stripped trees stand seminal in hills and arctic peaks emerge from pools of reflective calm. Co-curator, Taylor Poulin, credits Steve Martin for hanging a show that aims to tell Harris's story. For decades, Harris traversed the northern Canadian wilderness for inspiration. In 1930, he boarded a government supply ship for a two-month journey to the Arctic. He returned with sketches and photographs that informed large scale paintings translating nature's starkest terrain to simplified shapes of cinematic awe. In Icebergs, Davis Strait (1930), stylized icebergs float in quiet blue. A balanced composition of ice and ocean provides an elemental calm, a sublime visual breathing space.

Lawren S Harris. Courtesy Museum of Fine Arts, Boston.

The paintings set a dramatic stage—far-north desolate tundra compels the viewer to dream. In Mountains in Snow: Rocky Mountain Paintings VII (1929), the viewer is poised to marvel and move towards an undulating idea of a snowed summit. In the accompanying exhibition catalogue, Martin offers a transcendental take on the human-less landscapes. "Harris celebrated isolation; it brought him closer to the mountaintop."
In an adjunct show, the MFA offers a special opportunity to see similarities of spiritual austerity between Harris and his American Modernist counterparts. Last fall, Martin came to Boston to go through the MFA's extensive Modern collection. Rack after rack, he looked until he found an echo of Lawren Harris: Square on the Pond, by Arthur Dove. "He pointed to the jagged triangles in the Dove painting," Poulin recounted, describing Martin's process to find a formal thread that connects Harris to the larger world of Modernism. "The MFA is unique," Poulin added, "To be able to tell this story in a larger context is something that sets us apart."

---
No comments yet
©2017 Art New England, All Rights Reserved
Designed and Developed By: T. Montgomery