Cultural Crossroads at the Silk Road Art Gallery
« back to Portfolio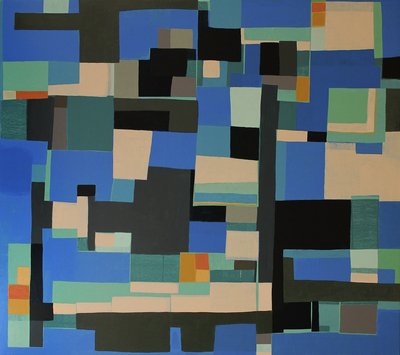 Karen Dow. Cross Section. 2016. Acrylic on canvas. 34 x 30″. Courtesy Silk Road Art Gallery.
By Olivia J. Kiers
In New Haven, CT, the Silk Road Art Gallery brings contemporary Chinese art and artists to New England, and works to bring art by the New England artists they represent to China. Art New England speaks with gallery owner Liwen Ma and director Dan Li about their mission.
ANE: What brought Silk Road Art Gallery to New England, generally, and why New Haven in particular?
Silk Road Art Gallery: When we were looking for where to set up an art gallery in the United States to extend our existing Chinese art-dealing brand, we were most interested in finding an environment that had a lot of art activity. New Haven proved to be an ideal location as it has a rich history, a lot of art events, and Yale University with its fantastic museums and art school. We felt like there was a unique opportunity for supporting international art and cultural exchange here and it has been an amazing journey for us.
ANE: Are most visitors to the gallery already aware of contemporary Chinese art and artists? If not, how does Silk Road approach that teaching opportunity?
SRG: I don't think most visitors are aware of contemporary Chinese art and that is a big part of our opportunity here… When a customer comes in and shows interest in a specific painting, we provide context and help them understand the ancient and modern works which preceed those pieces. In addition we regularly bring our featured artists from China to the U.S. to educate people about Chinese art. Recently, we brought artists for workshops around Yale and even had one deliver a presentation at ECA [Educational Center for the Arts] High School about Chinese painting and calligraphy.
ANE: Who are three contemporary Chinese artists that Americans should know, and why?
SRG: This is a difficult question. There are a lot of famous contemporary artists that both have critical success and success in the auction room. In particular, we are very impressed with Yunji Li, Lizhu Zhang, and Hai Chao. These are not the current big names nationally, but we think that in 20 years they will all be leaders in the contemporary Chinese art scene.
ANE: What are your thoughts on the place of contemporary Chinese artists within the global art arena? Where do you see the future of Chinese art heading?
SRG: Positive. Art always contains infinite possibility and art itself may lack a specific direction, so it is hard to place a specific outcome for where Chinese art fits, but broadly we see our role here as trying to provide a "two-way street." We both want to introduce New England's artists to China as well as Chinese artists to the U.S. In that regard we recently showed Karen Dow, Paul Duda, Henry Chapman, Gar Waterman and Tom Peterson. In all cases, when we have a new exhibition we speak to both Chinese media as well as American. Accordingly, we have been able to arrange for some of our artist's shows to receive press coverage in the Chinese art scene in leading magazine publications.
… [O]ne of the best things about [running Silk Road Art Gallery] has been enabling Chinese artists and New England artists to interact. One of our greatest hopes is that we can act as a locus of exchange. We have been lucky to be a part of these conversations many times and we are always excited for each new show that can do this. We hope readers can come by and see the gallery for themselves so they can see how we work to achieve this goal.
——–
The Silk Road Art Gallery is located at 83 Audubon St., New Haven, CT. The current exhibition, The Third Reconstruction, featuring work by Karen Dow, is on view through April 2. See silkroadartnewhaven.com for more information.
This is the third installment in ANE Portfolio's series, "China and the Contemporary Arts in New England." To read the previous stories on the International Sculpture Parks Union conference, or Mark Cooper's collaborative exhibition at the Yuan Museum, visit here and here.
---
No comments yet
©2017 Art New England, All Rights Reserved
Designed and Developed By: T. Montgomery