Interview: Dina Deitsch
« back to Portfolio
by Robert Moeller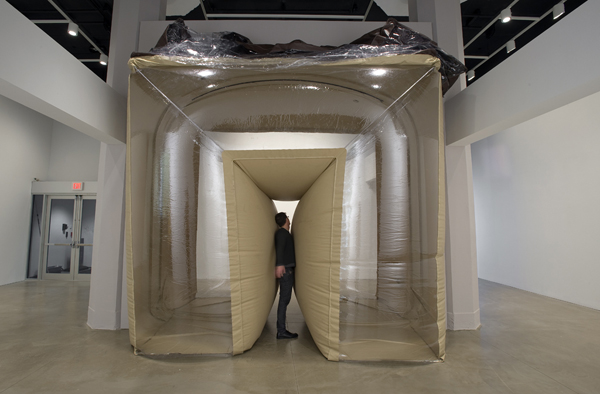 Dina Deitsch is Curator of Contemporary Art at deCordova Sculpture Park and Museum in Lincoln, Massachusetts. Prior to working at the deCordova she held curatorial positions at the Williams College Museum of Art and the Museum of Fine Arts, Boston. She is currently working on the 2012 deCordova Biennial and a number of group exhibitions for the Sculpture Park. The show she curated Temporary Structures: Performing Architecture in Contemporary Art is on view until December 31. For more information about the exhibition you can visit the deCordova website. We spoke recently.
RM: I like the idea that you thought about the museum's surrounding landscape, architecture, and traditions when shaping Temporary Structures. Can you talk about that?
DD: Of course. I think that curating at deCordova for the past three years has made me somewhat sensitive to its rather unique characteristics. The building itself is a composite structure of an old house that was clad in brick to become a "European-style castle" (turrets and all). That was then converted to a museum in 1950 using clean, Bauhaus principles, and then expanded by about 200 percent with a clearly postmodern wing in the 1990s. The results are gallery spaces that are by no means conventional and have a real affect on how you use those spaces, curatorally at least. We are also located in a surprisingly architecturally rich area. Just around the corner is Walter Gropius' historic 1930s home—a kind of Modernist gem in these New England woods, and, we are the pond over from Walden where Thoreau's cabin set the stage for radical thinking and action. So in many ways, the museum's location very much feeds into this inquiry into architecture.
RM: Was it the starting point or simply a piece of a larger idea?
DD: No, it definitely fed a pre-existing interest of mine, rooted mainly in the work of Gordon Matta-Clark.
RM: Is there a contradiction or interesting tension between Matta-Clark's emphasis on the ephemeral and the museum's traditional role in preserving the object?
DD: Yes, although he knew enough about preservation (and one could argue, the art world and an art career) to produce films and videos, photographs, collages, and sculptures from each of his ephemeral building cut projects so that thirty plus years later, I can still sit in a video gallery and feel the enormous transformation he created. His legacy looms large and maybe that is in part because there is an essential mystery, unknown, at the very heart of his work. But I do think that his engagement with and into architecture did set off a broader trend that has since leaked down into the museum institution. A certain irreverent attitude towards the institution, I think. One pragmatic aspect of a show about intervening into architecture is that you find yourself cutting into your museum building quite a bit. It felt like a very concrete realization of just how open the museum has become over the past two decades. And as an exclusively contemporary museum, it seems that so much of what we do is focused on the visitor and creating an experience, and less so the preservation of objects.
But that issue aside, what really interests me about Matta-Clark is that no matter how sculptural his work was, or even architectural, it was always about the performance. Be it the building cuts, his Food restaurant, his early alchemical experiments—the majority of his projects revolved around time. One of the key works in the show is his 1973 Clockshower, a silent, slap-stick performance video he did on top of the Clocktower Building in Manhattan. In it, he riffs off of Harold Lloyd and the likes of Buster Keaton, and ties himself to the giant clock face and takes and shower and shave. It's a fantastic moment of using or really misusing architecture as a performance site. It's also ridiculous and hilarious—a theme that seems to have crept up in the show.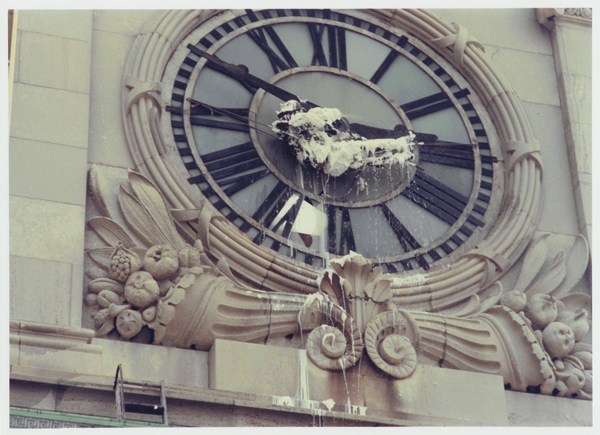 RM: Matta-Clark as an ephemeral corner stone, so to speak. Does "creating an experience" get in the way sometimes? More specifically, in a sort of anything goes artistic climate is there a point where art stops being art, where lines are crossed or so confused that the original intent is cancelled out?
DD: You know, I think every time we (curators, institutions, critics, even artists) try to draw a line it just seems to be an invitation to cross it. But perhaps that the necessary process of things…. Still, there is a line—I just think it's a thin, wavering one that moves around a lot. That said, I do think that at the end of the day, art does need to contend with the poetic at some level.
RM: Is there a piece in Temporary Structures that approaches that line. A piece that in an interesting way comes "Danger-Close" to that line?
DD: Good question, although actually most of the work in Temporary Structures stays firmly on the "art" side of things. I did make the decision early on to keep the show exclusively in the art realm and not open it up to architects or real architecture (there is so much work being done in the field of architecture itself around this topic that it would be its own show). Mary Mattingly's installation Wearable Portable Architecture does flirt with the line of functionality—a classic "art" distinction. Her installation is a structure made from wearable, portable tents. She's also designed backpacks for a company called Black Umbrella that sells survivalist gear. It's a backpack that converts into a sleeping bag. Erwin Wurm's video Am I a House? Actively addresses this tension—that between art and architecture—as his enormous Fat House installation angsts over its identity as either an art installation or house.
RM: This intersection, if you will, between art and architecture is quite rich. Is there a political angle here too, say, as in the way we "house" the poor, prisoners, and factory farmed animals?
DD: That's an excellent point and important angle. I can't say that was part of my formative thinking about the show—I was more effected by images of destruction—of moments when architecture's security and promise of safety failed: 9/11, Katrina, etc. But over the past few years and over the course of my research and conversations, a few examples of temporary structures as cheap, nomadic, necessary enterprises came up. Most memorable was an example of a village in Southeast Asia that floods annually and needs to be rebuilt each time. I kept wondering why they didn't just move the village. But they needed the river for their livelihood and had little choice in the matter.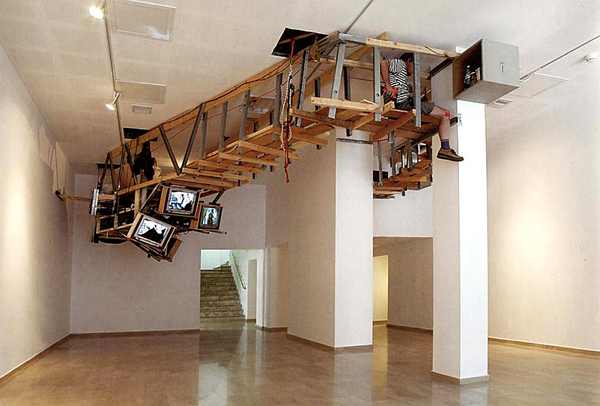 RM: And finally, I think. George Costanza on Seinfeld famously would pretend to be an architect; it was sort of a default occupation that conjured up a certain status that appealed to him. It also was something he felt people couldn't challenge, couldn't question. It was as if here was this cool thing yet what is it exactly? He was on to something, wasn't he?
DD: He was! Architects design the spaces that we live in day in and day out. Their work becomes a permanent feature in our minds, our memories and even emotions. A building is very much the human natural habitat. Ward Shelley and Doug Paulson make that clear in their Grow or Die installation—a suspended catwalk that runs through all four stories of the museum that they built out daily—to reach their food and supplies. Not unlike an animal burrowing for food.
But yes, architecture holds a certain amount of authority in its scale, solidity and function. If we convert that to a metaphor of our world, of our society, of things authoritative, then what happens when those walls come down, when that structure begins to move with or even against us? That, I think is what the exhibition is asking.
—Robert Moeller
---
Like the blog
Posted by: ryan On: Feb 24, 2012 4:46 pm
©2018 Art New England, All Rights Reserved
Designed and Developed By: T. Montgomery