Johnathan Kendall: Woodcarvings
« back to Portfolio
Wellfleet Preservation Hall, Wellfleet, Massachusetts
June 30 - September 5, 2011
By Mark Gabriele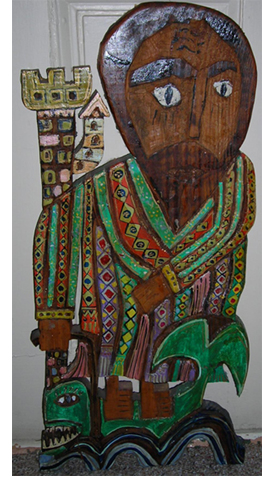 Even at a monastery so progressive that it was nicknamed "the holy hoboes," Johnathan Kendall's art provoked quite a stir.  Founded by some very forward-thinking priests, the Holy Trinity Monastery in St. David Arizona is a place where the monks wear boots and cowboy hats, and the vow of monastic hospitality extends to the homeless and mentally ill.  When American itinerant woodcarver Johnathan Kendall arrived there in the late 1970s, they took him in as they would any traveler.  They even let Kendall establish a workshop to teach the monks to make icons, which he did for a couple of years.  However, when it came to Kendall's spectacular carving of the Holy Trinity, the prior drew the line.  He wanted it removed from the chapel because it also included a very prominent devil.
In Wellfleet, Massachusetts, a vigorous controversy erupted over a set of entry doors Kendall had carved for the Our Lady of Lourdes Catholic church in 1976.  When a new pastor came on the scene in 1987, he objected to the misshapen angels and gnarled saints, and wanted them taken down.  In a story that made the front page of the Cape Cod Times, the locals resisted – and ultimately prevailed.  The doors had become a town landmark, and the community wanted them to stay just where they were.
Kendall's doors closed on a sacred space when the Archdiocese decided to abandon the building in 2000.  This May, they will re-open to a secular space: Wellfleet's new cultural center, Wellfleet Preservation Hall.  The inaugural exhibition, Woodcarvings by Johnathan Kendall, will throw a spotlight on the career of an eccentric and enigmatic artist who passed through the Cape Cod town that one summer.
Kendall was Boston's disowned and displaced son – ejected from his home on his eighteenth birthday by his mother, a Cabot.  Or so he says.  Some who knew him swear he worked "to the glory of God."  Others testify he was an outsider completely devoid of any moral compass.  A restless vagrant, he spent some of his time in monasteries, some behind bars – and the rest on the road, passing through state after state in search of a welcome which before long, he'd wear out.  He died at the age of sixty-five in Espanola, New Mexico.
Woodcarvings by Johnathan Kendall will be on view from June 30-September 5, 2011, at Wellfleet Preservation Hall, 335 Main Street in Wellfleet. Thirty works will be on display.  Opening reception will be 6 - 8 p.m., Saturday, July 2. For further information, visit the website.
________________________________________________________________________________________________
Mark Gabriele lives in Wellfleet Massachusetts. He researched Kendall's life and work, and curated the artist's 2007 exhibition at the Cape Cod Museum of Art.
---
Does anyone know what happened to the controversial carving that Kendall did for the Holy Trinity monastery? Are there photos of it somewhere on line? If so, please let me know at coopert.ane@smithduggan.com.
Posted by: Tom Cooper On: Sep 2, 2012 5:08 pm
Glad to read this blog! Keep it going!
Posted by: Home Elliptical On: Dec 19, 2011 1:35 am
Cool resource! I've just bookmarked it.
Posted by: Ryan Albarran On: Nov 24, 2011 9:45 pm
Great! thanks for the share! Linda
Posted by: Home Treadmill On: Nov 23, 2011 12:22 am
Many thanks for sharing your thoughts here. I really respect it.
Posted by: Joel Demyan On: Nov 18, 2011 6:19 am
I was just looking for this information for some time. After six hours of continuous Googleing, at last I got it in your site. I wonder what is the Google's issue that doesn't rank this kind of informative sites closer to the top. Generally the top web sites are full of garbage.
Posted by: boadraseirrem On: Aug 27, 2011 9:02 pm
Hello dude! I really like what you're doing here. Keep posting that way.
Posted by: cardaddy On: Jul 24, 2011 5:14 pm
A couple of Johnathan Kendall's relief chairs are being auctioned at the Skinner's upcoming discovery sale, July 27-28, in Marlborough, MA. Estimate is $600-$800.
Posted by: Editor On: Jul 20, 2011 2:43 pm
fascinating story! 12 carvings are being auctioned as part of this exhibition
Posted by: selnac On: Jul 7, 2011 9:24 am
AFAIC that's the best anwser so far!
Posted by: Jetsin On: Apr 30, 2011 7:00 pm
Hello! My friend has recommended me to have a look at your blog. And I'd like to say that I really appreciate what you're writing here.
Posted by: cialis On: Apr 27, 2011 1:25 am
©2017 Art New England, All Rights Reserved
Designed and Developed By: T. Montgomery