Semblances of Place at Concord Art
« back to Portfolio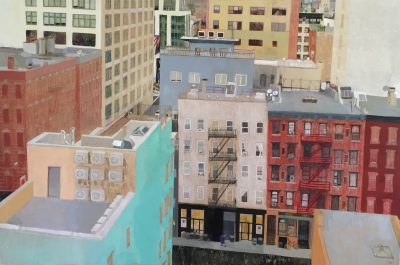 By Olivia J. Kiers
The winter appearance of Concord, MA is quiet, and often swathed in great patches of snow. Yet a bright, colorful, urban world awaits this winter at Concord Art, where the work of three Massachusetts artists is on display. Semblances of Place (through February 10) creates a great escape from the ordinary for those fortunate to catch it on view.
Betsy Silverman's collaged images depict the most playful aspects of city life, in particular, Boston's. Swan boats glide over rippling, brilliant blue water in the Public Garden. Red Sox fans gather outside Fenway Park under a sunny sky. Silverman saturates her cityscapes with color, and also with snippets of text and images from New England magazines—Art New England among them—that offer locals a number of amusing moments of recognition. The artist's wit ranges from a mermaid swimming in the Public Garden's lagoon in Ducks and Swans 2, to a Do Not Enter sign in Crossing Downtown Crossing that also declares (half-comically, half-ominously), "There's a new mayor in town."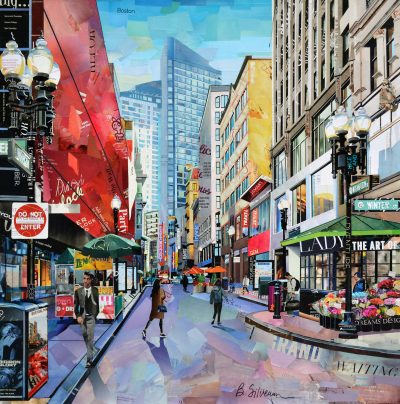 "There is a lot," Silverman admits, "but I think that helps to keep the viewer stimulated. I want them to be entertained… This is how my work relates to Semblences of Place. It's about the idea of what a place looks like, but you are looking through a new lens, and getting new information."
Painter Anna Herrick takes New York City as her muse in most of her work in this exhibition, turning the hubbub of the Big Apple into surprisingly contemplative and inviting urban landscapes. "There's a human quality to all these structures, whether people are present or not. Even as a kid, I'd ride the subway and feel a sense of melancholy coming out of the place," she explains.
The melancholy present in Herrick's New York carries an understated humor. In SoHo, a hunched figure glimpsed walking alone down a sidewalk doesn't evoke Edward Hopper as much as it does cover art for The New Yorker. Here, the Soho neighborhood becomes a welcoming blanket of buildings that box the figure in place, as if sheltering him from a noisy world. Even the boarded up or curtained windows fail to distance the viewer, who is entranced by their patterns. Elsewhere, Herrick uses the strengths of multimedia for a similar effect. The graphite skies in Midtown 1 set skyscrapers within an atmospheric intensity that captivates despite the work's small size. Her cityscapes let the imagination roam wild.
Robert Steffen's exploration of place falls somewhere between that of Herrick and Silverman. His witty use of digital photo layering has an information-heavy colorfulness on par with Silverman's collages, albeit on a more intimate scale. With Herrick, Steffen shares an inclination toward open-endedness and emotion. He refers to each work as "a mélange of sensory perceptions" rather than a static scene. Take Lone Star—Full Heart, in which a female silhouette, an open book, and other objects float through—or perhaps beyond or before, depending on the viewer's own perception—the lone star of a Texas flag. Lone Star—Full Heart's cool-toned palette adds emotional complexity to this already complicated image the way a melody turns mere lyrics into music.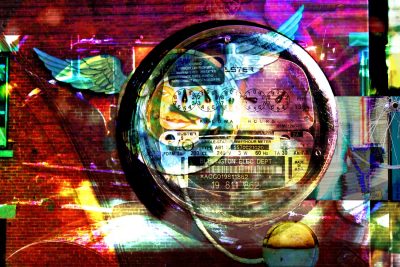 Like Silverman and Herrick, Steffen finds humor through his process. "If I didn't have humor, I'd be doing realist images," he says. "There is humor in everything, and the mixture of objects just brings that out." A Burlington, VT electric meter set against a bicycle wheel, disembodied wings, and other curved shapes that evoke speed and energy receives the title Power Play.
Despite the bold use of material and color employed throughout Semblances of Place, the pleasure this exhibition gives is mostly through the contemplation of its nuances, like the way in which each artist pursues humor. Irony, pathos, wit and wisdom—the diversity of artistic and emotional intelligence on display throughout Semblances of Place is just as compelling as the literal urban-ness depicted. Altogether, it's a well-conceived exhibition with an engaging, cosmopolitan flair.
---
Image 1. Anna Herrick, SoHo, mixed media on wood, 36 x 24." All images are courtesy the artist.
Image 2. Betsy Silverman, Crossing Downtown Crossing, recycled magazines on canvas, 40 x 40″
Image 3. Anna Herrick, Midtown I, mixed media on wood panel, 14 x 11″
Image 4. Robert Steffen, Power Play, archival pigment print, 16 x 20″
---
No comments yet
©2018 Art New England, All Rights Reserved
Designed and Developed By: T. Montgomery