Profile: Katherine French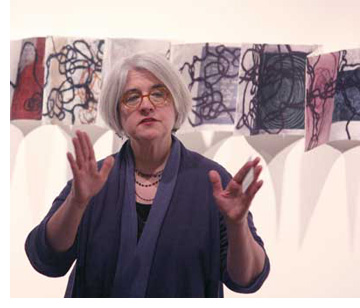 For the past five years, Katherine French has been a leader in the New England art community in her role as director of the Danforth Museum of Art in Framingham, Massachusetts. There she has curated numerous exhibitions, including those exploring Boston expressionism. In 2007, she received an award for curatorial excellence from the New England chapter of the International Association of Art Critics. In 2010, she was named Best Curator of Locally Made Art at the New England Art Awards and recognized as a Distinguished Alumna by Boston University. Under her direction, the Danforth Museum of Art has been named an Outstanding Cultural Organization by the Massachusetts Arts Education Collaborative.
For these reasons and more, I chose to interview French. Most of all, I wanted to learn how she acquired the resources and commitment to transform a ho-hum museum into a vibrant, responsive art experience.
LOIS TARLOW: Where do you come from?
KATHERINE FRENCH: I come from a long line of working class Vermonters. As a child, art really wasn't part of my life. I didn't visit museums, but [was exposed to] the beauty of the New England area, particularly near Lake Willoughby, in the Northeast Kingdom of Vermont, where my parents now live. This certainly affects my vision of the world and my way of observing nature and landscape.
Tell us about your education.
I graduated from the University of New Hampshire in 1975 as part of its first BFA class. I studied with Sigmund Abeles, John Hatch, and Conley Harris. Except for Hatch, they'd all taught at Boston University and approached art with a strong interest in image making. Hatch had served in the Pacific campaign during World War II as a map topographer and used Nicolaïdes' method of contour drawing to teach hand-eye coordination. "It's not drawing you're learning," he'd say, "it's seeing." It was in his class I learned to think visually, to translate my line of sight to the page. I remember thinking while drawing, My goodness! I'm able to record my vision, to put down what I am seeing. For me, this was as fundamental as learning how to read and write.
Can you explain?
In our culture we accept that most adults draw at a second or third grade level, stopping about the age when reading takes over. When they begin to struggle with drawing—right about the time when they want to make things look real—we don't help them over the hump. Few children read without learning how to read, and some struggle with it. What if we said to them, We won't bother to teach you to read, because you're not going to be a writer. But we do this very thing when it comes to drawing. Instead of saying, That's okay, don't worry about drawing—you're not going to be an artist—we should recognize that drawing can be an important tool to record experience. The world would certainly be enriched if everybody could visually communicate.
What did you do after graduation?
I went to New York to be an artist, but got a job at the Frick Collection, where I catalogued study photographs for art historians—male or female portrait, head looking left or right, head with hands, head without hands. Every morning I took the train from Bedford Stuyvesant into Manhattan, which was like traveling to another country. I visited museums and remember Mark Rothko at the Guggenheim and Louise Bourgeois at MoMA. I saw Robert Wilson's Einstein on the Beach at Lincoln Center and Spaulding Gray off Broadway—both visual experiences. Ann Sutherland and Linda Nochlin, who had just presented their groundbreaking show on women artists and feminist painters, were gaining recognition. In the seventies, people were taking representation seriously again, in part because of the Age of Revolution show that made a connection between French history painting and narrative. I could see work by artists like Fairfield Porter and Louisa Matthíasdóttir, as well as more politically minded work by Nancy Spero and Leon Golub.
Sounds as if New York was a good experience.
Growing up in a rural place, you think life happens elsewhere. I moved to New York because I felt it was the place where real things happened. Looking back, I know that real things happened wherever I went. But I so appreciated my time in New York—the sheer intensity of it.
Tell us about moving to Boston in 1977.
It was like coming home. I began working as a slide librarian in the School of Fine Arts at Boston University, and I was a fly on the wall when faculty had ad hoc meetings in the library. Sitting at my desk, I overheard amazing conversations between Philip Guston, Joe Ablow, or David Aronson. Arthur Polonsky, Jim Weeks, and John Wilson told me about art. They all requested specific slides for their classes. Sometimes we tend to lump artists from this group together. The second generation of Boston expressionists were often radically different from each other. I felt privileged to be working for them. When I heard them discussing Beckmann, it was like taking a senior tutorial in twentieth-century art.
What else did you do at BU?
Thanks to tuition remission, I completed two masters programs while at BU, first in creative writing (working with Leslie Epstein, John Irving, and Richard Yates) and later in studio arts education (working with Jan Olson). These followed naturally from my studies at UNH, where I'd received dual degrees in art and English. By studying painting and creative writing, I was searching around two different areas to get to the same place. I was interested in complex, representational storytelling, in being able to create a whole world within a painting or a novel. Although I didn't become a painter, novelist, or even a teacher, my visual and language arts education is important to me. I use it daily. I am not an art maker, but an interpreter. I create situations for art to flourish.
You didn't always live in Boston. You've spent time in Europe.
For a while I worked in London on a job exchange with a slide librarian at North East London Polytechnic. For an entire year I lived in her flat in Hackney and did her job. She lived in my apartment in Cambridge and did my job. I made some wonderful friends—artists, silversmiths, musical instrument makers—and experienced what it was like to live outside of one's own culture. This made it possible for me to become my own person, to be an authority for myself. While there, I also met my husband, a conservator of antique musical instruments who moved his business to Boston after we married. I continued working at BU, even after my two daughters were born. I know a lot of women feel children impede their progress in the arts. My children helped me understand how to see. Children scribble or draw the minute they pick up an object—even before. A baby who is waving his arms or punching at the air is making a mark on the world—it's really early performance art.
Was this when you became interested in education?
Yes, I began taking graduate courses in the arts education program at BU and volunteering to teach art classes at my children's school (a bilingual Haitian-Creole program in Cambridge) or in summer community art classes in northern Vermont. Then, in the early '90s, I was given the job of running the Sherman and 808 Galleries at BU and began curating alumni shows. I started doing more professional shows, a Neil Welliver survey or the Boston Printmakers Biennial. I was sent to the Smithsonian for an intensive workshop and began to think of myself as a museum professional. Instead of writing fiction, I was writing curatorial essays about artists and their work.
About this time you left BU and went to Montserrat.
Yes, I took a job as gallery director at Montserrat College of Art in 2002 and began to think of myself primarily as a curator—someone who can interpret what an artist is doing and bring the creative process into sharper focus. Artists can exist perfectly well without curators, but curators can't exist without artists. In a way, I'm acting the way a good editor would for a writer. Anyway, I'm a much better curator for having spent time at Montserrat. At BU I understood the process inside and out, the act of observational drawing and painting. At Montserrat I was dealing with video and installation, and artists who worked in ways I never had any expectation in thinking about. Montserrat became my graduate school for curatorial studies, and I would have stayed had I not become director of this museum.
Tell us about the Danforth.
Here I've found a natural home in a community museum that is in no way elite. My friend John Stomberg (now associate director of the Williams College Art Museum) warned me this might be the job of a lifetime. That has turned out to be true. The institution will last beyond my tenure, and I find real satisfaction in knowing that I've helped create a place for artists to exist.
You've worked hard at the Danforth. What's next on the horizon?
I do work hard, but this is more important than just me. One person can't do it alone. As a community activist, I get people excited about an artist like Joan Snyder and create a place for her show to happen. I get the leaky roof fixed. I hire enough staff for education programs. I don't deny that I'm pushing things. Some members of my staff wonder when this will stop. However, the museum can't continue to exist unless this building gets attention, and I'm determined to resolve our facilities issues. When you ask if I might consider going elsewhere, I just don't see it. I have no taste for going somewhere that has no problems to solve. It just wouldn't be that interesting.
What makes the Danforth different from other museums?
This museum has embraced regional art in a way that makes us unique. I'm very inspired by going on studio visits to see artists located in New England, and I am convinced that some of the very best contemporary art is being made right in our own backyard—and appears in our annual Off the Wall exhibitions. And we have provided a home for Boston expressionism. I have a serious interest in Boston artists and approach it knowing what it's like to have been a painter. But there's not just one story, there are many. In the time remaining, I'm hoping to write a book that would tell some
of those stories behind Boston expressionism. I would love to write that book.
___________________________________________________________________________________________________________
Lois Tarlow is an artist, writer, teacher, and birdwatcher.
©2017 Art New England, All Rights Reserved
Designed and Developed By: T. Montgomery