Mike Hansel: Sculpture In All Its Parts
Bannister Gallery, Rhode Island College • Providence, RI • www.ric.edu/Bannister • December 9–31, 2010
This fall, Mike Hansel's sculpture Intestinal Fortitude was installed at Rhode Island College as part of the program Sculpture Tour. Displaying six large outdoor sculptures at any time, the program rotates sculptures in and out of the campus in two-year cycles, with three pieces installed every year.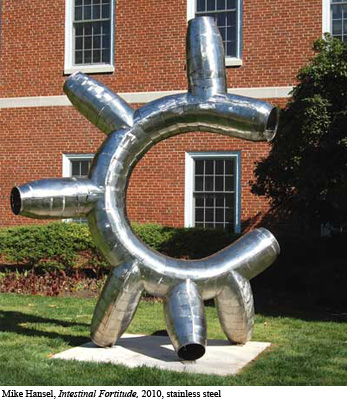 The large, stainless steel three-quarter circle sprouts six tubular tentacles spaced randomly at its outer edge and reminds the viewer of Hansel's sculpture Reconfiguration, which graces the Newport Art Museum lawn. The earlier piece, inspired originally by a bicycle sprocket and constructed in steel left to rust, projects a strong, almost human gesture with its silicon bronze tips suggesting waving hands.
Different material and construction techniques result in the cooler, more mechanical look of Intestinal Fortitude. Besides being made from reflective stainless steel, the visible welding seams expose the construction of the piece and let the viewers see the process—yet this also reduces the tension created through the juxtaposition of the mechanical and the organic. This piece is rooted in its mechanical origins, missing some of the earlier animated qualities.
Complementing this installation, RIC is presenting a selection of recent sculptures by Hansel, which combine the flavor of the earlier work with the construction technique of the outdoor installation. Made from steel allowed to rust or finished in warm coppery tones, the pieces suggest an organically-grown quality. While they are made with the similar technique of exposed structure, they are most convincing when their mechanical origins and construction methods take a backseat and the focus is on expression. Hansel is clearly interested in mechanical-looking parts and their abstraction—his objects often suggest function—yet the more successful works are the ones that seduce with expression and gesture.
A large twisted bundle of three rust-colored tubes, Affiliation, is enlivened by the tension of its elements and the emotion they convey. Three individual elements are configured in a loop, running parallel and at times almost touching. Supporting each other visually, they provide a metaphor for the units working together as one while maintaining their independence. Stretching its three trunks to the sky, the sculpture is expressive, warm, and slightly humorous.
—Martina Windels
©2018 Art New England, All Rights Reserved
Designed and Developed By: T. Montgomery