Hidden Heritage: Peter Edlund's Names on the Land
« back to Portfolio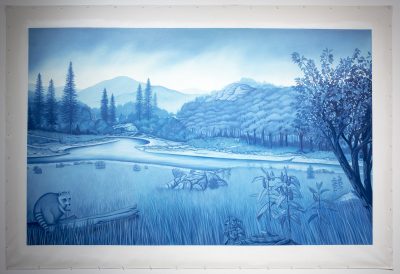 By Olivia J. Kiers
Boldly imagined landscapes from another era fill the walls of Hartford, CT-born painter Peter Edlund's current solo show at Real Art Ways, Names on the Land (through January 28, 2018). The royal blues, pinks and blacks are highly saturated. Each line is trenchant, and forms exhibit a heavy physicality. Yet Names on the Land is only about aesthetics at first glance. Edlund associates landscape with linguistics, reveals history in a heron, and ties politics to plant life. His paintings clamor with the countless battles fought between truth and forgetfulness, all hidden in plain sight across American soil.
The premise of Names on the Land is that many place names across the United States are derived from indigenous languages, such as Algonkian, which Edlund began researching in 2005. After hundreds of years of English-speaking dominance, these names no longer convey their original meaning to the majority of Americans, even though those meanings are often simple, memorable and descriptive. Edlund resurrects the language and landscape of pre-European settlement, pre-Industrial America by painting visual interpretations of these place names, thus transcending time and spoken language, and producing images that range in tone from lyrical to didactic.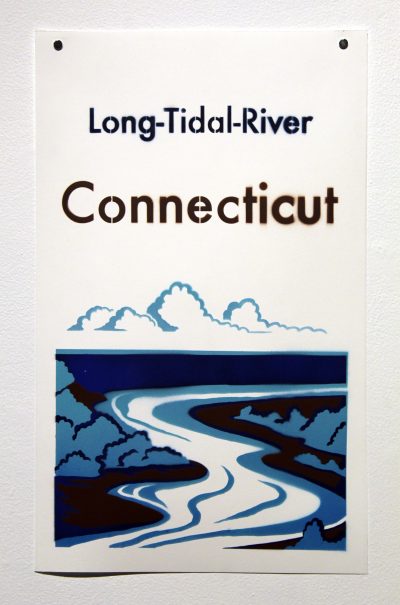 On the didactic end of the spectrum, Re-Tagging our Native Heritage uses the interventional power of street art to spread this message. Examples from Edlund's series of stenciled images are pinned to a gallery wall at Real Art Ways, but Re-Tagging our Native Heritage is meant to exist in the urban wild with concrete as a support and the general public as audience. Edlund reintroduces rivers, shrubs and trees as well as indigenous meaning through emblematic vistas in a limited palette of blues and browns. Large lettering in the center states a place name (e.g., Connecticut) with its English translation (Long Tidal River). This is Edlund at his most straightforward.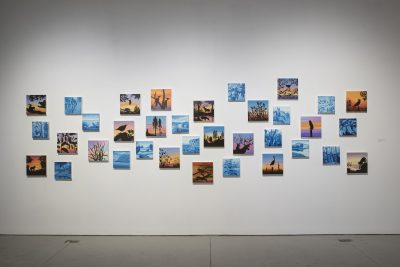 A cluster of small paintings mounted salon-style on another wall groups Edlund's Presence of Absence and Forgotten New York series together. Here, Edlund leans to lyricism. There is a captivating intermingling of Forgotten New York's delicate, blue-toned brushwork that is reminiscent of antique porcelain painting with Presence of Absence's dark silhouettes and sunset-striped skies. The eye leaps from one image to the next, constantly surprised by new details and colors. However, without the artist's statement in hand, these works remain mysterious. It is only when we read the titles and descriptions that we understand these paintings' purpose—how they unite the etymology of place names with a modern painter's imagination and understanding of color.
As Edlund explains, "When I started the blue painting series ten years ago, I wanted to use a color which would give the viewer a feeling of something long ago, faraway, other-worldly, like something from a dream." Meanwhile, the sunset colors represent how, "in many indigenous American cultures, the direction of the setting sun was believed to be where the soul went after death. It's an (elegiac) acknowledgement to all the people and cultures destroyed by colonialism. The silhouettes represent the fact that most of the words that are passed down to us are but mere outlines, shadows, silhouettes of the original language."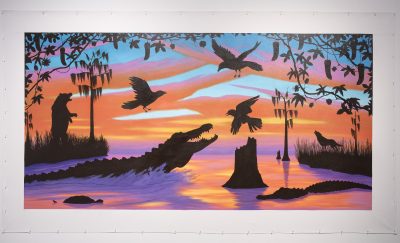 While all the works in Names on the Land are engaging in their own right, the three large, "battle" paintings that dominate one wall in the gallery are true showstoppers. Here, Edlund presents imagined scenes from three "battleground states" during the 2016 presidential election: Florida, Wisconsin, and Pennsylvania. (Edlund is currently working on paintings for Ohio and Michigan to create a group of five total.) Yet the history symbolized in each goes much further into the past. In The Battle for Florida, Edlund's "ominous gourds" hanging from vines are a fittingly dark reference to Jim Crow-era lynching, in the same vein as Billie Holiday's Strange Fruit. Below them, an alligator snaps at a murder of crows, a wolf howls, and a turtle lurks. "The Battle for Florida has been waging for over 500 years," writes Edlund in his artist's statement, also referencing Spanish conquistadors, the relocation of indigenous peoples and African slave labor. Centuries of violence are condensed into a single moment of intense activity, shrouded in natural symbols that remove humans and refocus on the environment.
Sometimes didactic, sometimes poetic, Names on the Land uses nature to mourn the landscape's former inhabitants and forgotten past. Edlund's limited yet bold palette captivates the eye and draws the viewer in for a closer look, yet frightening and sad lessons lurk beneath the surface. Employing mountains, milkweed, cattails and crows, Edlund urges us not to forget America's pre-European past and to respect the few vestiges of it that remain.
---
Image 1:Peter Edlund, Forgotten New York, 60" x 96", oil on canvas, 2012-2017. Photo: John Groo.
Image 2: Peter Edlund, Re-Tagging our Native Heritage, 28.5" x 17.5", spray paint on paper, 2017. Photo: Tom Bittel.
Image 3: Peter Edlund, Presence of Absence and Forgotten New York, 12" x 12" and 10" x 10", oil on canvas, 2012-2017. Photo: John Groo.
Image 4: Peter Edlund, The Battle for Florida, 48" x 96", oil on canvas, 2017. Photo: John Groo.
---
No comments yet
©2018 Art New England, All Rights Reserved
Designed and Developed By: T. Montgomery