July / August 2015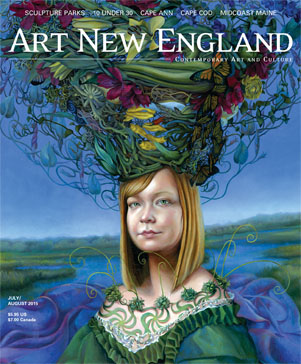 Contents
Volume 36, Issue 4
FEATURES
Art Under the Microscope: Real or Fake
By Charles Bonenti
Provenance is one thing, but art forensics is becoming the last word in
high-stakes forgery cases.
10 Under 30
By Greer Muldowney
Young New England photographers offer experimentation and fresh vision.
Splendor in the Grass
By Amy Lilly
These six bucolic sculpture parks welcome hiking, picnicking and just looking.
COLUMNS
Letters
FlashPoints
 
Gallery FlashPoints
 
Connecticut Studio Visit
Jan Dilenschneider
By Susan Rand Brown
Book Review
Amanda Palmer's The Art of Asking: How I Learned to Stop Worrying and Let People Help
By Dave Copeland
Museums
Museum Directors Bring Out Maine's Best
By Andres Azucena Verzosa
Places to See
Rockland: Art Mecca on the Move
By Carl Little

Festivals
Boston Harbor's Fair to Remember
By Debbie Hagan
Drawing
Power of the Pencil
By Frances J. Folsom
Culture
Wellfleet, Truro and Provincetown: A Summer of Celebration
By Susan Rand Brown

Sculpture
Othoniel's Beautiful Dance
By Susan Boulanger
REVIEWS & PREVIEWS
SPOTLIGHT
Walking Sculpture 1967–2015 at deCordova Sculpture Park and Museum
by Christopher Capozzola
CONNECTICUT
Walls of Color: The Murals of Hans Hofmann at Bruce Museum by Rachael Palacios
Circumstance at Aldrich Contemporary Art Museum by Andres Azucena Verzosa
MAINE
Bearing Fruit at Maine Farmland Trust Gallery by Carl Little
The Painter of Maine: Photographs of Marsden Hartley at Bates College Museum of Art
by Carl Little
MASSACHUSETTS
Jim Shaw: Entertaining Doubts at MASS MoCA by Charles Bonenti
Warhol by the Book at Williams College Museum of Art by Charles Bonenti
Masako Kamiya: New Paintings at Gallery NAGA by Shawn Hill
Boston Sculptors in the Berkshires at Chesterwood by Charles Bonenti
NEW HAMPSHIRE
Everything Illuminated at Drift Gallery by Christopher Volpe
Invitational Print Making Exhibit at Millbrook Gallery & Sculpture Garden
by David Raymond
RHODE ISLAND
The Bluffs by Joseph Leroux at GRIN by Alexander Castro
Alice Benvie-Gebhart and Nick Gebhart at Coastal Living Gallery by Alexander Castro
VERMONT
Many Thousand Gone at Middlebury College Museum of Art by Bret Chenkin
Boundaries, Balance and Confinement at Vermont Supreme Court Gallery
by Meg Brazill
IN THIS ISSUE:
Calendar
Destination: Cape Ann
Destination: Midcoast Maine
Destination: Cape Cod
Guide to Schools and Workshops
Art Seen
 
©2018 Art New England, All Rights Reserved
Designed and Developed By: T. Montgomery