July / August 2012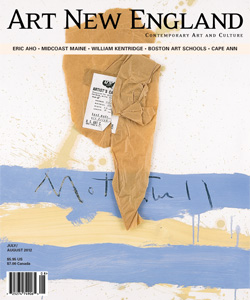 Volume 33, Issue 4
FEATURES
Provincetown's Art Colonizers     By Deborah Forman
The outstanding work of a persistently contemporary art colony is seen
afresh through special Robert Motherwell and Long Point Gallery
exhibitions mounted in tandem in Provincetown this summer.

William Kentridge: Calling History into the Studio
By Christopher Capozzola
By means of the recent Norton Lectures at Harvard through which Kentridge performed his sublime "Six Drawing Lessons," the author draws his own meaningful lessons about the creative urgency of the studio environment.
Art on TV      By Judith Tolnick Champa
As its sixth season emerges, Art21 continues to chart a uniquely innovative
educational course, documenting contemporary artists internationally in its
PBS series and in multiple media without parallel.
Columns
Letters
FlashPoints
Book Review
Another Side of Giacometti
By Susan Mulski
Book Review
George Wardlaw:
Outward Expressionism
By Leah Triplett
Film
Another Form of Thinking
By Ethan Gilsdorf
Market
Money, the Marketplace and the Muse
By Judy Ann Goldman
Museums
Keeping Contemporary at the deCordova
By Susan Mulski
Museums
A Laboratory for the Fine Arts Revisited
By Christine Temin
Opinion
A Not So Retiring Eye
By David Bonetti
Profile
Inside Joe Fig's Studio
By Monroe A. Denton
Schools
A Tale of Two Ambitious Art Schools
By Debbie Hagan
Destination
Cape Ann Contemporary
By Mary Bucci McCoy
Destination
A Midcoast Maine Meander
By Carl Little
REVIEWS
SPOTLIGHT
Joan Backes at the Newport Art Museum and Dedee Shattuck Gallery
by Stephen Vincent Kobasa
CONNECTICUT
Jan Tichy at the Wadsworth Atheneum
by Stephen Vincent Kobasa
Paper Trail at the Housatonic Museum
by Rachael Palacios
Karen Kilimnik at The Brant Foundation Art Study Center
by Christian Holland
MAINE
Clare Stone at the Ethel H. Blum Gallery, College of the Atlantic, Bar Harbor
by Carl Little
Alex Katz at Colby College Museum of Art
by Carl Little
MASSACHUSETTS
Off the Wall at the Danforth Art Museum
by Alicia Faxon
Furniture With Soul at Gallery NAGA
by Christine Temin
Joachim Koester at MIT List Visual Arts Center
by Evan Smith
Manet in Black at the Museum of Fine Arts, Boston
by Jack Curtis
NEW HAMPSHIRE
Eric Aho at Currier Museum of Art
by Christopher Volpe

Edward Burtynsky at the Hood Museum of Art at Dartmouth College
by Craig Stockwell
RHODE ISLAND
rolemodelplaytime at David Winton Bell Gallery, Brown University
by Elysian McNiff
Wendy Richmond at the Museum of Art, Rhode Island School of Design
by Leah Triplett
VERMONT

David Stromeyer at Burlington City Arts
by Lindsay J. Westley
IN EVERY ISSUE
Calendar
Focus on: Cape Ann
Focus on: Midcoast Maine
Summer Getaway Guide
Guide to Art Schools and Workshops
Exhibitions
Art Seen
©2018 Art New England, All Rights Reserved
Designed and Developed By: T. Montgomery