September / October 2012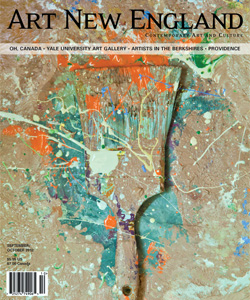 Contents
Volume 33, Issue 5
Features
Involving Us Again, for the First Time     By Rachel Palacios
In advance of the Yale University Art Gallery's post-renovation and expansion opening on 12.12.12, we reconsider its core outstanding modernist collection built with passion by Katherine Dreier and her close adviser, Marcel Duchamp.
The Idea of North: Oh, Canada at MASS MoCA     By Kris Wilton
Curator Denise Markonish's sampling of 100 works in all contemporary media by Canadian artists grandly proffers yet withholds a definition of "Canadianness" beyond ice hockey, maple trees, and the Queen.
Crossing the Pond: A Dispatch from London     By Christine Temin
In an art rather than Olympics race, entrepreneur and collector Charles Saatchi's exhibitions in his eponymous Gallery achieve dominance in a city emerging as a contemporary art capital. Dispatch examines Saatchi's contribution to the Central London art scene while still "laughing all the way to the bank."
A New Regionalism?     By Christian Holland
In this investigation of the Boston gallery scene, "specific channels of commerce" are measured against those of other metropolitan centers. Boston's creative capital—especially emerging artists and art students—remain
undervalued communities to be championed and retained in the region.
Columns
Letters
FlashPoints
Film
All for One Picture
By Ethan Gilsdorf
Book Review
Object and Intellect
By Andrew Stein Raftery
Profile
A Conversation with John Smith
By Judith Tolnick Champa
Book Review
Art and Its Representation
By John Pyper
Studio
In the Studio with Sonia Almeida
By Craig Stockwell
Region
Choosing the Berkshires
By Charles Bonenti
Profile
View from the Outpost
By Judith Tolnick Champa
Book Review
Nothing Like the Threat of Erasure
By Carl Belz
Looking Back
Andy Warhol: Vapor Trail
By Trevor Fairbrother
Destination
Providence & Beyond
By Martina Windels
REVIEWS
SPOTLIGHT
Berenice Abbott Photography and Science: An Essential Unity at the Kurtz Gallery for Photography, MIT Museum
by Diana Gaston
CONNECTICUT
FOUND Outside at The Aldrich Contemporary Art Museum
by Pat Rosof
Robert Adams: The Place We Live, A Retrospective Selection of Photography at Yale University Art Gallery
by Stephen Vincent Kobasa
Linda Lindroth at Giampietro Gallery
by Stephen Vincent Kobasa
MAINE
Install 2, selections from a private collection at Corey Daniels Gallery
by Carl Little
Arnold Mesches: A Minispective at The University of Maine Museum of Art
by Carl Little
Jon Imber at Greenhut Gallery
by Sarah Baker
MASSACHUSETTS
Morphoses Dance Company, WITHIN (Labyrinth Within) at Jacob's Pillow Dance Festival
by Christine Temin
American Vanguards: Graham, Davis, Gorky, de Kooning and their Circle, 1927–1942 at the Addison Gallery of American Art, Phillips Academy, Andover
by Alicia Faxon
Helen Shulman at Kobalt Gallery
by Meg Brazill
Josiah McElheny at the ICA
by Evan Smith
Invisible Cities at MASS MoCA
by Bonnie Barrett Stretch
NEW HAMPSHIRE
Multiple Perspectives at Museum of Art, University of New Hampshire
by Mary Bucci McCoy
RHODE ISLAND
Daniel Heyman at Cade Tompkins Projects
by Martina Windels
VERMONT
Rockwell Kent at the Bennington Museum
by Meg Brazill
IN EVERY ISSUE
Focus On: Rhode Island
Calendar
Guide to Art Schools and Workshops
Exhibitions
Art Seen

©2018 Art New England, All Rights Reserved
Designed and Developed By: T. Montgomery